In impoverished American neighborhoods , the novel coronavirus has been an added calamity for many families already struggling to survive. In Penitas, Texas, these families abound, and often led by women.
Isabel and her three children are among them. She lost her job teaching sewing classes, then became sick with COVID-19. Nearby, Elia, a mother of six whose husband is sick, also contracted the virus. Then there's Laura, who was doing her best to make it on her own as a counselor after divorcing her physically abusive husband. But when the pandemic stopped her work, she suddenly had no money to pay the rent.
A Helping Hand
These strong women fought back the virus, but could not stop its impact. Soon unpaid bills began to pile up. But Missionary Sisters of the Immaculate Heart of Mary have served the community since 2003. And with grants from Sisters on the Frontlines, Sr. Carolyn Kosub and Sr. Fatima Santiago were able to help.
A bill paid here and a repair made there eased the struggle. The sisters' small personal gifts made a huge difference for the women's outlook.
Liliana has six children and is managing her household by working hard since her husband was deported two years ago. The grant helped her pay her electric bill. Her daughter sent us this video of thanks:
Another helped was Ninfa. When she lost her roof in Hurricane Hanna, this grant helped her replace it. Now her family is safe.
Meanwhile, Libby a hard-working wife, struggled to pay her electric bill after her husband suddenly became sick and was unable to work. The sisters helped her keep the lights on.
After ministering in the area for 16 years, Sr. Carolyn Kosub and Sr. Fatima know the community and were able to quickly identify the needs.
The pair envisioned, fundraised for, and oversaw the construction of, and founded Proyecto Desarrollo Humano (Project for Human Development), an outreach center in Penitas dedicated to evangelization, health, social services and education.
For Sister Carolyn, the grants from Sisters on the Frontlines have helped to support the many women in the community who lead and care for their families.
Theoretically the men head the families, but it is really the women who hold things together… Thank you for enabling me to show all these women that there are people who care!"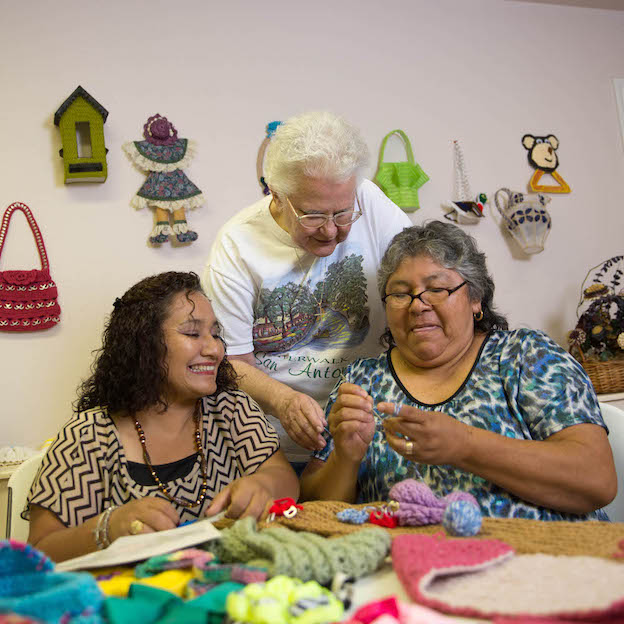 Support a Sister
Help those most in need during COVID-19