Latino Enrollment Initiative
The purpose of this initiative is to provide Catholic Schools in mission dioceses with training and resources to attract and serve Latino students more effectively.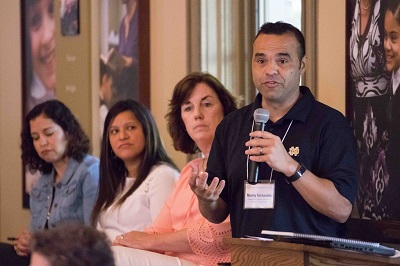 Catholic Extension has partnered with the University of Notre Dame Alliance for Catholic Education (ACE) to offer the Latino Enrollment Initiative training to school administrators in your diocese. This agreement covers the cost to participate in the Institute, including up to $1,100 of the associated travel expenses. Participating schools will only pay for any remaining travel fees and less than 40% of the registration fee.
The Latino Enrollment Initiative is designed for schools that have identified their unmet capacity for enrolling new Latino students. The program consists of a summer workshop at Notre Dame for the school principal and one other staff/faculty member. A third spot is reserved if the pastor of each eligible school is interested in attending. ACE will provide each school an LEI mentor that will work with the school leader throughout the year, answering questions as they arise and facilitating a close community of learners among the group through monthly video conference calls and online modules. The ACE program also will convene a mid-year educational workshop for participating principals. After completing the institute, ACE staff members will assess the responsiveness at each school and annually monitor enrollment figures.
Participants will learn effective practices and strategies for:
Recruitment and retention of Latino students
Becoming aware of the cultural nuances of working with Hispanic communities
Developing culturally sustaining classrooms
Understanding the common barriers that Latino students face with Catholic schools.
After completing the program, participating schools will be in a position to enroll a markedly higher percentage of Latino students compared to the period before the program began as well as better address the needs of current Latino students enrolled in the school.
Duration: 4 day in person program, including a year of mentorship and support
Dates: June 27-30, 2021
Overall value to Participating Diocese: $4,250 (per school)
Documents
Latino Enrollment Initiative Guidelines
To Apply
Read and review the Latino Enrollment Initiative Guidelines, linked above.
Complete the online application form by the extended deadline of Friday, January 15, 2020
Latino Enrollment Initiative Past Participant Feedback:
"Thank you for such an impactful week. What a gift you have given us through the LEI program. Our team from Roanoke Catholic looks forward to working with you, and our mentor principal, in an effort to grow our Latino student enrollment in our schools and churches. We hope in the coming months and years to become one of your many success stories that might be shared with other schools across the U.S."
"I am truly thanking God for my experience at the LEI. We have changed in spirit and in our thinking coming away from our experience at Notre Dame. We are blessed to have had this opportunity and will use the information gained to better serve our greater Catholic community."
For More Information
Contact Erika Cedrone, Senior Director of Mission, at 617.817.2907 or ecedrone@catholicextension.org.