Young Adult Leadership Initiative
The purpose of this initiative is to help mission dioceses retain, educate and develop outstanding young adult leaders.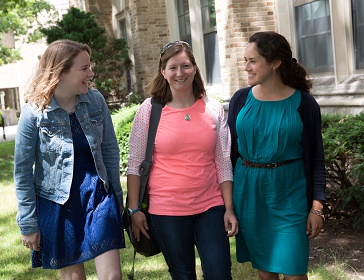 Many mission dioceses are located in very rural areas of the country and have few Catholic universities nearby or none at all. Therefore, Catholic Extension has partnered with several Catholic universities, including Boston College, Fordham University and the University of Notre Dame, to offer a master's degree in graduate theological education to outstanding young adult leaders from these mission dioceses. During their studies, these young adults commit to working in their home diocese in a supervised internship or job. This partnership agreement covers 100 percent of the cost of tuition, on-campus room and board and travel to and from campus, as well as a housing subsidy and stipend.
While in the program, young leaders in their 20s and 30s will complete a degree in religious education, theology or pastoral ministry at one of the universities mentioned above. Courses occur in the summer and online during the rest of the year so that students are still able to work in a local ministerial position assigned by their diocese. With advanced degrees, young adults can apply their talents and energy as effective ministry leaders.
At the conclusion of the degree program, the diocese (or sponsoring parish where the student ministers) will be given the option to hire the graduates, for which Catholic Extension would contribute an incentive grant of $10,000 toward their first year's salary. The value of this program for participating dioceses is over $80,000 per student.
Your gift in support of the Young Adult Leadership Initiative is a gift in support of the future of the Catholic Church in the United States.
"We are so incredibly grateful for the donor's generosity and blessed by their conviction of investing in the future of the Church. The blessing of their financial support has allowed for more staff, which in turn has given us the capability to expand the number of programs we offer and the number of students we serve."
– Diocese of Pensacola-Tallahassee
Watch the video below to meet Christine Lange, an alumna of the program