Young Adult Leadership Initiative
The purpose of this initiative is to help mission dioceses retain, educate and develop outstanding young adult leaders.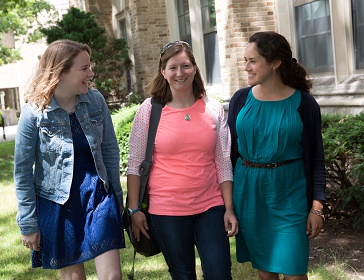 Catholic Extension has partnered with Boston College, Fordham University, and the University of Notre Dame to offer scholarships to young leaders aspiring to serve the Church in mission dioceses. This program enables students to gain hands-on pastoral experience while pursuing a master's degree in graduate theological education.
Mission dioceses will have the opportunity to nominate their "best and brightest" young leaders to pursue a Master of Arts in Religious Education, Theology or Pastoral Ministry from one of Catholic Extension's partnering universities, including Boston College, Fordham University, and the University of Notre Dame. In this master's degree program, students will spend part of each summer taking intensive courses on campus while working in the diocese in a supervised pastoral ministry position for the remaining part of the academic year. Students also must complete courses online throughout the year. The duration of the program varies by academic institution and ranges between 2.5 years and 3.5 years.
At the conclusion of the degree program, the diocese (or sponsoring parish where the student ministers) will be given the option to hire those graduates who are not already employed in a permanent position, for which Catholic Extension would contribute an incentive grant of $10,000 toward their first year's salary.
Duration: 2.5 – 3.5 Years
Value to Participating Student and Diocese: Up to $80,000 (per student)
Documents:
To Apply:
Read and review all the documents linked above
Complete the Online Application Form (one application required per student) by the deadline of Friday, February 19, 2021.
For More Information
Contact Veronica Avila, Manager of Mission Programs, at (312) 795-5128 or vavila@catholicextension.org