Graduate Ministry Scholarship Initiative
The purpose of this initiative is to deepen lay leaders' knowledge of Catholic theology as they serve in various ministries in your diocese.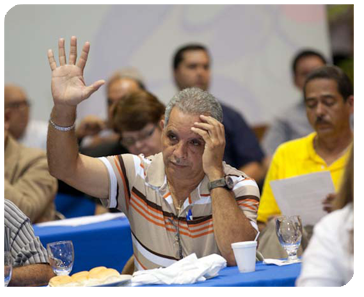 Catholic Extension has partnered with Loyola University New Orleans Institute for Ministry to offer education to outstanding lay leaders in your diocese. The agreement covers 70 percent of the cost of tuition; the remaining 30 percent is shared between the diocese and the student.
This program is intended for veteran lay leaders who have a strong history of service and commitment to your diocese. A group of approximately 10 leaders per diocese will be able to enter this four-year program and earn either a master's degree in pastoral studies or religious education.
The Loyola Institute for Ministry Extension Program (LIMEX) does not require students to travel outside the diocese for their education. Rather, students are able to gather regularly in a classroom setting as a group at a predetermined location in their local diocese for classes led by a local facilitator trained by the Institute for Ministry.
Duration: 4 years
Value to Participating Diocese: $90,000 (per cohort)
---
Catholic Extension has partnered with Catholic Theological Union (CTU) to offer education to lay leaders working in the Church. This is an opportunity for the diocesan bishop to identify, affirm and further develop lay men and women who have demonstrated extraordinary leadership in their dioceses. Those participating in this program will have an exceptional history of service in the diocese as either employees or volunteers, but have not yet had the opportunity to pursue a formal degree in pastoral ministry.
This is a five-year degree program, which results in a Master of Arts in Pastoral Studies. Courses are completed primarily online, enabling the student to remain in his or her local diocese. Once a year students will be required to travel to CTU's campus in Chicago, IL for a summer intensive seminar with other members of their cohort.
Duration: 5 years
Value to Participating Diocese: $45,000 (per candidate)
Documents
Overview of CTU Graduate Ministry Scholarship
Make a Funding Request
Applications for this initiative are currently closed.
Student Application Form