Building Churches and other Facilities
Goals
To meet the facility needs of evolving or growing Catholic communities through construction, expansion, or renovation of critical facilities.
Summary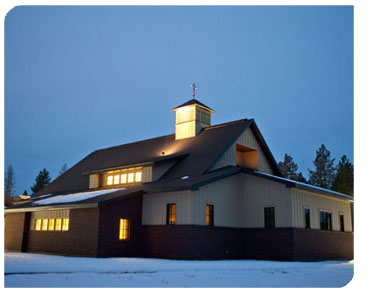 Catholic Extension funds the construction, expansion, or renovation of churches and facilities that enable the dynamic practice of faith and promote the experience of church community. In this category, Catholic Extension will consider the facility needs of a diocese, to help ensure that spaces are adequately-sized, safe, and that they meet the needs of the local populations. Catholic Extension will favor those projects where the communities have urgent facility needs, a convincing funding strategy and business plan, demonstrated strong local support for the proposed project, and evidence of their limited means to raise all of the funds themselves. Catholic Extension only supports active building and renovation projects and does not give funds to service debt on projects where work has been completed. Therefore, the ideal point at which Catholic Extension should be engaged for this funding is when a parish/organization is still actively raising funds and the project is within one year or less from starting.
Qualifying Funding Areas
---
Catholic Extension will consider funding minor and major facility requests only for the following types of facilities:
Church Buildings – places that regularly celebrate the liturgy
Community Space – places where a community can convene outside of the liturgy (i.e. parish halls and parish community centers)
Program Space – facilities that provide religious education and other church ministries
Residential Facilities for Ministers – modest housing for leaders in extremely under-resourced communities
Temporary Structures – for faith communities in transition due to population changes, recent disaster, etc.
Please note:
Catholic Extension only supports active church building and renovation projects and does not give funding to service debt on completed projects.
Catholic Extension does not offer funding for building projects for Catholic schools.
Please see our full Funding Guidelines document for special guidelines for church buildings damaged in federally declared disaster events.
Minor Funding Requests
Catholic Extension will fund up to 100% of the following minor projects (under $5,000) only for the most under-resourced applicants:
Repairs – periodic improvements that are necessary for a fully functioning space
Equipment/Small Furnishing Needs – audio equipment, chairs, other basic furnishings etc.
Major Funding Requests
Catholic Extension will consider funding a portion of a major building project's (over $5,000) total budget, the amount of which is determined on a case-by-case basis. Funding amounts generally are not able to exceed $100,000. The following building projects will be considered for all applicants in Extension dioceses:
Renovation – major enhancement or restoration of existing church building or facility space due to age, weather-related needs, updated safety-code requirements, or natural disasters
Expansion – enlargement of a church building or facility space, necessitated by community growth
New Church Construction – a new church building or facility space, justified by the needs of the community
Major funding requests will be offered in the form of a matching challenge. After presentation and approval of the request, funding strategy and church business plan, Catholic Extension will pledge a specific amount and lay out the matching challenge benchmarks and conditions. The matching challenge duration, funding amount and aggressiveness will be handled on a case-by-case basis. Such factors will be considered: parish financial capacity, fundraising to date, and the actual building project timeline. The qualifying matching dollars must be raised after the matching challenge approval date. Any fundraising and pledges made prior to the matching grant approval date will not count toward the matching challenge. However, these savings and funds will be noted as a demonstration of the project's momentum and feasibility. If the intended recipient fails to raise matching dollars in the agreed upon period of time, the matching offer will be rescinded.
Funding Request Document Requirements*
Letter of endorsement from the diocesan bishop (one letter is sufficient for simultaneously submitted requests, but a copy of that letter should be attached to each request)
Financial statements of the parish/community sponsoring the project
Project Budget – Delineation of repair or equipment cost estimates and relevant documentation to support such estimates, and other sources of revenue.
Drawings or sketches of current structure and/or proposed end product (if applicable)
Funding plan and any relevant documentation on fundraising activity to date (if applicable)
Breakdown of Insurance coverage and anticipated FEMA funds, if building was destroyed or damaged in a federally declared disaster. (if applicable)
Any relevant documentation on fundraising activity to date, if applicable
*Please explain fully in writing if any of these documents are unobtainable or excessively burdensome to procure.
To access a draft version of the Building Facilities grant application form, please click here. Please note that this cannot be submitted in place of the online funding request. This document is only meant to serve as a guide for the information needed, but the official funding request must still be submitted online using the link provided above in order to be considered for funding.