Building Leaders
Goals
To assist dioceses with the recruitment, education and ongoing formation of current and future leaders in the church.
Summary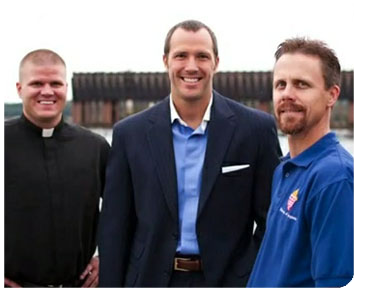 A critical need for the church is the availability of trained, competent, and faithful ministers. "Building Leaders" supports efforts to develop well-trained diocesan and parish leaders in sufficient numbers to sustain excellence in church life. Funding through this initiative supports the recruitment, education, ongoing formation, and professional development of ordained and lay leaders. Additionally, Catholic Extension has developed a number of existing partnerships with external organizations and universities that offer opportunities for training and leadership development, offered over and above the diocese's particular funding requests. Please click here to learn more about these opportunities.
Qualifying Funding Areas
Recruitment and Training of New Church Leadership
Catholic Extension will consider funding the following recruitment and training opportunities for new church leadership in Extension Dioceses:
Seminarians
For seminarians, Catholic Extension offers two types of funding:
Subsidies cover a portion of a diocese's overall financial obligation for seminary tuition costs, room and board, as well as the operation of diocesan seminary recruitment programs. *Funding amounts are determined by the number of seminarians being sponsored by the diocese in the year of the request.
Challenge Funding are available on a limited basis, enabling dioceses to build an endowment fund for seminarians so they can manage fluctuating expenses from year to year. Dioceses that receive seminarian subsidies as described in #1 can also seek challenge funding. To receive funding, dioceses will be required to raise a minimum amount of funding within a specific time period. Catholic Extension will provide a one to one match for funds raised. This funding must be directed to a separately established restricted fund.
Deacons
Subsidies for dioceses funding cohorts in any diaconate formation program
Funding for the professional development of permanent deacons in the Catholic Church, including regional and national conferences
Funding to support diaconate recruitment efforts in a diocese
Lay and Religious Leaders
Funding for the education of lay and religious leaders preparing for full-time ministry, including Masters degree programs
Funding for online education and distance learning programs
Funding for national or regional church leadership training workshops
Funding for non-degree certification of lay leaders
Funding to support diocesan recruitment efforts for lay leaders
Ongoing Formation of Church Leadership
Catholic Extension will consider funding the following opportunities for priests and deacons as well as lay and religious leaders in Extension dioceses:
"New skills" training if the skill is of strategic interest to the diocese or parish where the minister serves. (i.e. language or administrative skills)
Opportunities for pastoral leaders to convene and engage in ongoing education
Funding Request Document Requirements
Seminarian Education: Begin a New Online Funding Request
Other Lay and Religious Leaders: Begin a New Online Funding Request
Letter of endorsement from the diocesan bishop
For a request for seminarian education funding, a completed copy of the Diocesan Seminarian List is required to be attached.
Financial statements from the diocesan office/program, or entity seeking support
Program budget for the year funding is sought
List of students and their basic information: names, emails, age, their associated parish/ministry in the diocese, year of ordination/program completion
Verification of expenses, such as tuition and room and board, or verification of conference fees and information on the nature of the conference