Hispanic Lay Formation Program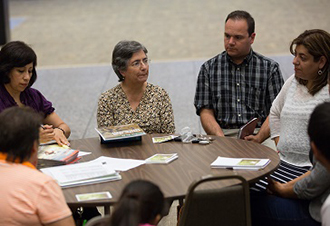 Catholic Extension is offering new stage of funding for the Hispanic Lay Leadership Initiative. This new funding
opportunity will provide a Diocese with three years of funding to launch a multi-year diocesan certification
program for the Spanish speaking community.
When three years of formation are complete the participants will be equipped to provide leadership in the areas
of liturgical ministry, catechesis, youth ministry, prison/jail ministry, migrant ministry and other ministries.
Purpose: To engage Spanish-speaking faithful in a leadership and missionary formation
program that trains them and commissions them to serve in their local parishes. The purpose is to increase a
diocese's capacity to evangelize through trained/committed volunteers.
University Support Available: Catholic Extension can connect dioceses with Spanish-speaking
faculty and Spanish Language Programs upon request.
Duration: 3 years
Value to Participating Diocese: $20,000-$30,000 per year, or up to $90,000 total
DOCUMENTS
Program Overview and Guidelines
Application Instructions
Sample budget
Sample curriculum
Program Coordinator and Volunteer Form
TO APPLY
Applications for this initiative are currently closed.
FOR MORE INFORMATION
Contact Veronica Avila, Manager of Mission Programs, at (312) 795-5128 vavila@catholicextension.org.