Engaging Young Catholics
Goals
To support ministries to children, teens, and young adults, and families that provide faith formation.
Summary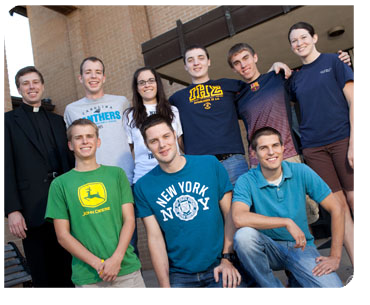 The vibrancy and viability of a Catholic community largely depends on its ability to share the faith with the next generation. "Engaging Young Catholics" helps dioceses and parishes provide for the pastoral and faith formation needs of young Catholics. Additionally, Catholic Extension supports initiatives that serve to develop new leaders in the church among young Catholics.
Qualifying Funding Areas
Catholic Extension will consider funding the following types of Catholic youth and young adult ministry programs. This will be done through operational support, salary subsidies or seed money that creates, sustains or expands ministries serving young Catholics on a parish, regional, or diocesan level.
University/College campus ministry
Catholic youth ministry
Religious education for children and families.
Young Adult ministry/programs
Funding Request Document Requirements
Letter of endorsement from the diocesan bishop (one letter is sufficient for simultaneously submitted requests, but a copy of that letter should be attached to each request)
Financial statements of the program, department, or entity seeking funding
Budget for year of the funding with full breakdown of project expenses and revenue
List of the qualifications of the minister seeking funding, if applicable
Product information or program brochure describing scope of services, if applicable