Catholic School Leadership Development
The purpose of this initiative is to enable your diocese to develop and retain its Catholic school system's most promising leaders.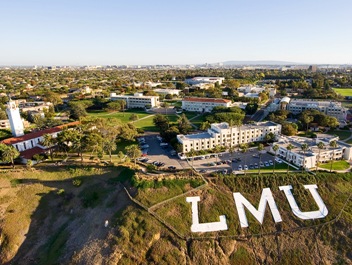 Catholic Extension has engaged in a partnership with Loyola Marymount University's Catholic School Leadership Academy to offer a graduate level virtual online Certificate in Catholic School Administration program to novice and prospective leaders in Catholic schools in your Mission Dioceses. Although leadership development is often identified as a strategic concern for Catholic Schools in Mission Dioceses, these schools often lack opportunities for professional development due to barriers of cost and distance. This agreement covers 80 percent of the cost of tuition, as well as funding for travel and accommodations for an educational weekend on campus at Loyola Marymount University in late July 2020.
This unique and successful educational program professional development that is specific to the Catholic school administration context. The one-year (4 course/10 graduate level units) program is designed to address three major themes in Catholic school administration, mission effectiveness, operational management, and instructional leadership. Nine units of the certificate coursework will count toward a Master of Arts in Catholic School Administration at LMU.
Applications for this program will be considered from either an individual candidate in a diocese, a pair of candidates, or three applicants wanting to work together as a diocesan group. Participants must be nominated by the principal of the school where they work and then approved by the diocesan superintendent.
Students will be asked to commit a minimum of 2 years of service to a Catholic School in their diocese after they successfully complete the certificate program. Additionally, at the conclusion of the program students will be asked to apply their new skills by implementing a specific project that will enhance their local Catholic school in a strategic area identified by the principal.
Duration: 1 year
Value to Participating Diocese: $15,345 per student, or $46,035 per group of 3 students
Documents
How to Apply
Read and review the full 2021-22 Program Guidelines, linked above
Complete the online application form by the deadline of Wednesday, February 24, 2021
Feedback from Participants:
"When I first arrived at LMU to begin my course work, I was pretty much burnt out with my position as a school principal … (in this program) from day one I encountered hope. Throughout the year, I grew in wisdom and confidence in my role as a Catholic school Principal. As we begin a new school year, our school is stronger than ever because of the vision Catholic Extension and Loyola had in helping me and others grow"
"The Leadership program at LMU was more than just classes to receive the necessary certification. It was a total experience from growing intellectually and spiritually. I learned as much about myself as I did about the ins and outs of educational administration and that has already benefited me in my new position as principal."
"The course has been very helpful to assist me in my work as an Administrator of a Catholic School that has struggled with leadership in the past. The course has forced me to go out of my comfort zone to apply difficult approaches to leading a Catholic school."
"The program not only met but exceeded my expectations. It has been the best experience in my lifetime."
"My experience at LMU was amazing. It redefined what a leader is and how to be a great leader. I learned skills that are sure to prove invaluable when in a leadership role. Along the way I also met some amazing mentors and other professionals that I know will be a great resource in the future. All in all, I would do this program again in a heartbeat and feel that all future leaders should be exposed to a program such as this one. It is an experience that I feel so blessed to have been given"
View a Presentation from Students in this Initiative
In January of 2016, students from 4 different mission dioceses who had completed this program gave a webinar to share the results of their studies and some of the great programs they had created and implemented in their dioceses. Click here to view the their presentation and see some examples of the ways that Catholic schools in mission dioceses have benefitted from participation.
For More Information
Contact Rob Anderson, Assistant Vice President of Mission, at 312.795.6095 or randerson@catholicextension.org.