2020-21 Approved Extension Dioceses
Catholic Extension provides funding directly to designated Extension dioceses that are approved by Catholic Extension's Board of Governors. Funding is not available to individuals or organizations that do not work in these specified dioceses.
For more information on what constitutes an Extension diocese, please refer to the "Eligibility" section of our FAQ page.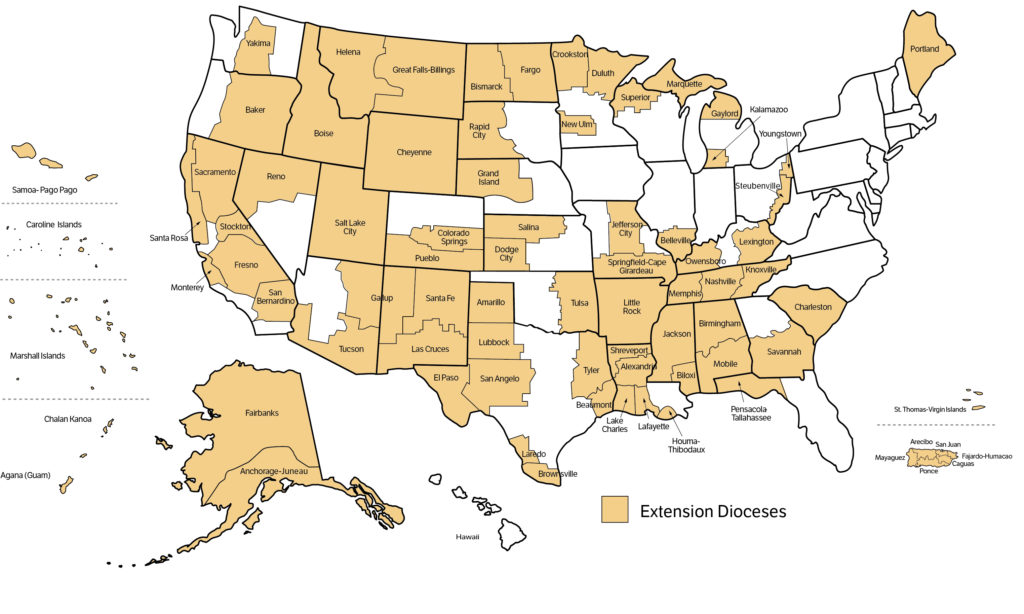 Approved Extension dioceses
Agana (Guam)
Alexandria
Amarillo
Anchorage-Juneau
Arecibo (Puerto Rico)
Baker
Beaumont
Belleville
Biloxi
Birmingham
Bismarck
Boise
Brownsville
Caguas (Puerto Rico)
Caroline Islands (Micronesia)
Chalan Kanoa (CNMI)
Charleston
Cheyenne
Colorado Springs
Crookston
Dodge City
Duluth
El Paso
Eparchy of St. George (Romanian) – Canton, Ohio
Eparchy of St. Josaphat (Ukranian) – Parma, Ohio
Eparchy of St. Maron (Maronite) – Brooklyn, New York

Fairbanks
Fajardo-Humacao (Puerto Rico)
Fargo
Fresno *
Gallup
Gaylord
Grand Island
Great Falls-Billings
Helena
Houma-Thibodaux
Jackson
Jefferson City
Knoxville
Kalamazoo
Lafayette
Lake Charles
Laredo
Las Cruces
Lexington
Little Rock
Lubbock
Marquette
Marshall Islands (Micronesia)
Mayaguez (Puerto Rico)
Memphis
Mobile
Monterey
Nashville
New Ulm
Our Lady of Lebanon (Maronite) – St. Louis, Missouri

Owensboro
Pensacola-Tallahassee
Ponce (Puerto Rico)
Portland, ME *
Pueblo
Rapid City
Reno
St. George (Armenian)
St. Thomas Virgin Islands
St. Thomas Diocese (Syro-Malabar) – Chicago, Illinois
Sacramento *
Salina
Salt Lake City
Samoa Pago Pago
San Angelo
San Bernardino
San Juan (Puerto Rico)
Santa Fe
Santa Rosa
Savannah
Shreveport
Springfield-Cape Girardeau
Steubenville *
Stockton
Superior
Tucson
Tulsa
Tyler
Youngstown
Yakima




Total: 86
* Targeted engagement only
For a full list of the diocesan contacts, please click here.