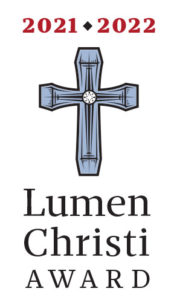 Catholic Extension is now accepting nominations for the 44th year of our Lumen Christi Award, which is Latin for "Light of Christ." This annual award has been presented to a woman religious, priest or lay person who has demonstrated how the power of faith can transform lives and communities. These recipients have devoted their lives to serving the poor in the most under-resourced dioceses in to the United States and to fostering Catholic communities that build faith, inspire hope and ignite change.
The Lumen Christi Award is accompanied by a $50,000 grant, with the honoree and nominating diocese each receiving $25,000 to enhance a specific area of his or her ministry. Prior to awarding the grant, Catholic Extension will discuss and agree upon the use of the grant with both the recipient and the recipient's diocese.
Submit a nomination today, and your diocese will benefit just by recognizing and celebrating an individual or group of individuals who build faith, inspire hope and ignite change in your local community. Your diocese's nominee will automatically receive $1,000 in support of his or her ministry. If the nominee is selected as a finalist, a $10,000 grant will be awarded.
Nomination Guidelines, Requirements & FAQs
To view nomination guidelines, requirements and frequently asked questions, click here.
Required forms for a nomination
Letters of Recommendation
One letter is required from the bishop of the nominating diocese.
1-2 Testimonials may be submitted, written by an individual who has been impacted by the work and ministry of your nominee.
Address letters to "Lumen Christi Award Judge."
Photos
One picture is required of the nominee although up to five total photos may be submitted.
Preferred formats for photos are JPG and PNG with high resolution (1200 x 900 pixels).
News Articles (if available)
If the nominee has been featured in any news articles, please include a link or PDF.
All nominations must be received by February 26, 2021.
How to submit a 2021-22 Lumen Christi Award Nomination
Click here to access the online nomination form for the 2021-22 Lumen Christi Award, due by Friday, February 26, 2021.
Questions?
Check out the list of Frequently Asked Questions.
Contact:
Grace Leon
Coordinator of Mission
312.795.5127