St. John Bosco famously spent much of his priesthood in the streets of Turin, Italy, helping young men who were abused, living on their own, or seeking shelter and a means to earn an honest living.
Father Edward Brienz, a priest of the Diocese of Youngstown, has spent much of his time in the same way. He is looking out for the young people in the beleaguered neighborhoods of his city, helping them move into a productive and hope-filled future.
Inside an ordinary-looking café established in a public library in Youngstown, Ohio, an extraordinary change is taking place within the hearts and minds of its young employees.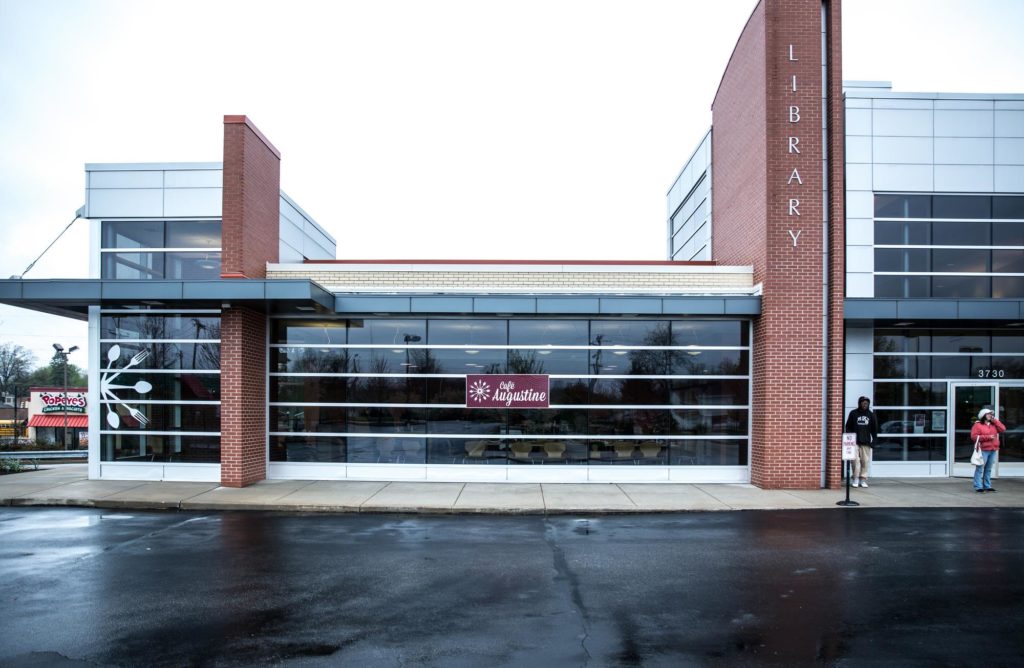 Café Augustine is an outreach ministry that offers a brighter future for teenagers and young adults in a neighborhood that has some of the highest rates of crime, drug use and poverty in the country.
The community has been hit especially hard by the opioid crisis in recent years, leading to an increase in addictions, unemployment and overdoses. Lacking family direction, help or hope, young people in the area are at risk of repeating the cycle.
Father Brienz established Café Augustine to give them the opportunity for a safe and healthy life.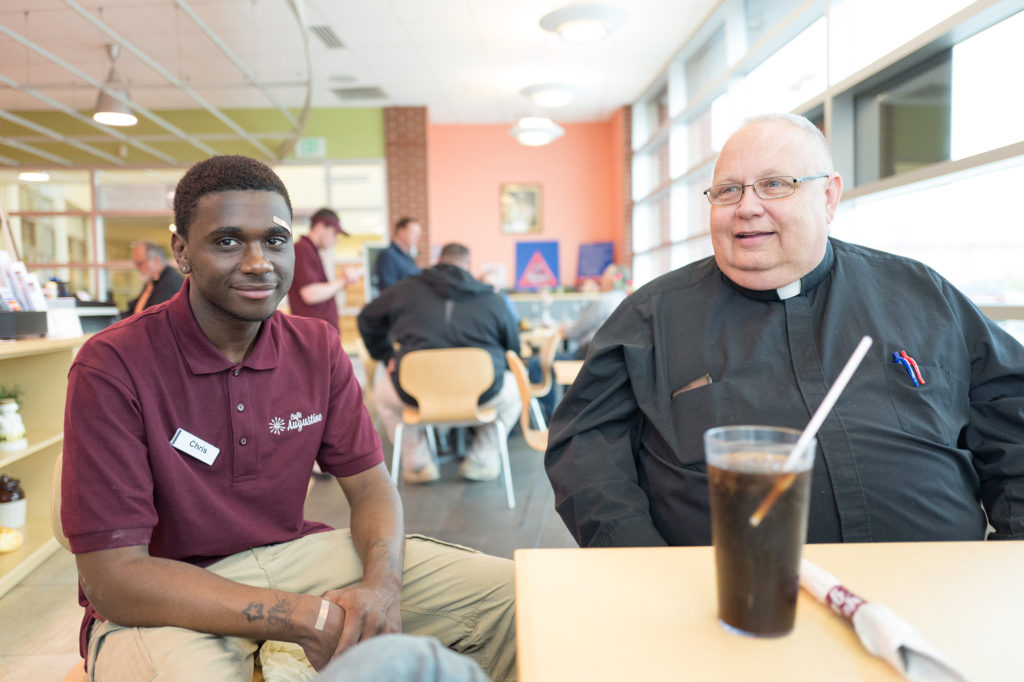 Extension magazine first covered this incredible ministry soon after it opened its doors with Catholic Extension support, when Father Brienz was named a finalist for the Lumen Christi Award in 2016. Now operating for six years, the café has helped hundreds of at-risk youth.
Father Brienz said:
The harsh realities of inner-city poverty make our presence very much needed."
"We have a 19-year-old boy whose child and the child's mother were gunned down in cold blood by gang members," he continued.
From these appalling circumstances, youth are welcomed into a community of respect, safety and accountability.
Where faith and dreams are born
With little to no family support, no money, no job history, and no credit, it is very difficult to find a first job or apartment, leaving so many young people stuck with no way out.
These financial difficulties are only the tip of the iceberg regarding the real pain in their lives. So many have been indoctrinated to believe that hopes and dreams are for other people.
"I have learned to detect fear in the eyes and souls of our people. Some fear being alive." said Father Brienz. "The only way they can be free of fear is to be confident that Jesus overcame the worst the world could do. Jesus loves them. Jesus will always love and inspire them."
The ministry works to replace fear with love, confidence, independence and faith. In addition to the benefits of working in the café, the youth are given daily lessons, including ethical treatment of others, decision making, goal setting, conflict resolution and Catholic scriptural values.
These lessons help the students to pursue new employment opportunities. They also instill kindness, respect, personal finance and community responsibility.
The ministry provides more than a first job. Those in need of supportive homes are able to rent quarters at the Augustine House, where they can live in a safe and clean environment.
Tenants are responsible for household chores and rent payments, which gives them rental history and good references when they move on to a new living space.
The ministry has so far assisted more than 300 young people in employment and countless others with valuable life lessons.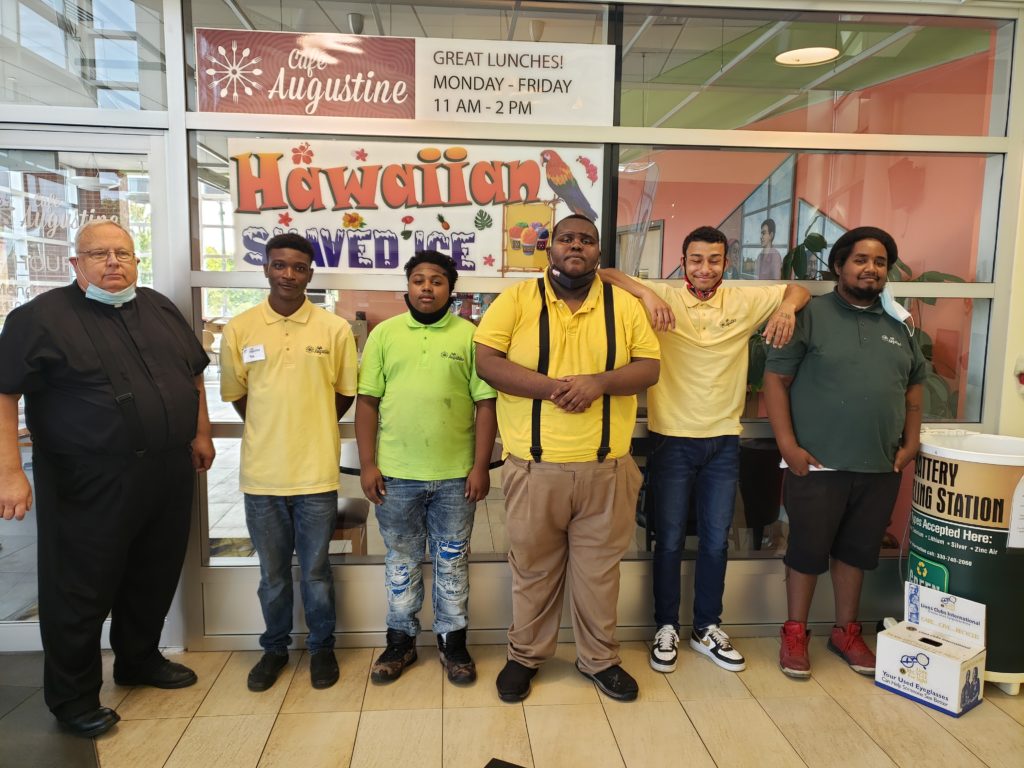 They have developed a trustworthy reputation in the community.
The café does not recruit youth—they arrive through the recommendations of friends and family, or through the courts to accompany the young people through the process of rehabilitation.
"The highest compliment we get is when a new face walks in and says it was due to a past student's referral," said Father Brienz.
The young people are also able to form connections with the café's patrons. Many are returning customers and community leaders who are eager to support the ministry and encourage the young workers.
While young people of all religious and no religious backgrounds are served through this program, spirituality has become a pillar of the process of growth.
A weekly young men's spiritual discussion group gives added depth and camaraderie to the program, and a few participants each year decide to enter the Catholic Church through RCIA.
Catholic Extension support is a lifeline
Forced to shut down for months in the pandemic, the very survival of the café was at stake—the futures of the young people it serves in jeopardy.
Catholic Extension provided emergency funding to help the café reopen in accordance with COVID-19 precautions so they could return to work.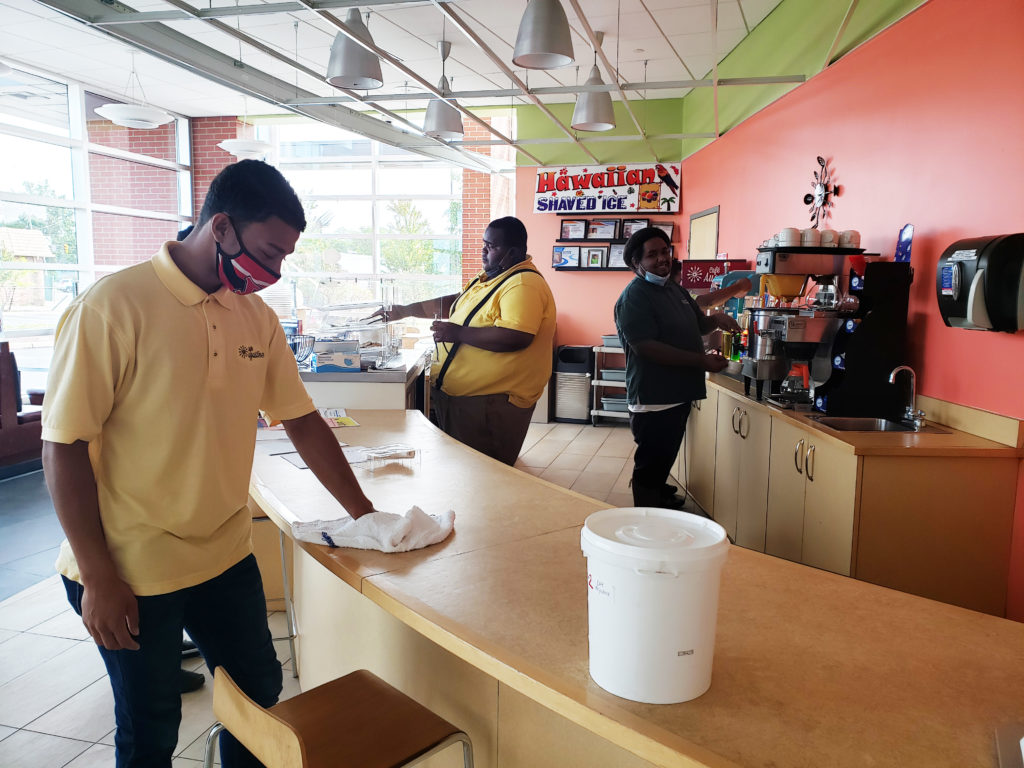 Father Brienz said,
This grant is our lifeline."
Café Augustine is needed now more than ever to change the lives of the young people who have so much potential.
This includes a young man named Elliot, who was raised in a home without sober guidance. When he was 18 he entered the program and moved in to the Augustine House and launched into his high school studies three years behind his peers.
At one of the RCIA events, he was given a crucifix necklace.
When the pandemic turned his life upside-down, he disappeared. After the café reopened, he returned, still wearing his crucifix. The staff thought he would have sold it on the street.
He responded, "No, it's too important. Especially since where it came from."
Café Augustine is more than a school, more than a shelter, and more than a job training site.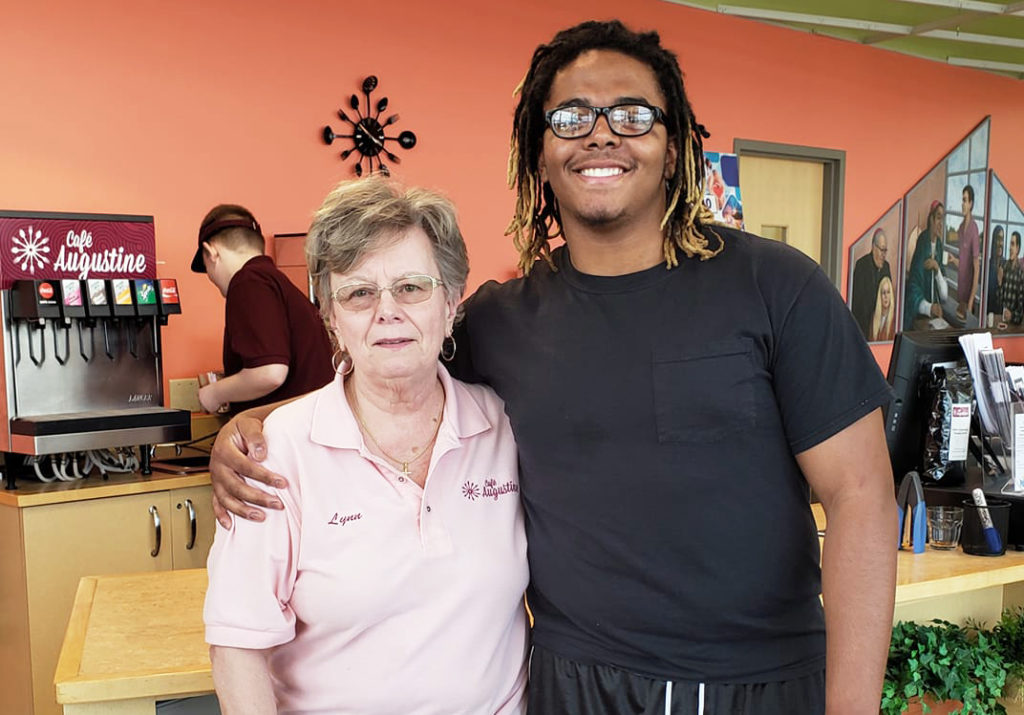 Rather, it is a place where young people can be steeped in the most enduring and valuable life lesson, namely that we are all created by God's love and meant to serve a purpose.
As St. John Bosco said, "Without confidence and love, there can be no true education."
Donate Today
Struggling faith communities need your help.