We are proud to announce the nominees
for this year's Lumen Christi Award!
This year's 34 inspiring nominees are as varied as the Church itself and have shown great resolve during this most difficult year. They are nominated as hidden heroes of the Church who are serving their communities selflessly to bring faith and hope to the forgotten corners and peoples of our country, inspiring those around them to be the "Light of Christ" as well.
About the Award
Catholic Extension's Lumen Christi Award honors an individual or group working in an Extension Diocese who demonstrates how the power of faith can transform lives and communities.
The Lumen Christi Award is accompanied by a grant for the honoree and his or her nominating diocese to be used for enhancing a specific area of ministry.
The Gospel tells us that Christ came not to be served, but to serve. The Lumen Christi Award recipients have proclaimed this with their lives. Where there are cries for help in America, where there is need, they have answered the call. They have "extended" the Church to young and old, to Catholics and non-Catholics alike. And they have dedicated themselves to serving in some of the most forgotten places in America.
Since its inception in 1978, the Lumen Christi Award has been given to priests, women religious, and lay leaders from across the nation.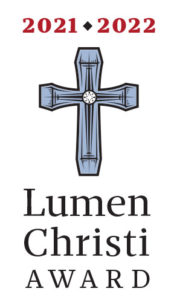 ---
Meet last year's award recipient
Father Ron Foshage | Diocese of Beaumont, Texas
Fr. Ron Foshage has worked to rebuild a community torn apart by a horrible act of violence and racism, and spends his days helping his flock in small gestures that speak volumes in the Catholic Extension-supported Diocese of Beaumont.