Dear Friends,
We believe that faith is transformative — that it changes who we are, how we live and how we see the possibilities in our own lives and in the lives of those around us.
Last year, faith communities throughout America were able to explore their own possibilities because of you. Your generous donations allowed people to look past their difficult circumstances, to garner confidence and to imagine a different future.
In 2018 we accomplished so much together. We extended much-needed assistance to communities in Puerto Rico and Florida who are desperately trying to rebuild their lives after recent hurricanes.
We established the Family Reunification Fund to support ministries on the southern border that help immigrant families who are separated. We built and repaired 47 churches. And with great enthusiasm, we supported hundreds of women religious throughout the country who are heroically on the front lines of our faith.
In this annual report, we celebrate these women religious — trailblazers, entrepreneurs, leaders — who are building and transforming our Church. These women are brave and innovative problem solvers. They are finding ways to improve people's lives and to encourage them to move forward. With you, we are providing these women religious with the resources and tools to change communities.
In the following pages, we present sisters in Brownsville, Texas, who are welcoming immigrants and creating new opportunities for them to integrate into society and fulfill their dreams; a sister in northern Wisconsin who is lifting Native Americans out of poverty through education and faith; and a whole network of Latin American sisters who are completing their final year of a five-year program to serve Hispanics in struggling parishes.
Each of these women religious is having a huge impact in her community. With compassion and courage, she is tirelessly building relationships among people facing great hardships. Her unwavering commitment gives them hope.
Since our Church's beginning, women religious have contributed so much to its growth. With persistence, kindness and humility they have shaped institutions, ministries and pastoral care. They have built and managed hospitals and schools, and many have leadership roles in parishes with no resident priest. We honor their many gifts.
In this report, we also feature a story about a Catholic Extension pilgrimage to Rome and a special message from Pope Francis to you, our donors.
We are thankful for each of you. Without you — our donors — none of this great work would happen. We are enormously grateful to partner with you in building the Church in America's poorest places. Together, we are connected by a sense of possibility.
Yours in Christ,

Reverend John J. Wall
President, Catholic Extension
2018 Annual Report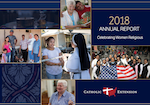 Download our 2018 Annual Report (PDF)
2017 Annual Report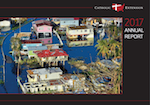 Download our 2017 Annual Report (PDF)
2016 Annual Report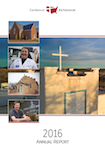 Download our 2016 Annual Report (PDF)
2015 Annual Report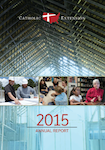 Download our 2015 Annual Report (PDF)
2014 Annual Report

Download our 2014 Annual Report (PDF)
2013 Annual Report

Download our 2013 Annual Report (PDF)
2012 Annual Report

Download our 2012 Annual Report (PDF)
2011 Annual Report