Catholic Extension has a long history of providing crucial support to El Paso and the other Catholic dioceses at the U.S.-Mexico border. Catholics make up 80 percent of the total population in the territory of the El Paso diocese—the third highest percentage in the country.
Adjusted for inflation, Catholic Extension has provided a total of more than $122 million to help U.S. dioceses along the U.S.-Mexico border with the building and repair of churches, the education and formation of priests and other leaders, and various ministries. In the El Paso Diocese alone, Catholic Extension has funded projects totaling more than $18 million.
Catholic Extension has had a special focus on the dioceses in Texas throughout its history. The three U.S. dioceses with the highest percentage of Catholics—Brownsville, Laredo and El Paso—are all Texas border dioceses. Of all the states that Catholic Extension has supported over the years, Texas has received by far the most funding. And within Texas, the Diocese of El Paso has received funding for the greatest number of projects. Click the links and watch the videos below to learn more about how Catholic Extension is strengthening the Catholic Church in this area of the country.
Three Missionary Sisters Reach Out to Poor on Texas Border
---
Catholic Extension's Support of the Church in Texas
Catholic Extension's Funding History in Texas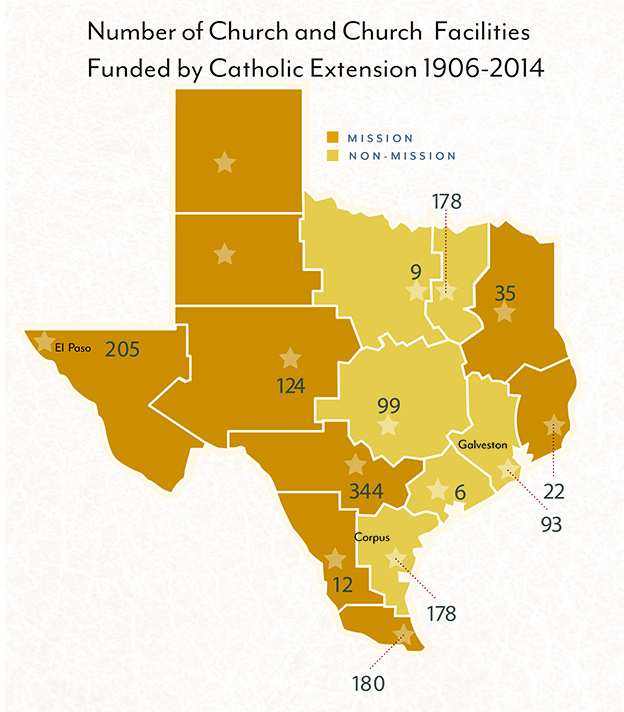 ---
Chicago Priests Experience the Church in Mission Territory
---
Celebrating Our Lady of Guadalupe