The Catholic faith communities supported by Catholic Extension endure hardship in normal circumstances. Living in areas with high rates of poverty and few resources, their faith gives them hope and courage.
When the country shut down just a few months into the year, the closing of church doors, end of home visits and inability to gather to commemorate life events such as weddings and funerals was devastating. Many members of the communities we support lost work and income, often unable to apply for government benefits. Others risked their lives and the lives of their families to work essential jobs. Children in homes without internet access felt left behind.
Through this immense hardship, Catholic leaders—priests, sisters, brothers, lay ministers and more—stepped up to help through creative and often life-saving initiatives that kept faith communities together in spirit even in this era of distancing.
Here are the photos that show these stories:
Guánica, Puerto Rico: Catholic sisters survive and serve others after earthquake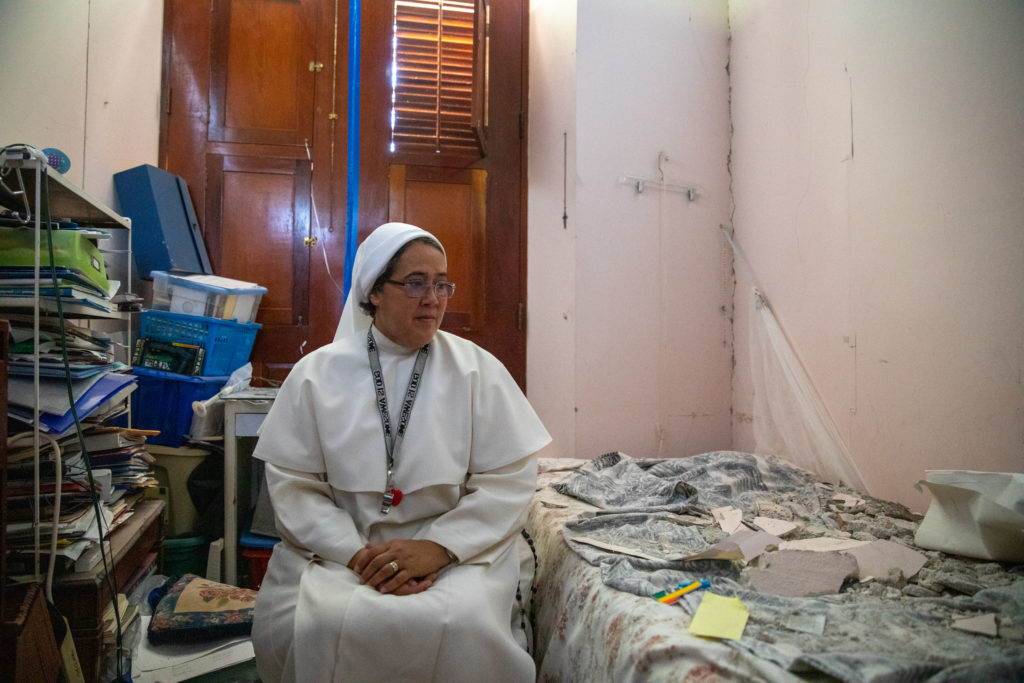 In the early hours of January 7, 2020, a magnitude 6.4 earthquake hit Guánica, Puerto Rico. The Sisters of Our Lady of the Rosary of Fatima managed to escape their destroyed motherhouse, but found themselves homeless. Undeterred, they quickly began humanitarian and pastoral outreach to the community, despite living in tents and trailers.
Through Catholic Extension's Parish Partnership Program, Mary, Star of the Sea parish in La Jolla California made a generous gift in the midst of the pandemic to support the sisters and their life-saving ministry, which has become only more essential during the pandemic.
Photographed here in her destroyed bedroom, Sister Judith Maldonado said, "God gave us the gift of living, to keep working for the families and for the salvation of our souls and the souls of others."
Ponce, Puerto Rico: Virtual Easter Mass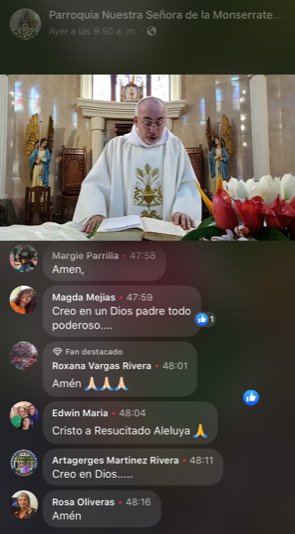 Some might say that a screenshot does not count as a photo. Through this is technically true, how else can we represent so much of life in 2020? Just like almost everything else, Mass moved online.
So many of the parishes in Extension dioceses, already under-resourced, were entirely unprepared for such a dramatic shift. That's why, just a few short weeks after lockdown began, Catholic Extension held a seminar teaching faith leaders how to record and stream Mass online.
Although the shift to the digital world has been difficult for everyone, we have been inspired in these past months by the online participation and enthusiasm, such in this screenshot from a livestreamed Easter Mass. We are grateful to all who have joined our own weekly online Mass.
Sturgis, Michigan: Keeping Hispanic faith communities together in faith and spirit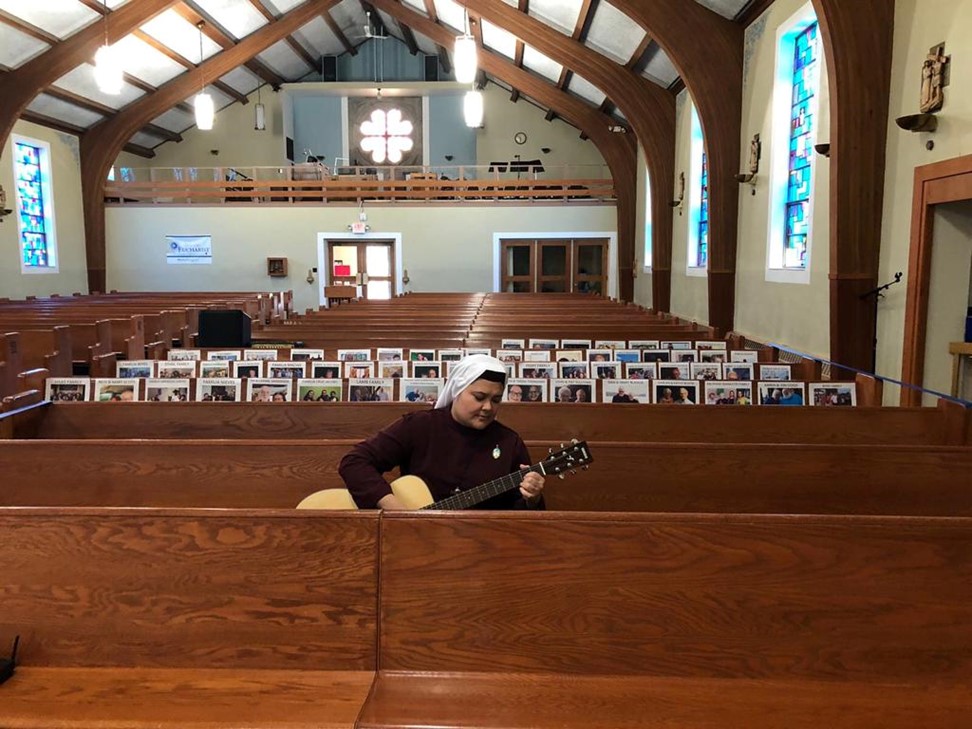 At Holy Angels Parish in the Diocese of Kalamazoo, Sister Daysis Evangelista Uriarte Benavidez played music in front of photos of parishioners taped to pews in a service streamed online. Although she was alone in the church, she was connected in spirit to the community she serves.
Along with two sisters in her order, she arrived not long before the pandemic began through Catholic Extension's U.S.-Latin American Sisters Exchange Program, which funds religious sisters from Latin American congregations to minister among Latino immigrant populations in Extension dioceses across the United States.
The sisters have been essential to this faith community, which has been suffering from poverty and a rise in suicide among young people. The sisters have accompanied the community throughout the pandemic by streaming Masses and prayers, counseling over the phone, food assistance and much more.
Yakima, Washington: Ordination during the pandemic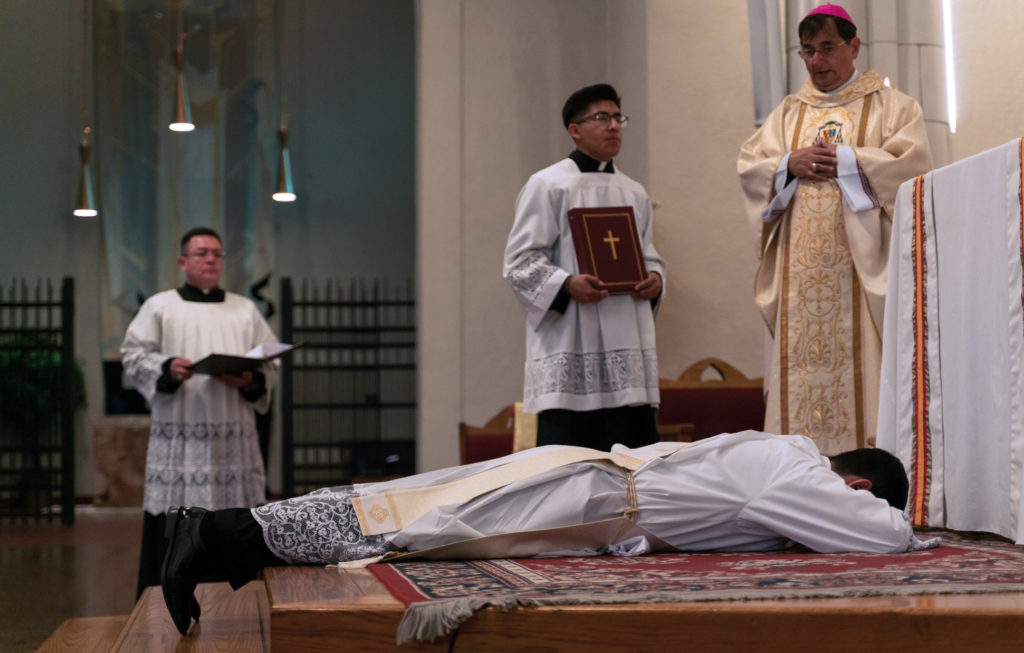 Father Edgar Quiroga was ordained to the priesthood in the middle of the pandemic on May 22, 2020, in the Diocese of Yakima. Most of his family and friends could not attend due to restrictions—including his parents in Mexico—but 30 cars lined up to receive a blessing in the parking lot after the ceremony.
"It's not about me and my feelings," he said. "It's about the people receiving a new priest for life. Especially, during these hard times with the pandemic. … I can help the older and senior priests, and alleviate them so they're not as risk."
Catholic Extension supported his seminarian education, and continues to support his work toward an advanced degree.
"This is the beginning of a lifetime as a priest," he said.
Gwinn, Michigan: Sisters on the Frontlines of the COVID-19 crisis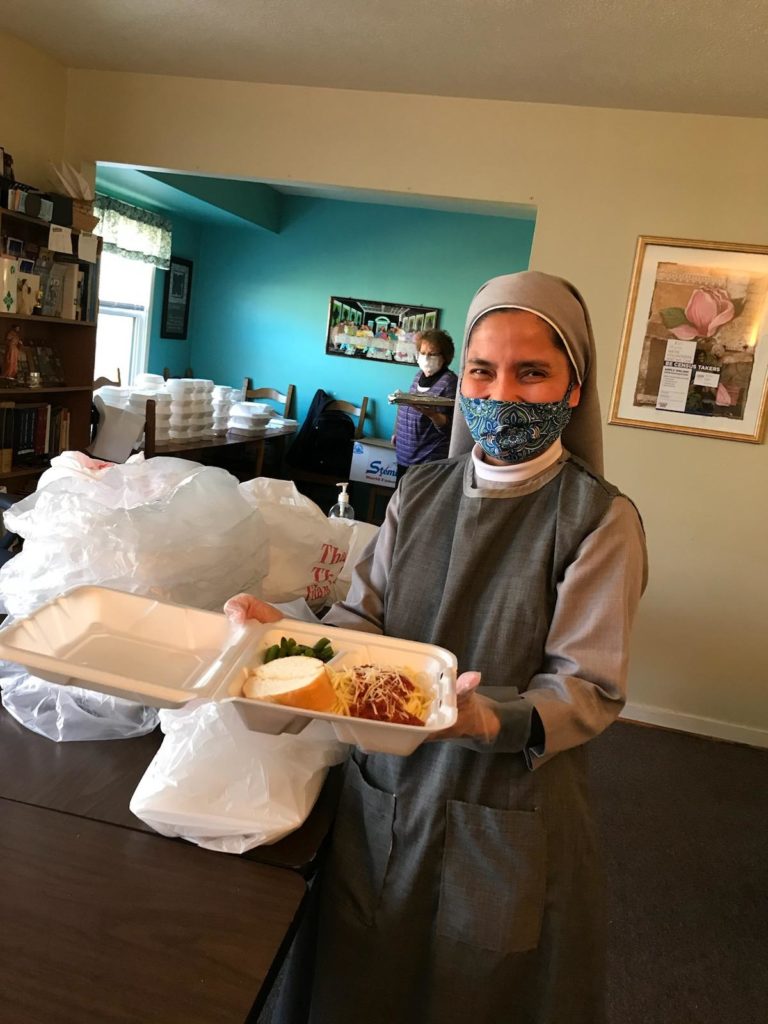 Sister Fidelia Villa's infectious smile is impossible to miss—even under a mask. She is one of hundreds of Catholic sisters who received $1,000 to help families most adversely affected by COVID-19 as part the Sisters on the Frontlines initiative.
As a volunteer at St. Francis Connection Center, a Catholic Extension-supported social outreach center in Michigan's Upper Peninsula, Sister Fidelia helps make and distribute healthy meals to people in need. The funding contributed greatly to the thousands of meals the center has provided to families during the pandemic.
"I am very blessed and humbled to directly serve the poor and to witness to the love and providential care of our loving God," she said. "This corporal and spiritual work of mercy is a mission as a Catholic Christian," she said.
Lake Charles, Louisiana: Seminarians step up to help after Hurricane Laura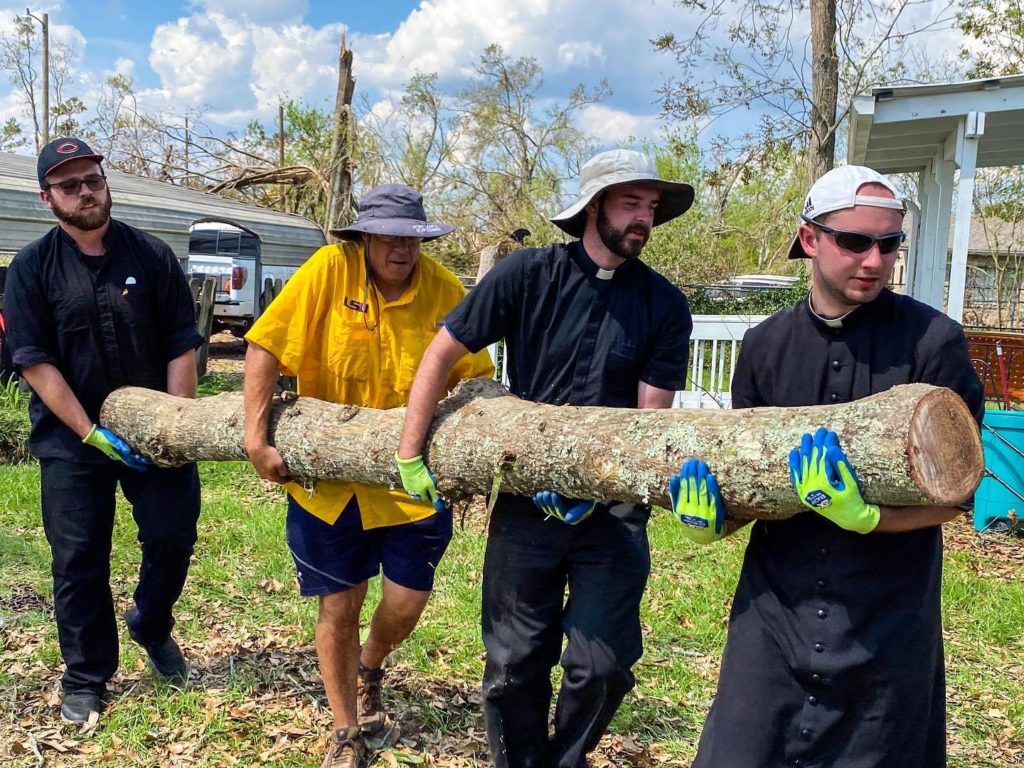 Dozens of seminarians from Notre Dame Seminary in Louisiana—where Catholic Extension supports the education of more than 40 seminarians—traveled to the Diocese of Lake Charles to help clean up the community after Hurricane Laura slammed the region in September. The Category 4 storm severely damaged infrastructure and buildings, including dozens of Catholic churches.
Through the generosity of our donors, Catholic Extension sent emergency funding to the diocese, supporting Catholic organizations and faith leaders reaching out to those most in need with charity and spiritual care.
Bishop Provost of the Diocese of Lake Charles wrote a letter of gratitude for the outpouring of support for those affected by Hurricane Laura. "In conversation recently with Mayor Nic Hunter of Lake Charles, he expressed his concern that Hurricane Laura would become a 'forgotten storm.' I assured him that the Catholic Church was doing all She could to make sure that this did not happen."
Jasper, Texas: Spreading a message of reconciliation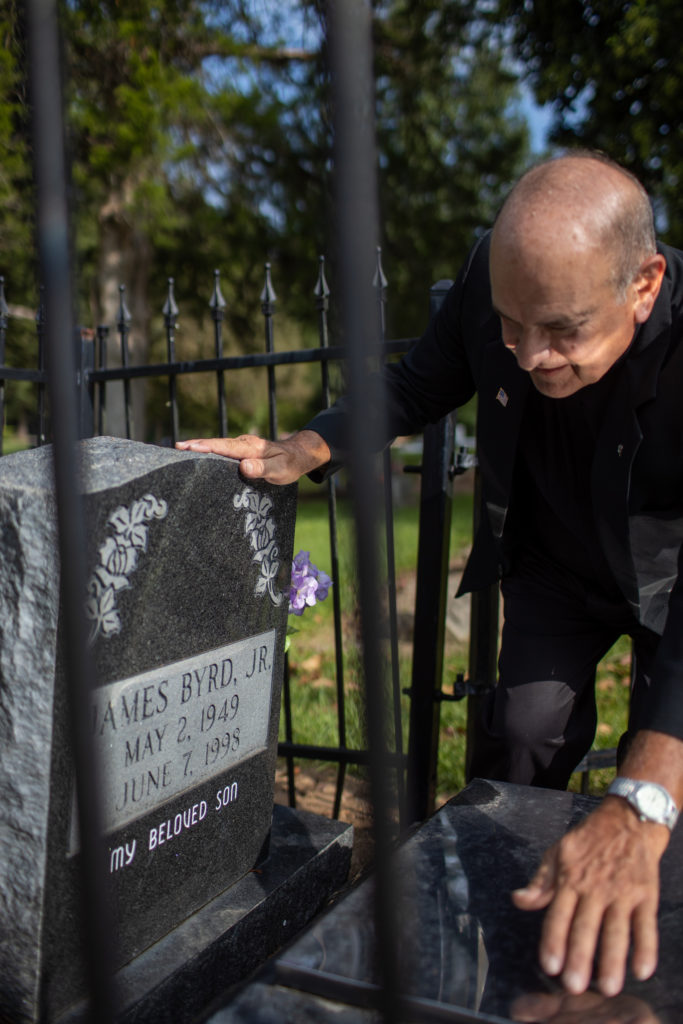 Father Ron Foshage, MS, kneels in respect and sorrow beside the grave of James Bryd Jr., a Black man who was horrifically killed in a racially motivated attack in 1998 in Jasper, Texas, in the Diocese of Beaumont. In this very graveyard, Father Ron spearheaded the dismantling of a 163-year-old fence that separated Black and white graves in the city cemetery.
For his humble, faith-based leadership in a time of extreme pain and anger that erupted in the town and country in the wake of this crime, and for his selfless acts of generosity and powerful messages of reconciliation, Father Ron received Catholic Extension's 2020-21 Lumen Christi Award.
Acoma Pueblo, New Mexico: Fulfilling the works of mercy on Native American reservations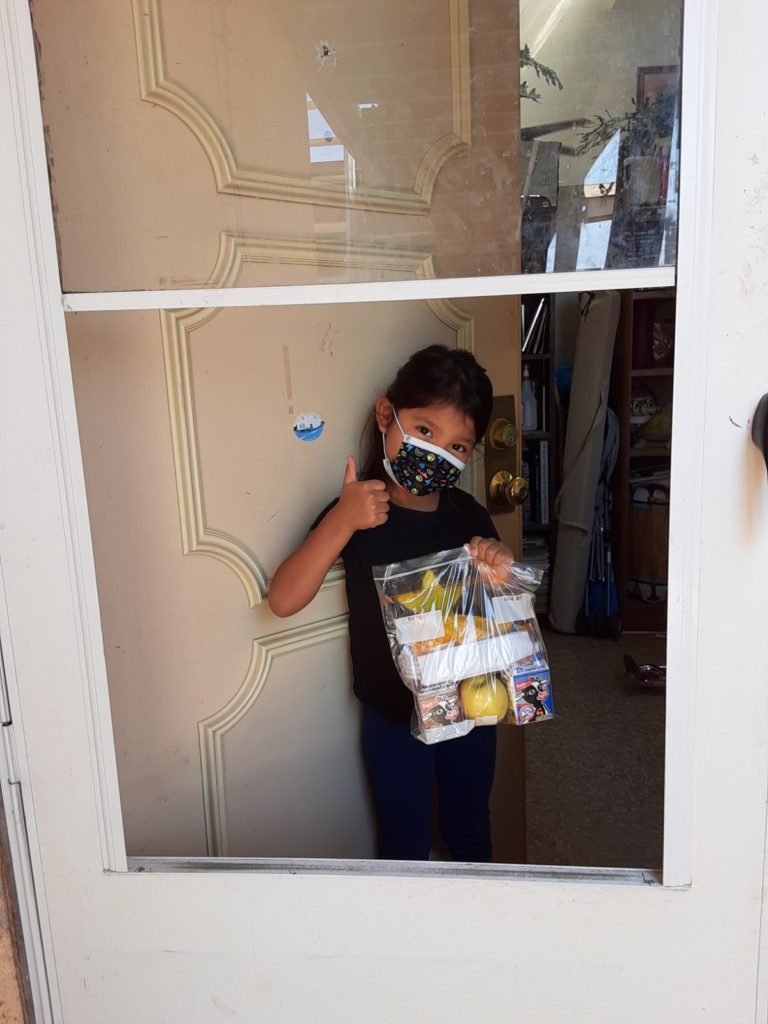 A young girl quarantined at home in the Acoma Pueblo in New Mexico gives a thumbs up to the volunteer from her Catholic school who brought her food and learning packets. She is one of thousands of families who were helped through Catholic Extension funding sent to the Diocese of Gallup. Parish and Catholic school leaders were eager to fulfill the Spiritual and Corporal Works of Mercy, especially on the Native American reservations so devastatingly hit by the coronavirus.
The funding assisted with COVID-related needs such as PPE equipment for home visits, construction of safe distances in confessionals, supermarket gift cards for needy families, cleaning supplies for parishes, schools, and thrift shops, and common areas where Native American parishioners depend on coming to the church to obtain clean water.
Saipan, Northern Mariana Islands: Celebrating Christ in a socially distant motorcade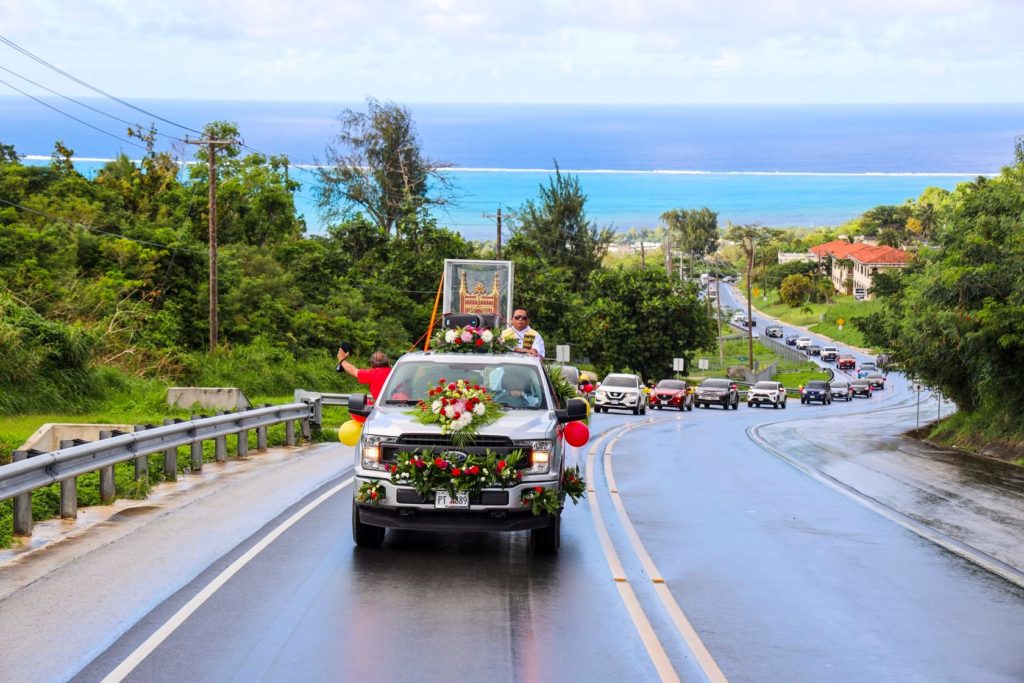 Kristo Rai Parish in the Diocese of Chalan Kanoa decided to celebrate the Feast of Christ the King on November 22, 2020, with a motorcade procession around the island of Saipan. The traditional walking processing was not allowed because of the need to maintain social distancing. The parish did not want to cancel the annual procession and used the motorcade to celebrate and proclaim Jesus Christ as King of the Universe.
Catholic Extension supports this far-off diocese—located closer to the Philippines than to the contiguous United States—through evangelization and outreach ministries and media equipment to steam Masses online to help parishioners stay safe and connected to their faith.
Nogales, Arizona: Amplifying the voices of children who are denied refuge in the U.S.
Children's stories, struggles and hopes were at the forefront of the Children Seeking Asylum march on October 21 at the U.S.-Mexico border in Nogales, Arizona. For months they have been denied refuge in the United States as part of the "Remain in Mexico" order that has forced tens of thousands of asylum-seekers to wait on the Mexican side of the border as their claims are heard in U.S. courts.
Catholic Extension joined in solidarity with the Kino Border Initiative, a migrant ministry organization supported by our donors, to host and livestream a prayer during the march.
---
Related: Check out our Top 10 Photos of 2019 here.
You can help communities just like these. Please donate to help us build up vibrant and transformative Catholic faith communities in the poorest regions of America.
Donate Today
Struggling faith communities need your help.