A young mission diocese is on its way to becoming self-sustaining
The Diocese of Tyler in east Texas is one of the smallest dioceses in the United States in terms of population—only about 4% of the area is Catholic. But in recent years, it has boasted some of the largest diaconate classes in the country. It also is one of the most successful dioceses in terms of recruiting seminarians, and its parishes are gaining a foothold and attracting new parishioners. Founded as a mission diocese only 25 years ago, it is working hard to become self-sustaining, according to Deacon Richard Lawrence, the director of the Office of Discipleship and Stewardship.
"As a mission diocese we depend on the kindness of others, like Catholic Extension," said Lawrence. "But now it's time to grow up. We're like the young adult who's been living at home. But now it's time to leave. With the help of Catholic Extension, we're moving in the right direction."
Catholic Extension donors have supported the Diocese of Tyler with three years worth of funding to help the diocese implement "best practices" and support itself. The focus is on strengthening the diocese's Office of Discipleship and Stewardship so it can effectively raise funds from within.
Lawrence, a former mayor and county judge whose wife, Nell, is director of the local Catholic Charities agency, is optimistic about the future and the diocese's ability to create an infrastructure that will lead to self-sufficiency. "The grant from Catholic Extension is helping us grow up and stand on our own two feet," he said.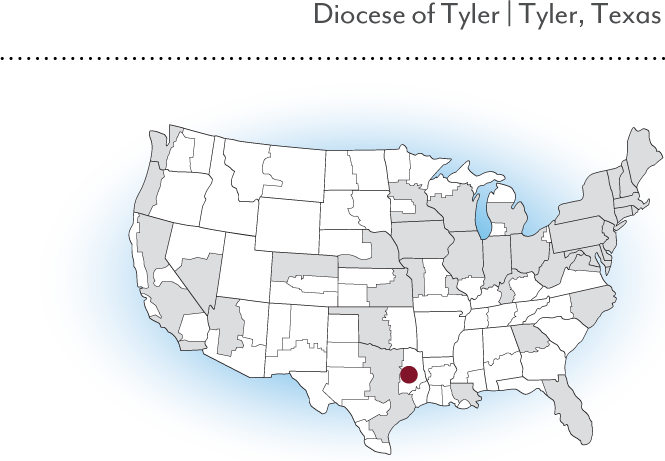 Show your support for mission dioceses, like Tyler, that are working toward self-sufficiency.
Support Now
Donate Today
Struggling faith communities need your help.