The uphill climb one must take to navigate the steep hills in Monticello, Kentucky, reflects life for many folks in the area. Here the low points of daily life mirror the geographic hollows hidden among the Appalachian foothills of eastern Kentucky.
Sister Ann Kernan has been providing critical spiritual and emotional support to women in the area since 1992. Over the years, Catholic Extension's donors have helped both her parish and ministry.
She has made it her mission to help women in the area build self-confidence and navigate the struggles of life for those in the area plagued by poverty and lack of opportunity. Many are isolated by a lack of transportation and education, in a city where 28 percent of people lack a high school diploma.
The area's scenic rolling hills, farmland and nearby mountains allow "you to pass right by, if you don't open your eyes, and not see the poverty," says Sister Kernan.
Here is where you enter another world."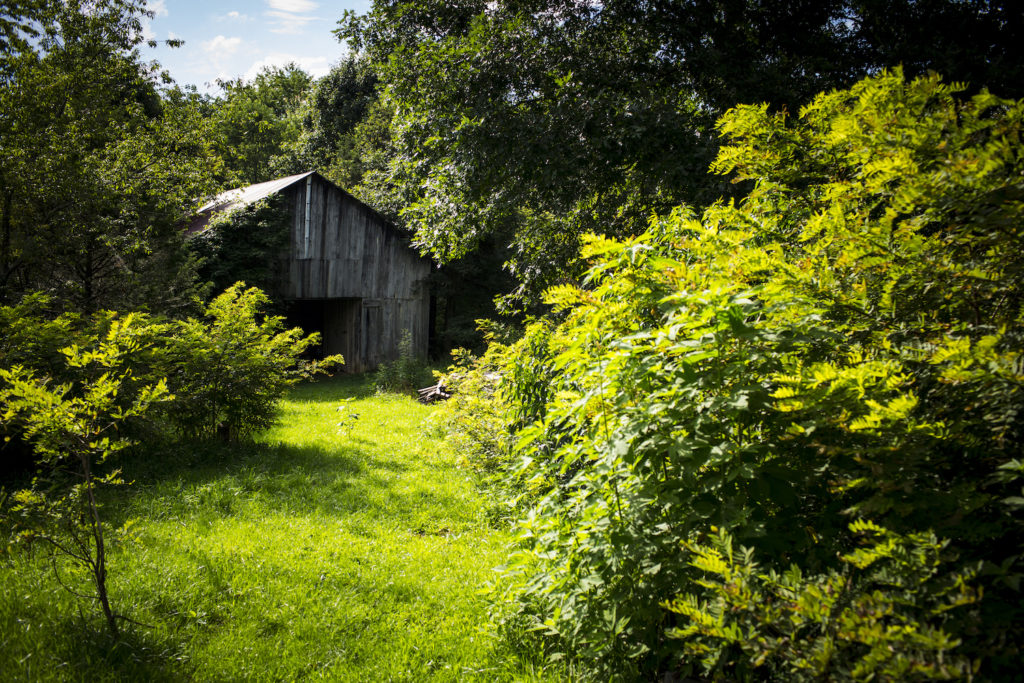 Miracle in the Mountains
Sister Kernan recently received a check from Sisters on the Frontlines, a program that gives Catholic sisters a $1,000 grant to help those most in need during the pandemic.
As the message hit her inbox, she had been talking to Shayna, a mother of seven children, who was facing eviction from her trailer after a series of misfortunes.
Shayna's husband had been deported to Mexico when their baby was two weeks old, so she has been the sole supporter of her family, working in a charcoal factory. When COVID-19 caused the schools to resort to remote learning, Shayna was forced to leave her job and care for her children. She got behind in rent and received the eviction notice.
Sister Kernan was able to help her make a payment and also direct her to other local resources that could help:
The timing was like a small miracle."
Helping Victims of Abuse
Sister Kernan is not alone in her work in Kentucky. Sister Una Davey, a sister of the same order, also helps people like Shayna with housing, employment, education, health care and transportation by advocating for them with different agencies.
Upon her 60-year jubilee as a sister, Sister Davey reflected on her time in Kentucky:
I am inspired by their deep faith, their willingness to work hard to provide for their families, and their ability to be joyful and celebrate life in the face of uncertainty."
With the Frontlines grant, the sisters also helped a 19-year-old woman, Liliana, and her mother, Hermita, is a dialysis patient. When she came down with COVID-19, medical transport could not drive her 25 miles away to the dialysis center due to safety measures.
Since Liliana had to drive her, she was unable to work her job in a restaurant for two weeks during quarantine. With no income, she needed help to make her car payment. A portion of the Frontlines grant enabled Liliana to help drive her mom in this critical time.
Then another woman needing help called the sisters from the local motel. Cindy had recently been at a shelter for victims of abuse. She stayed with friends when she returned to Monticello, but then she was exposed to COVID. The local Community Action Agency put her up in the motel for a week, but she needed help paying her final three nights ($150) of quarantine at the motel. Because of the Frontlines grant, Cindy and those around her stayed safe.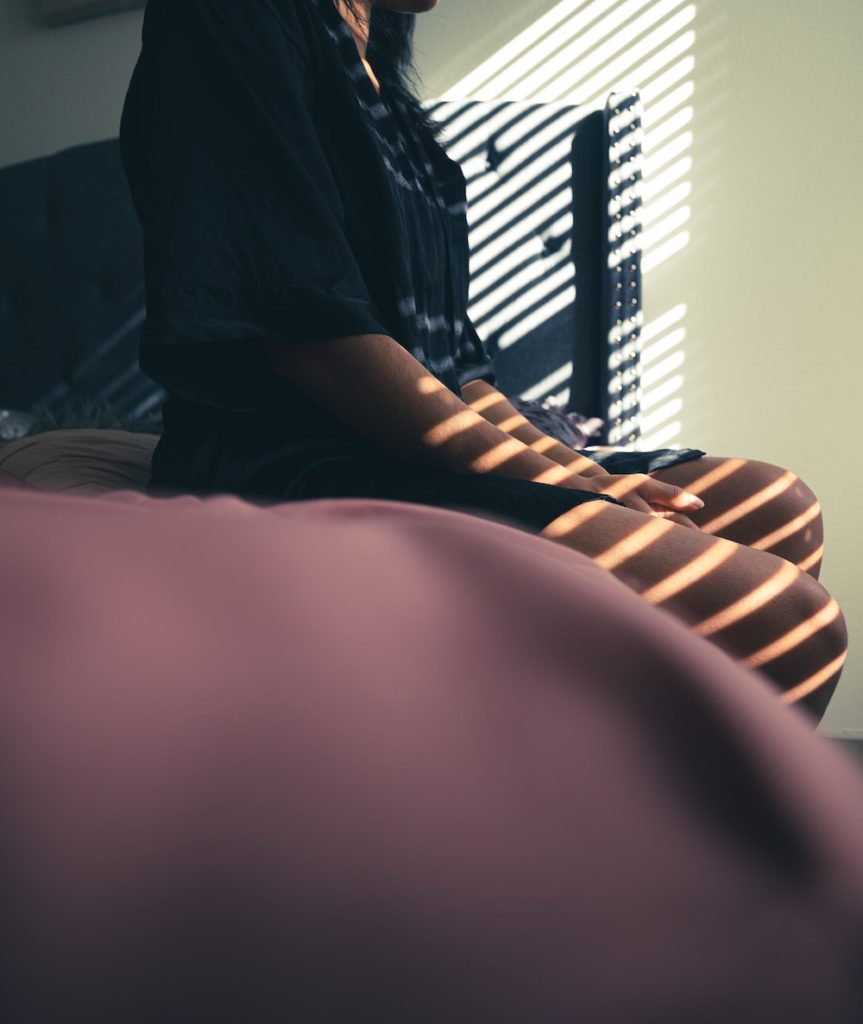 Empowering 'Mountain Moms'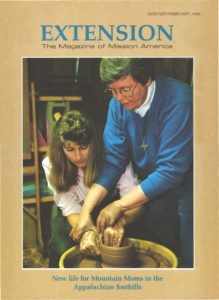 We first met Sister Ann in 1995 when we featured her budding ministry, which has been supported by Catholic Extension's donors, in Extension magazine.
When she first arrived, she met extremely shy women who lowered their eyes when talking. Sister Ann traced these characteristics to growing up deprived, feeling inferior and sometimes dropping out of school early to help the family. Resulting low self-esteem had stripped them of confidence and motivation.
Together, they identified a basic need that was not being met: the need to establish and embrace one's own strengths and God-given worth.
The women themselves suggested activities: sewing, cooking, art, music and crafts. With five used sewing machines, the women's dreams, and start-up money from friends and relatives, Sister Kernan launched "Mountain Moms." The program is designed to replace negative experiences in their lives with positive ones:
In a nutshell, my goal is empowerment of women."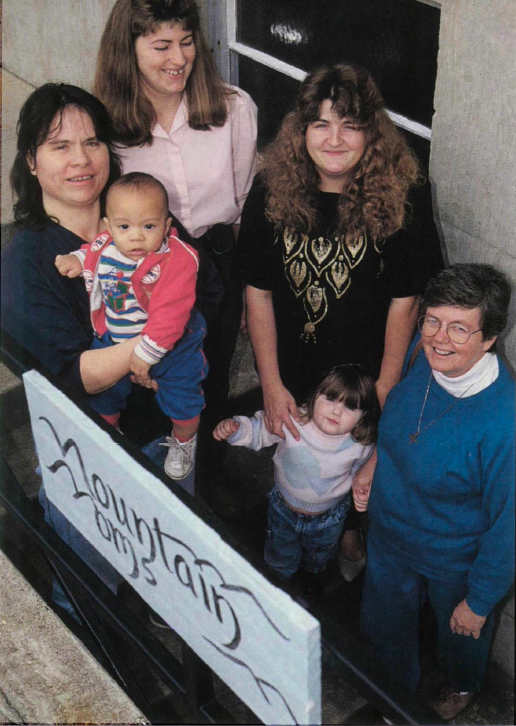 Change came slowly, but she began noticing more women with eyes and heads raised. They started carrying on conversations with more ease and confidence.
Continuing Compassion
Nearly three decades later, Sister Kernan is still there to help carry the heavy challenges that face women in the area.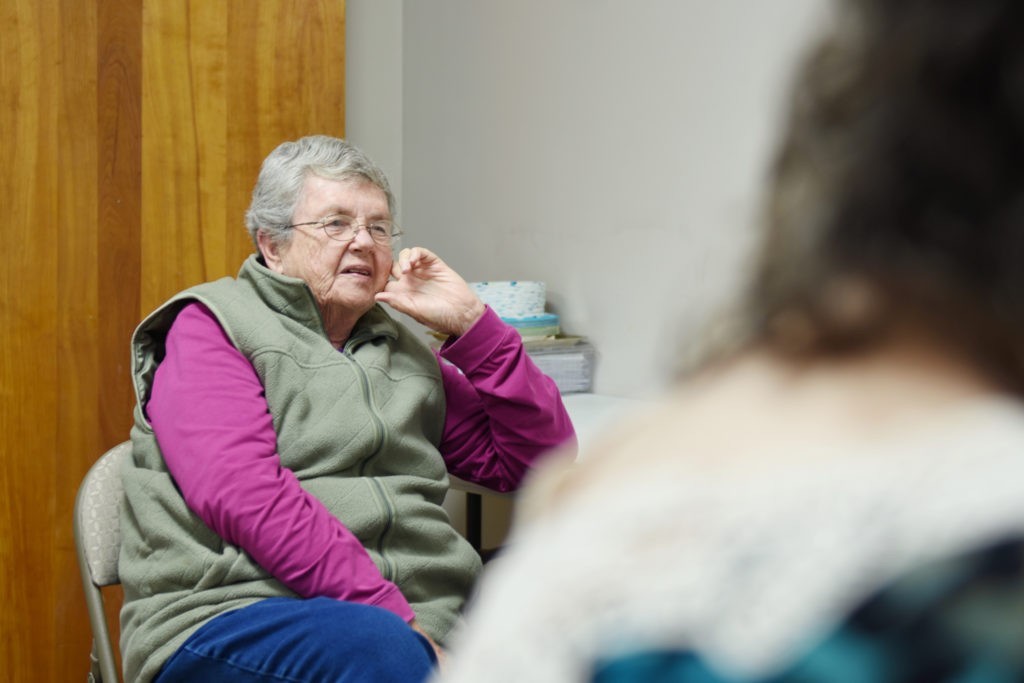 The local economy cannot sustain the needs of the people there, so she says the Frontlines grant was greatly appreciated:
Each situation is different. Each need is real. Thank you for enabling us to be the channel through which assistance reaches those in need."
As the pandemic continues, so does the Sisters on the Frontlines initiative. Contributions to this program bring relief, joy and renewed faith to those among us who are so adversely affected.
Find out more about this program on the Sisters on the Frontlines webpage.
Give today to help Catholic sisters provide emergency assistance to families in need.
Portions of this story and photos were taken from our 1995 Extension magazine article by Claudia Leopold.
Donate Today
Support Our Work