Most young people ages 9 to 15 are not actively seeking out more "parental" guidance. It's the age of independence and branching out to peers.
But those attending an after-school program in Arecibo, Puerto Rico, are embracing another set of parents — in the form of two caring nuns — because they realize that this extra boost is transforming their lives.
The program, Animación Misionera Espiritual (AME) is run by Sisters Vicky Beaz Díaz and Brenda Ubiñas Lazzarini of the Missionaries of Christ the Savior in the Diocese of Arecibo, in the northern part of the island. The goal is to provide a nurturing place for children during the hours of 3 to 7 p.m., where they can be safe and productive.
Founded in 1989 in two neighborhoods and recently expanded to the Cotto neighborhood of Arecibo, the program has served more than 1,000 children. The newest site currently has 45 children and has served 150 in total.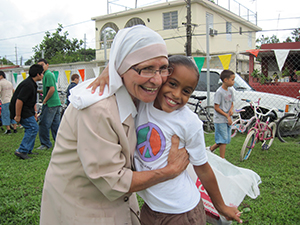 "All the children in the poorest of neighborhoods, especially those who are lonely or have been abandoned, have the right to be treated as people and as the children of God," said Sister Díaz. "It is our duty to go to meet them, love them, accept them and walk with them as they improve their lives."
"We are trying to break the chains of violence," she added. "These children come from bad situations at home. Poverty, drugs, unfit parents. They come here hungry."
The children come to do homework, play sports, go on field trips and retreats, be taken to the doctor, receive counseling, pray, sing and play with friends. In short, they come to grow up.
"We do a little bit of everything — academics, spiritual, values, psychological, theater and sports, said Sister Lazzarini. "And we integrate it all with evangelization."
Initially getting the children to come can be difficult. The sisters go door to door, often on bicycles, asking if students can join them. Many of the homes are dingy and drug-infested. The parents are struggling, but hesitant to release control of their children.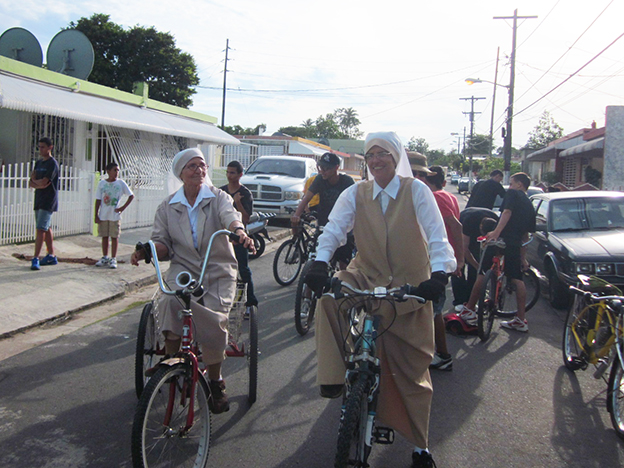 But once the children see what the program offers — guidance, discipline, fun and snacks — and the goodness that it brings to their lives, they want to stay. 
"I am a different person,"said Johnny, a 16-year-old participant. "At the center, Sister Vicky and Sister Brenda have trusted me and believed in me, and with God's help I have developed the tools I need to face the obstacles in my path."
The grounds of the Cotto AME are simple, but functional. There is an outside court where Sister Lazzarini, tall and athletic, plays basketball with the children.
She also manages the theater, for which she writes, directs and produces plays. With the children, she makes the props, backdrops and costumes. They have performances frequently for crowds of up to 200.
Through the plays, she evangelizes. "I don't want empty drama," she said. "Even the parents who come to watch need to hear good messages."
"Theater is so important for young people," she said. "They have an internal richness and imagination that needs to be expressed. Theater opens them up and keeps their self-esteem high."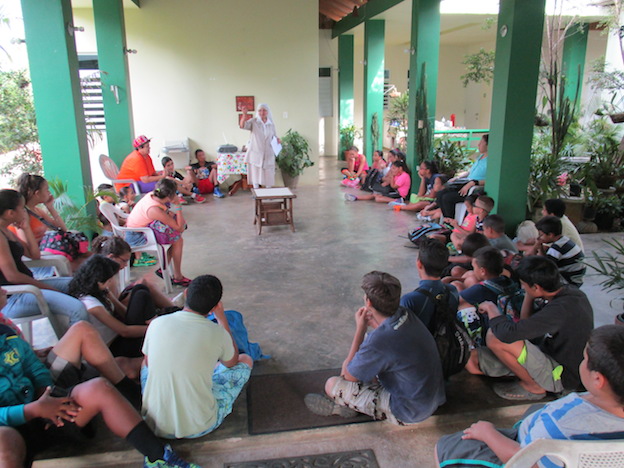 The library is long and narrow, in the shape of a boat, with a large painting of Jesus at the head as the captain. It's a reminder of the Bible story of the disciples waking Jesus while on a boat during a storm and Him calming the seas.
Through its Year of Mercy Fund, newly established in honor of Archbishop Joseph Kurtz's service, Catholic Extension has committed $10,000 to support the operational costs of AME.This is particularly critical now as Puerto Rico is facing staggering debt — more than $70 billion — which is greatly impacting the government's ability to fund social programs. The Church is playing an even bigger role in keeping these programs going.
Sister Díaz and Sister Lazzarini, whose convent is on the Cotto grounds, are the only two sisters in their congregation, which was started by Sister Díaz in 1987. Together, with a few volunteers, they are managing this impressive enterprise and changing the trajectory of the lives of these children. They are shaping young leaders and showing them the immense possibilities that surround them.
"We are offering a helping hand in their journey," said Sister Díaz.
And ultimately, that's what parenting is all about. 
Donate Today
Struggling faith communities need your help.