Our broken immigration system has left families in shambles.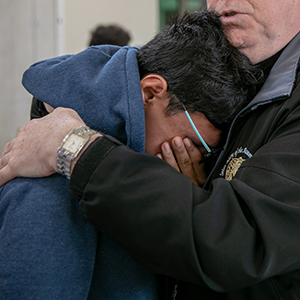 In Maine, a young woman juggles her college courses with working to help support her mother and two younger siblings. She struggles to help pay the mortgage and the steep legal fees for a lawyer to represent her immigrant father, who has been detained since 2018. The American dream feels further and further away with each day, and she isn't sure how much longer she can keep up with her studies.
In Texas, a young child with special needs cries for his father, who was deported after being pulled over for a broken tail light. The man had been brought to the U.S. as a child, spoke perfect English, operated his own roofing business, and owned a home. Now his wife and child, both U.S. citizens, push on.
The Holy Family Fund is a relief program that was established by Catholic Extension to assist low-income families in the U.S. who are financially dependent on a parent that has been detained or deported for immigration reasons.
The program provides funds and supportive services to U.S.-dwelling children and spouses who experience extreme economic insecurity and profound trauma in the wake of these abrupt family separations.
Frequently Asked Questions
Why is the Holy Family Fund Needed Today?

Many families are separated across borders with no legal pathway for unification—a consequence of our broken immigration system. This has a destabilizing effect on our society, especially when children are left behind in this country to fend for themselves.  A recent study found that, on average, most immigrants who were deported or detained had been living in the U.S. an average of twenty years.

Sadly, seventy-eight percent of deportees reported having U.S. citizen children, with an average age of 15 years.  This program is designed to help these suffering children and families left behind in the U.S. without any support.

Why does the Catholic Church get involved with immigrants?

Scripture and the teachings of our faith tradition urge us to care for the poor, migrant, and vulnerable.  Therefore, throughout American history, the Catholic Church has been a leading organization in supporting all types of immigrant families—including asylum-seekers, refugees, and those seeking to reunite with their families.

The patroness of immigrants, St. Frances Xavier Cabrini was sent by the pope to America in the late 1800s to care for immigrants (mostly Italian Catholics) by creating schools, hospitals, and orphanages. Today, every Catholic diocese in the country supports immigrants in some form or fashion, as the Catholic Church continues to affirm the human dignity of all immigrants, both those with and without documents or status.

For Catholic Extension, the Holy Family Fund is a program that helps fulfill our mission of strengthening the Church's outreach on the peripheries of society, beginning with families, who are the very foundation of our Church and nation.

Does this program support violent criminals?

No. Those with a record of violent crime will not be eligible to participate in this program.  Funds provided by donors will only benefit the U.S.-dwelling dependents of immigration deportees for qualifying financial needs, such as basic household expenses.

How does the program work?

Each participating family will be accepted into the program, only after an initial screening has been conducted by a local Catholic service provider that has partnered with Catholic Extension, such as Catholic Charities. The participant will name the family members that would access the benefit, should the applicant be removed from the country.

If a participant is detained or deported because for immigration reasons, the eligible family members must show documentation received from the government to verify their need.  All benefits paid out by Catholic Extension to qualifying families will be managed by the local Catholic service provider.

Do the participating families contribute financially to the program?

Yes. The participation fee is $30 per month for a married couple. Thus, Catholic Extension's funds to support recently separated families will be drawn from:

the fees paid by other participants and
contributions from donors like you that feel called to help these families.

What benefits do immigrant families receive?

The family members will work with their designated case worker to determine their greatest needs.  After this assessment is done, the family may receive benefits up to $5,000 to help pay for rent or house payments, utilities, food, health care costs, transportation or other expenses to maintain household stability for the first critical months after the bread-winning family member is detained or deported. Families may also be eligible for other legal and psychological services, as determined by their local case worker.