As the nation focuses on the vulnerability of its meat supply, we cannot forget about our fruits and vegetables as we enter the farming "high season," nor the people who harvest these crops.
Catholic Extension is privileged to support 20 dioceses nationwide with their ministry to migrant farmworkers who are at the heart of our agricultural industry. I have personally met with thousands of migrant farm workers in all regions of the country over the past decade. In spite of the long hours and often grueling physical demands of planting and harvesting crops, I've never met another group of people more thankful for the gift of work, or a group more thankful for the presence of the Church.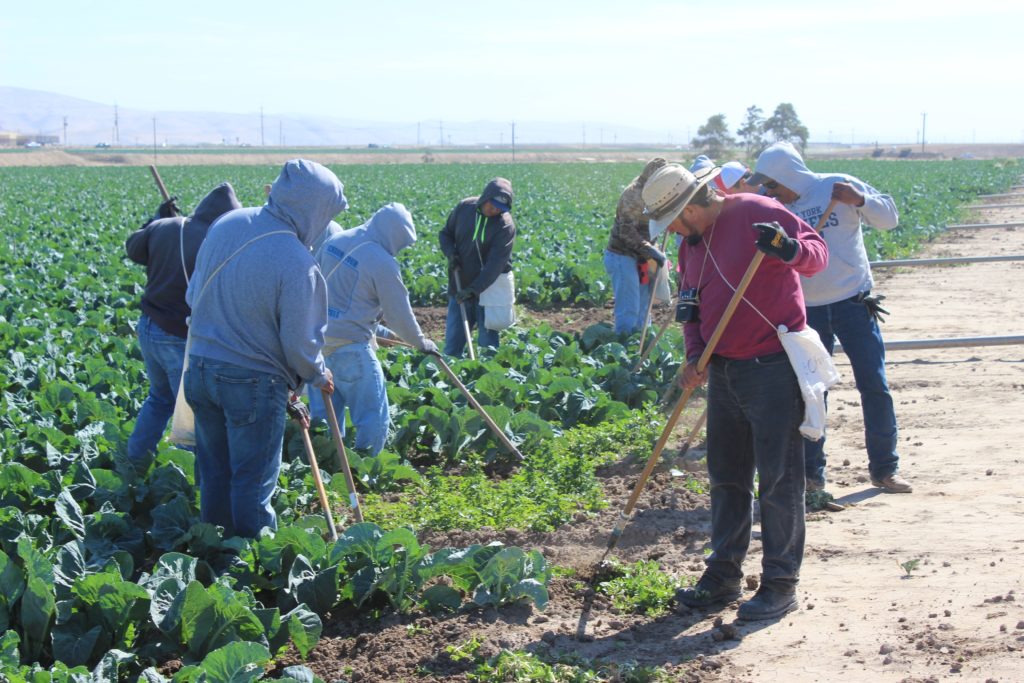 While these farmworkers are arguably at the very bottom of our capitalistic system, in terms of their annual earnings, their value is immense in our economy, and certainly in our Church. They are the people who put food on our tables, and if this pandemic has taught us anything, it is that the vulnerabilities of others are all our vulnerabilities. Our health and well-being are more connected than most people imagined.
The very people who provide us food are often food insecure themselves.
At this time last year, I was giving a presentation along with a religious sister we support who visits 300 migrant farmworker camps per summer in Western Michigan. The audience members were aghast to learn a reality that the Church knows well. Namely, that the very people who provide us food are often food insecure themselves. In fact, one of the common activities of the Church among migrant farmworkers is to provide food and other basic necessities that these workers cannot afford or procure themselves. If ever they are injured or sick, many have little recourse. That sister from Michigan recounted the sad story of a woman she counsels who was working in a fruit packing plant, when a machine caught her hair and ripped her scalp off, leaving her disfigured for life. There was no worker's or medical compensation following this accident for reconstructive surgery.
As "High season" for farm work begins in many parts of the country, this pandemic forces us to pay more attention to these people who are normally overlooked. Recently, the workers behind our meat supply have been widely discussed, as several large packing plants have shut down. What about our fruit and vegetable supply and our ability to maintain our fields and their yields amid the COVID-19 pandemic?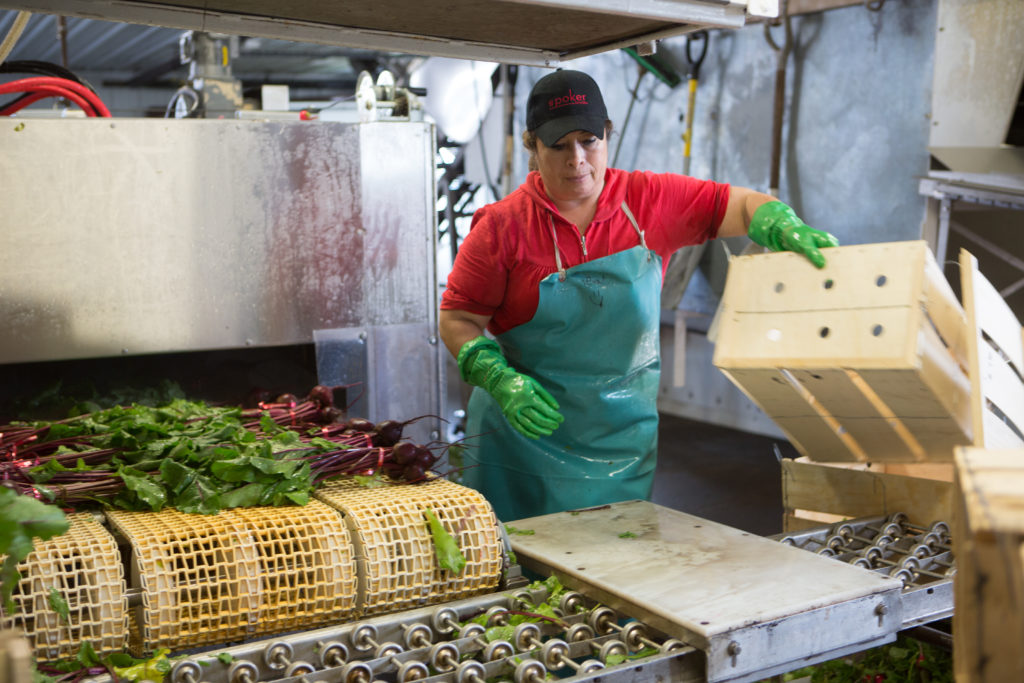 One reason to be alarmed is that many migrant farmworkers live in communal housing (i.e. "camps"). Some stay in large dorm rooms where many people sleep together in one room, some in tents or overcrowded hotels, and others in trailer homes where multiple families live together. Workers are often bussed in large numbers from camps to the fields where they work. In other words, social distancing is a challenge in these circumstances.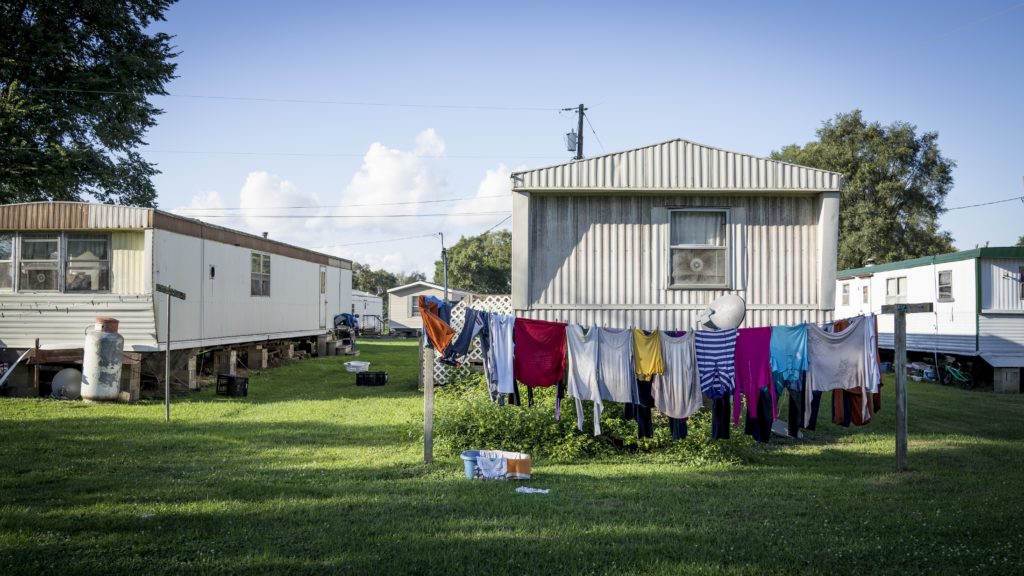 Normally, this is the time of year when the Church ramps up her activities in these encampments of people. For example, the Diocese of Yakima, WA, which estimates that its Catholic population doubles in size each spring with the arrival of 100,000 migrant workers, tries to offer as many outreach programs to this population as possible. Those who come for 3-6 months to pick cherries, pears, and apples are treated to weekly fiestas and Masses in the sprawling camps, often presided by the bishop himself.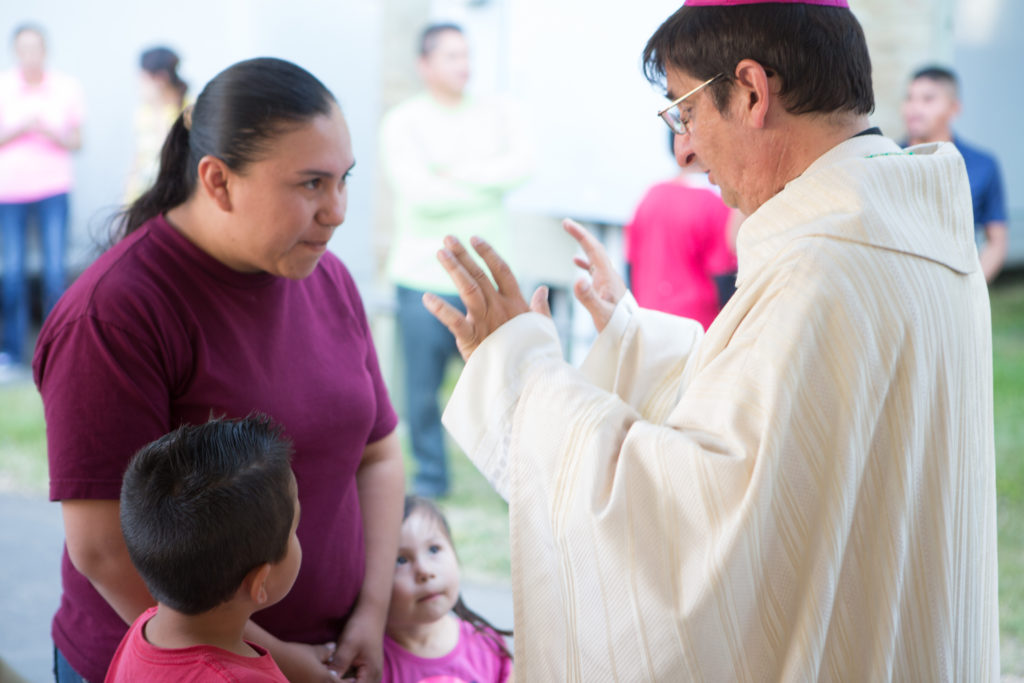 Catholic Extension funds an innovative summer reading program offered through the diocese for the throngs of migrant kids during the days when their parents work the fields. The diocese's ability to implement these types of programs this summer may be in jeopardy, depending on the evolution of the State of Washington's restrictions.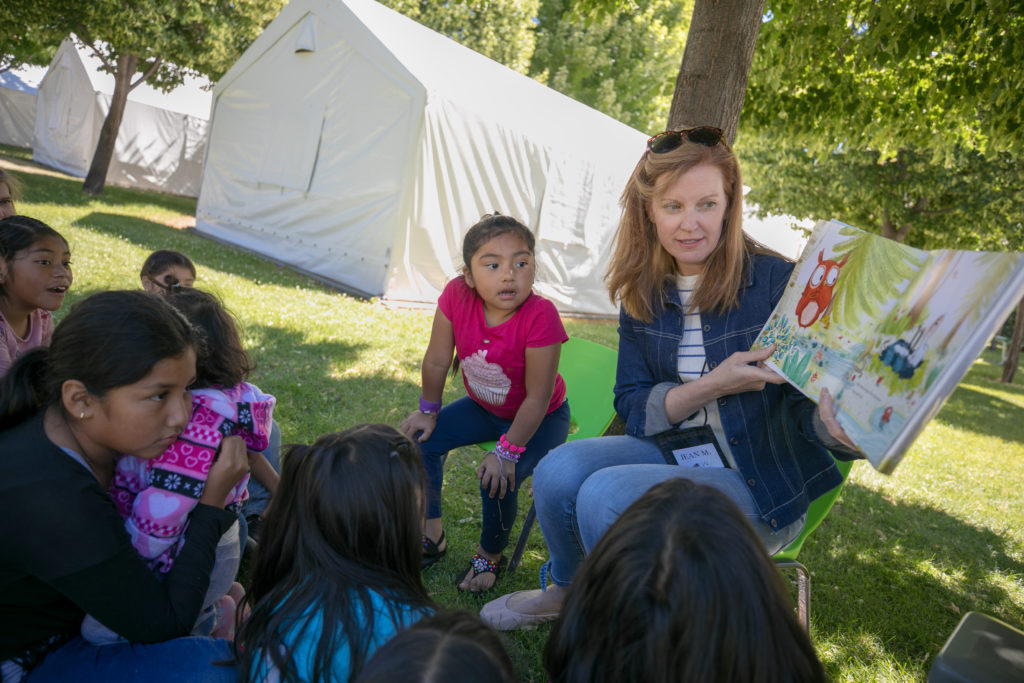 In California, Catholic Extension has worked closely with four dioceses that collectively cover the fertile Salinas, Coachella, San Joaquin and Central Valleys, where much of the state's $50-billon-per-year agricultural products come from. But, frontline Church leaders are taking a cautionary approach, suspending their normal pastoral visits to migrants' camps in an effort to prevent sickness.
In the Diocese of Stockton, CA, for example, which covers the San Joaquin Valley, this time of year usually marks an exponential increase in pastoral activity among migrants who flock to the area. But now, Church leaders are keeping their distance, opting instead to send encouraging notes to their "essential worker heroes" on their migrant farmworker facebook page, and calling up workers by phone to provide counsel and hope. Sr. Lourdes Gonzalez, MGSpS, who leads migrant pastoral ministry near Stockton, sees her main job at this time to bring calm to workers and their family members who are worried not only about their health, but their livelihoods as well.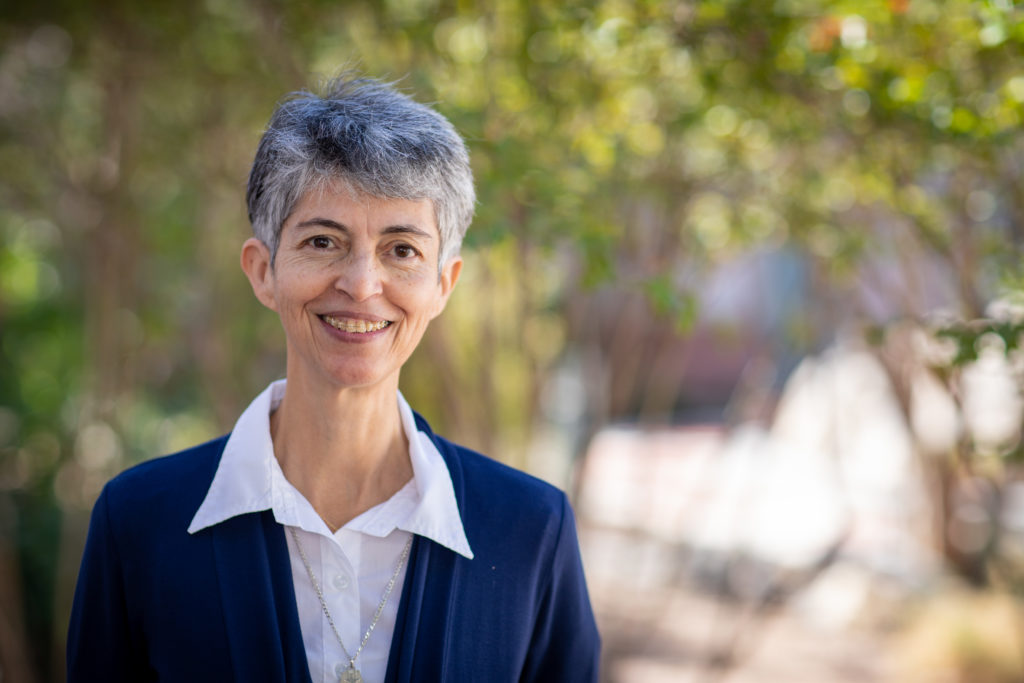 These concerns are legitimate, considering that in other agricultural communities of California, like Monterey County, 25 percent of COVID-19 infections are among agricultural workers, according the USA today.
Meanwhile, in Southern California's Coachella Valley, the migrants with jobs are grateful to remain employed, even though COVID-19 cases continue to spring up in the area. As food insecurity grows among migrants whose work has been disrupted, one area parish, Our Lady of Guadalupe in Mecca, CA, recently gathered 500 food baskets for migrant farmworkers in need. What's more, they put a notice out to the larger community: "Pass on the message to other families who may be in need, and we will gladly get them food as well." Although the State of California has recently announced an initiative to financially assist these poor families, many migrants there and around the country are still going to struggle, especially if they are prevented from working.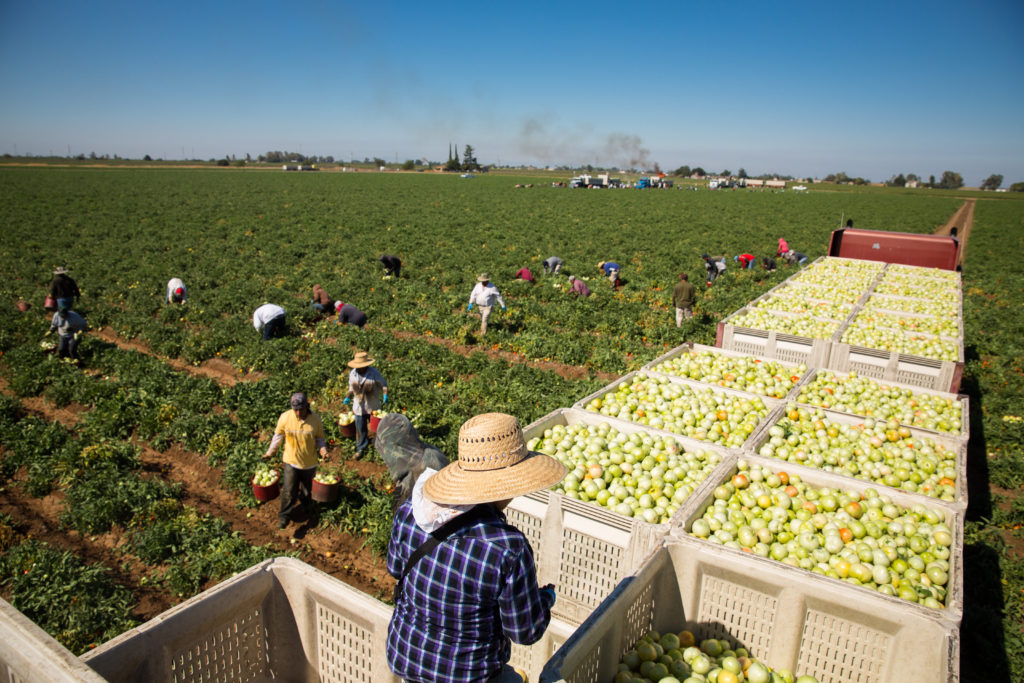 In an April 28 statement of support to migrants, U.S. Catholic bishops called for greater testing and access to healthcare for migrant workers, as well as provisions that allow workers to follow CDC preventative measures both on the job and in their living quarters. The bishops thanked the businesses and institutions already providing these protections.
For years, Pope Francis has been decrying the "throwaway culture" in which we too easily dispose of the earth and its resources, our food, and most seriously, our people, especially the poor and vulnerable. Perhaps the silver lining of this pandemic is a renewed sense of how much we depend upon one another, and that the people we once regarded as disposable workers in our economy are, in fact, indispensable. We depend on people like migrant farmworkers for our own wellbeing and nourishment, and without them we too will suffer.
Now, while we are looking forward to a slow and arduous recovery from the pandemic, there is a danger that we will forget those who are left behind."

Pope Francis
In his homily for Divine Mercy Sunday several weeks ago, Pope Francis said, "Now, while we are looking forward to a slow and arduous recovery from the pandemic, there is a danger that we will forget those who are left behind."
He was expressing concern that a return to normal life means a return to "discarding the poor, and sacrificing those left behind on the altar of progress." What this pandemic has uncovered, however, is that "there are no differences or borders between those who suffer. We are all frail, all equal, all precious." It is in our best interest, then, to follow the Church's example to care for the vulnerable, and in this case to care for the very people who we depend on to feed our own families.
Joe Boland is the vice president of mission at Catholic Extension.
---
Faith communities in the United States need your help to continue their life-saving outreach. They cannot do it alone. Express solidarity with impoverished faith communities affected by COVID-19 by giving to our coronavirus response fund, praying with and for us and inspiring others by sharing this story.
Donate Today
Struggling faith communities need your help.