Across the poorest regions of the United States, there are examples of Catholic faith shining through difficult circumstances—parishioners celebrating Mass in borrowed spaces, children joyfully learning the Gospel in makeshift classrooms, and remarkable ministries helping those who need it the most.
We call these areas the "peripheries." They are not tourism hot spots—they are on the edges of society, and they usually do not get a lot of attention. But the stories of the people living here give witness to how faith transforms.
We have the great privilege of being welcomed into these communities to get to know them and to understand how they are building the faith. Our talented photographer and senior manager of creative services, Rich Kalonick, is there to capture these moments. Through his snapshots, we are able to witness the profound change possible through our donors.
Here are some of our best shots of 2019:
Pascagoula, Mississippi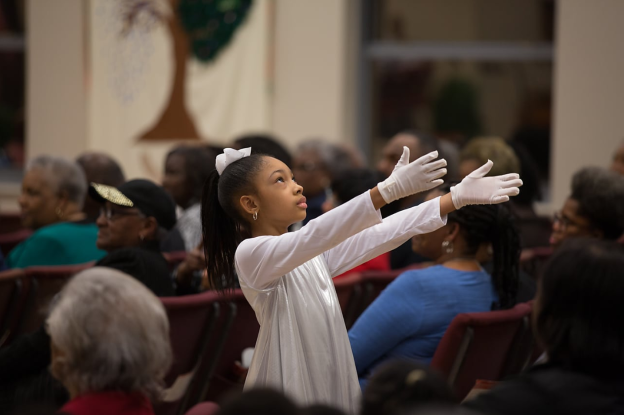 This young girl danced her way down the aisle of St. Peter the Apostle, an African American parish that is more than a century old. The parish hosted an exuberant Gospel concert that featured worship through singing and dancing. Catholic Extension has supported the community for more than 25 years, especially after Hurricane Katrina.
Erwin, Tennessee
Father Tom Charters, a Glenmary Home Missioner, holds Mass once a week for migrant farmworkers in a barn that was converted into a chapel. The hanger for his vestments in the background conveys the simplicity of the setting. "He tells the good news to the migrants before they go out," Kalonick said.
Sunland Park, New Mexico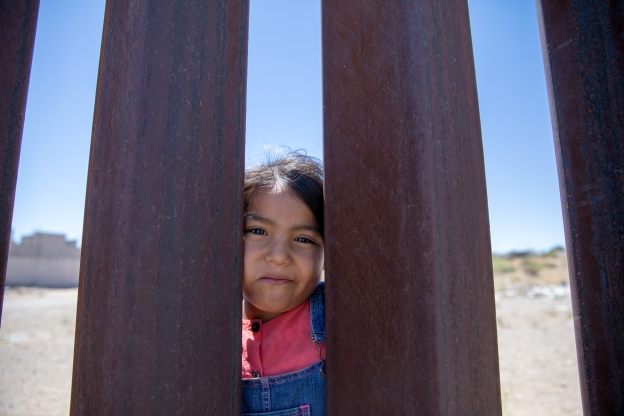 The Catholic presence is strong on the southern border, providing support, comfort and faith to families living in an unstable area. Visiting priests on our Pastor Immersion Program spoke with children who were playing on the Mexican side of the border wall, including this young girl, who curiously poked her head through the slats.
The immersion trips allow priests to experience first-hand the Church's missionary work on the furthest edges of society – and of the country.
Mission, Texas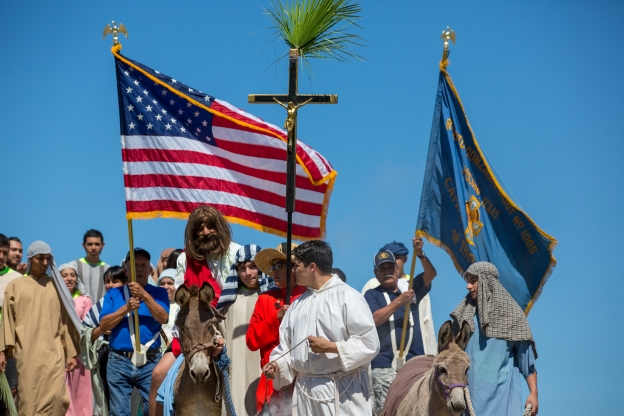 Every year, thousands of Catholics walk in a procession to the historic La Lomita chapel as an expression of faith on Palm Sunday. This photo was taken near the end of the processional.
The Church is rapidly growing in Texas, and Catholic Extension donors are supporting its ever-changing and exciting transformation.
Boston, Massachusetts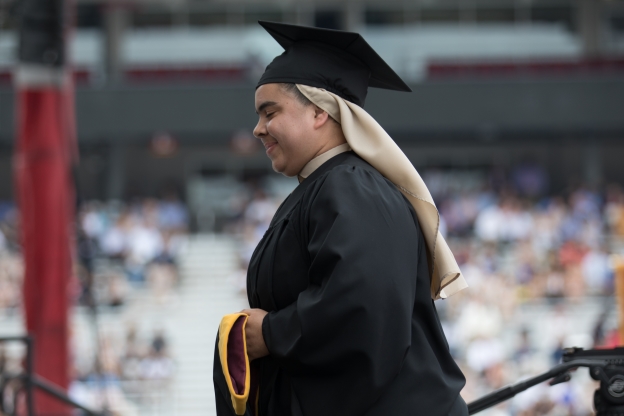 When she was a child, Sister Maryud Cortés could not attend school because of a severe illness. In May of this year, she walked across the stage in Boston College's commencement ceremony to accept her diploma for her graduate degree in applied leadership, representing the Woods College of Advancing Studies.
Sister Maryud's education was part of her work in Catholic Extension's U.S. Latin American Sisters Exchange Program. Read her incredible story.
Rosebud, South Dakota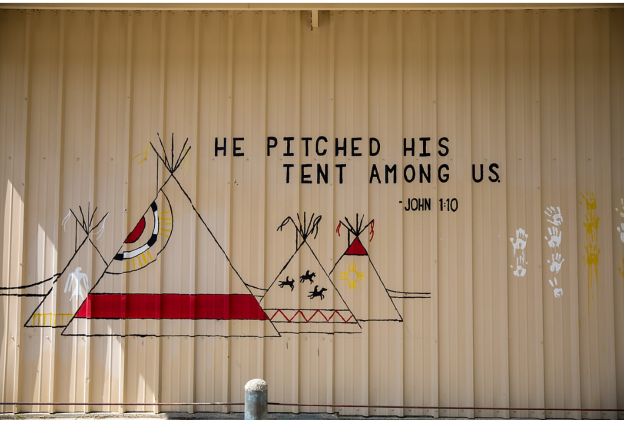 On the Rosebud Reservation, the wall of a building that holds rooms for religious education offers a simple but profound message of faith and community for the Lakota people. Our donors have supported the reservation's St. Francis Mission for more than a century, including greatly needed health and youth ministries today.
San Benito, Texas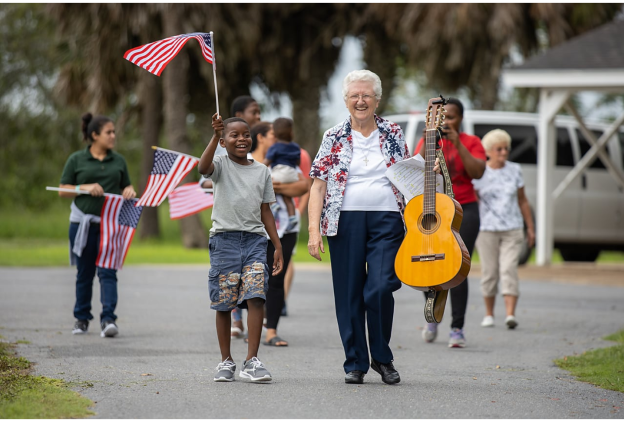 As the group rounded the corner to come sing "God Bless America" to visiting priests, Kalonick ran to get into position and "capture the pure joy" on the young boy's face. He is living at La Posada Providencia, an emergency shelter supported by Catholic Extension for people fleeing from political oppression, natural disasters, and poverty and are seeking asylum in the United States.
Vega Baja, Puerto Rico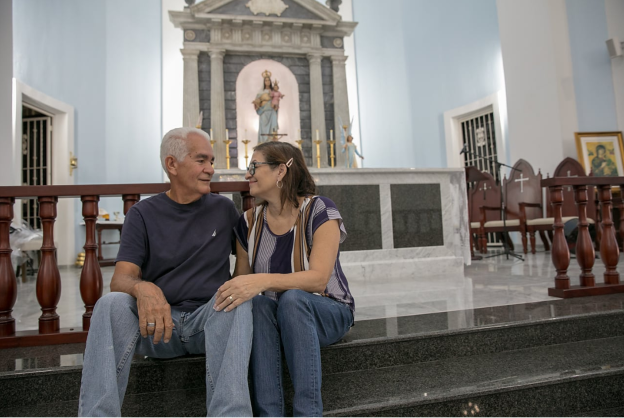 Parishioners Julie and Miguel share a tender moment in front of the recently repaired altar of their church, Our Lady of the Rosary. The building was severely damaged after Hurricane Maria, but it was beautifully rebuilt with help from our donors and parish partner St. Paul of the Cross in Park Ridge, IL.
Morton, Mississippi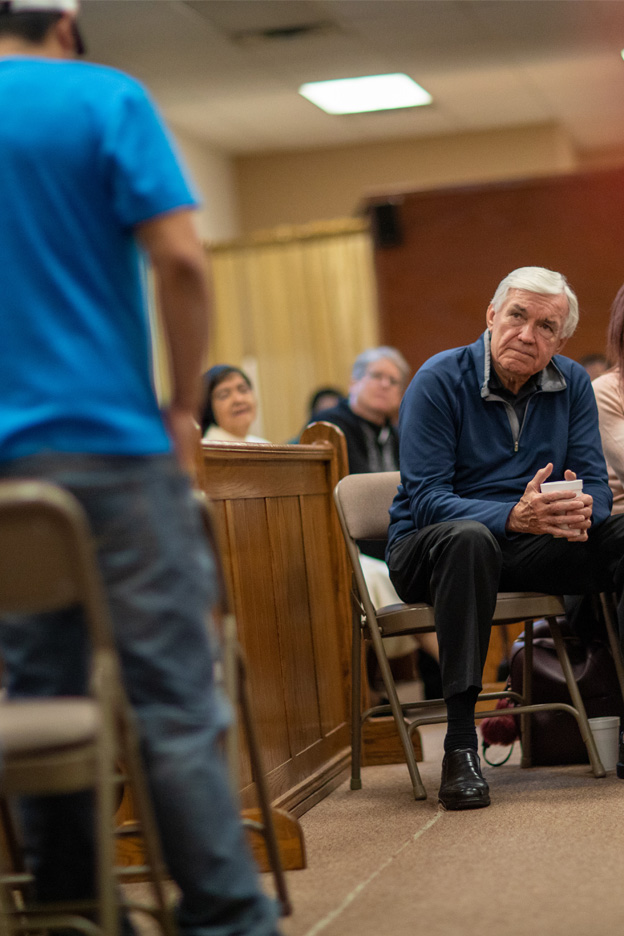 In a crowded room in a church, a father stood and opened up, sharing his family's story from the last four months – how they were affected in the wake of sudden ICE raids in Mississippi. Catholic Extension's president, Father Jack Wall, met with the community and listened to their stories, hearing how the Church is coming to their aid.
Our Holy Family Fund helps provide funds and supportive services to U.S.-dwelling children and spouses who are financially dependent on a parent that has been detained or deported for immigration reasons.
Warren, Arkansas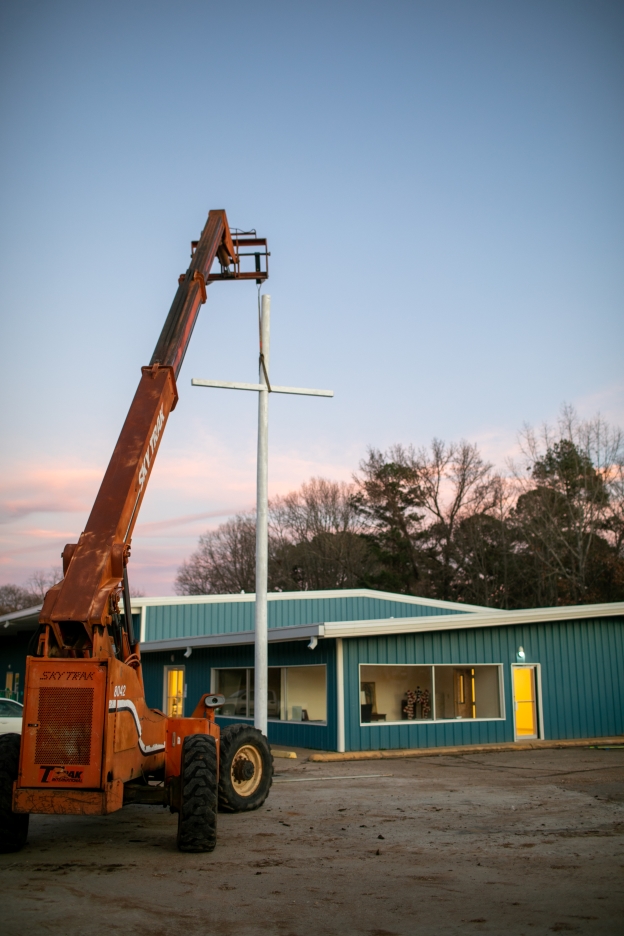 St. Luke Church, after many months of construction, was finally completed – except for one last item. A cross, standing tall over the warehouse-turned-church, needed to be held in place before it was secured in the ground.
---
You can help communities just like these. Please donate to help us build up vibrant and transformative Catholic faith communities in the poorest regions of America.

Donate Today
Struggling faith communities need your help.