For some, building a new church seems as improbable as winning the lottery. But, in areas like Citrus City, Texas; Coachella, California, and Warren, Arkansas, I've witnessed the blessing of new sanctuaries. This good fortune doesn't come from luck—it's the kindness of strangers. As it has done for 114 years, Catholic Extension and its donors are helping faith-filled communities across the U.S. build their places of worship.
A big dream in Arkansas
There are as many reasons to celebrate these events as there are people to celebrate them. Having just returned from Warren, I was inspired by the people there that expressed, sometimes with tears in their eyes, what the new building meant to them. One woman with whom I sat at dinner following Mass spoke about the many years that she had waited for this day. "This is the dream," she said.
On a previous visit, someone had asked her what she—a woman raising a family on modest means—might do if she won the lottery. She didn't hesitate: "I'd build a new church." She said this in the old rectory, which served as a classroom for the dozens of children in religious education. It was immediately next door to a small chapel, which every Sunday for years had children sitting on laps, and people spilling out the back door.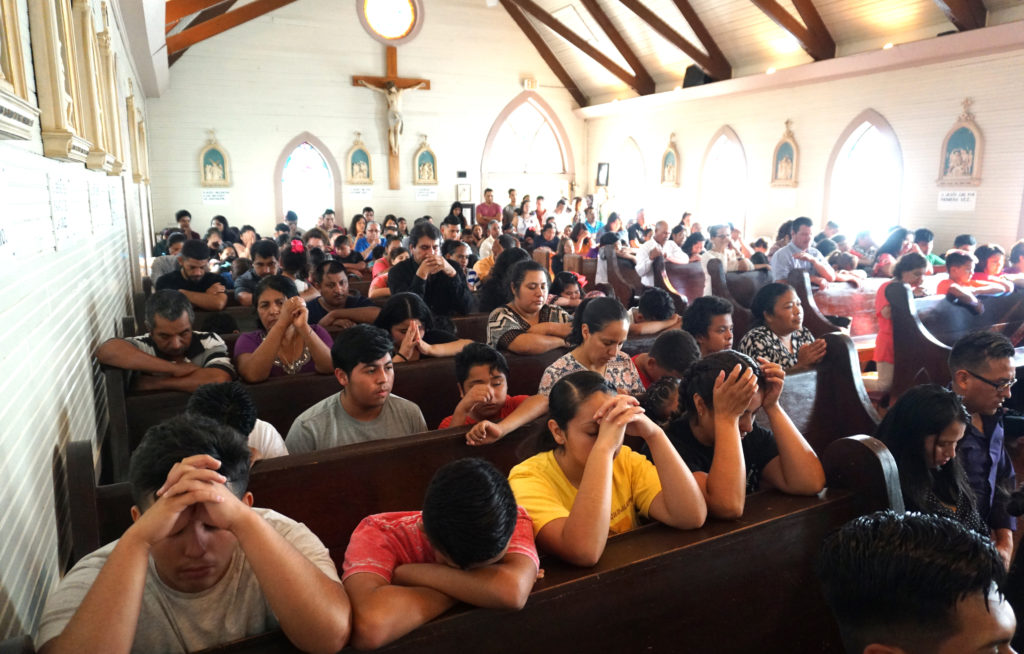 Twenty years ago, recognizing that they had outgrown the small church, they began selling tamales to raise funds for a new church. More recently, they started doing raffles of items like a karaoke set and even a sheep. But the finish line was always years ahead—until a farmer's co-op a mile away came for sale. The property included a large parcel of land (which one day might make a great soccer field), a parking lot (which they did not have at the old church), and a large warehouse.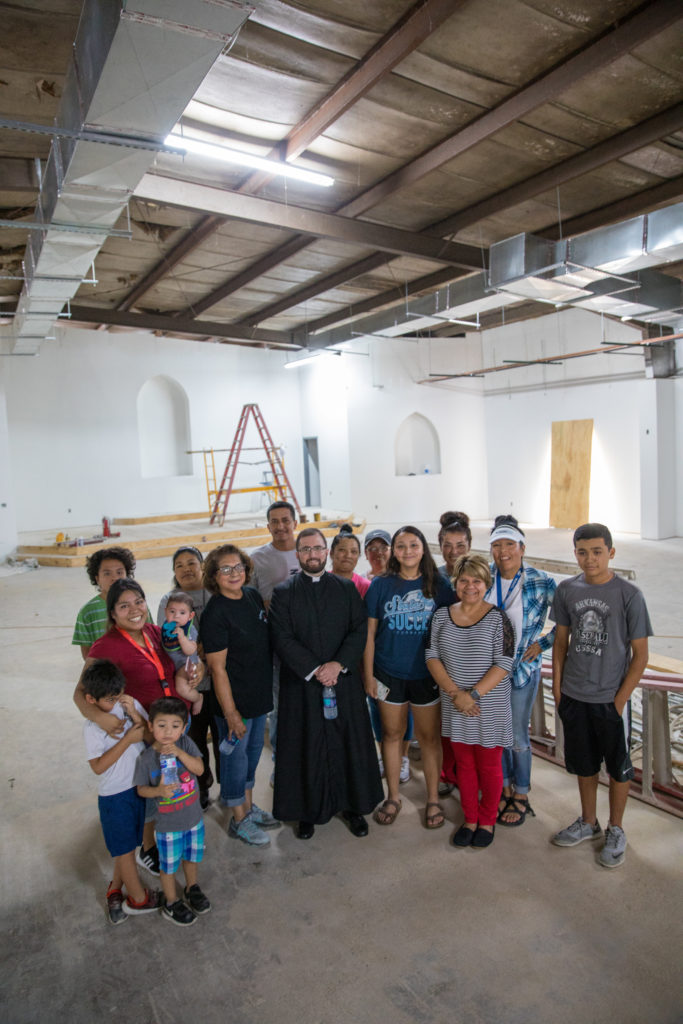 It was within that warehouse that architects designed an interior church—and the finished product, dedicated on November 23, was beautiful to behold.
Coming together in faith
In all these cases, building the church was the result of a shared faith, not only of the parishioners but also of people far and wide. In Warren, the altar is from St. Scholastica Monastery in Fort Smith, Arkansas, and the pews are from St. Joseph Cathedral in Jefferson City, Missouri. In Citrus City, the stained glass windows came from Sts. Peter and Paul Church in South Boston, and the altar was in Holy Trinity Church in Boston.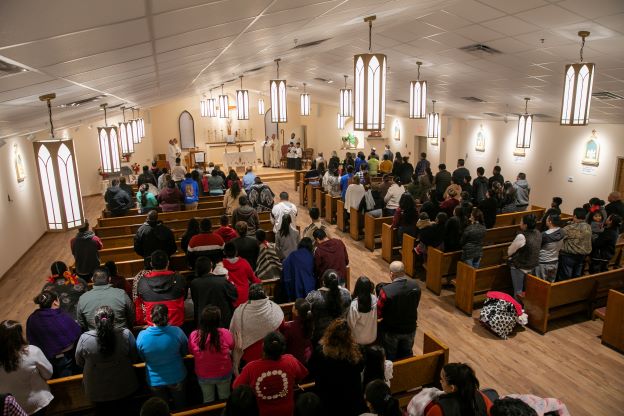 Funds to help build the churches come from generous donors to Catholic Extension, who recognize in many ways that shared worship spaces can provide important anchors for the development of community.
It is striking to me to witness the dedication of churches in poor communities during a time when several recent surveys show an overall decline in religious affiliation in the United States. The experiences of people in the places served by Catholic Extension suggest that churches are a source of connection. They provide meeting space and opportunity for people to connect over shared concerns.
In an age when many are leaving the Church, the blessing of new churches is a reminder of a God who "makes all things new" ( Rev 21:5 ).
They offer children a much-needed community of adults who steer them toward growth and away from dangerous activities that can plague poor areas. They connect people on the margins with a larger community around the country and around the world, effectively saying to them "what you do here matters. You matter." And perhaps most importantly, churches are places of hope, rooted in the gospel message that God chose to take on human flesh and share our poverty, drawing us into intimate friendship so that we might carry on the mission of the gospel.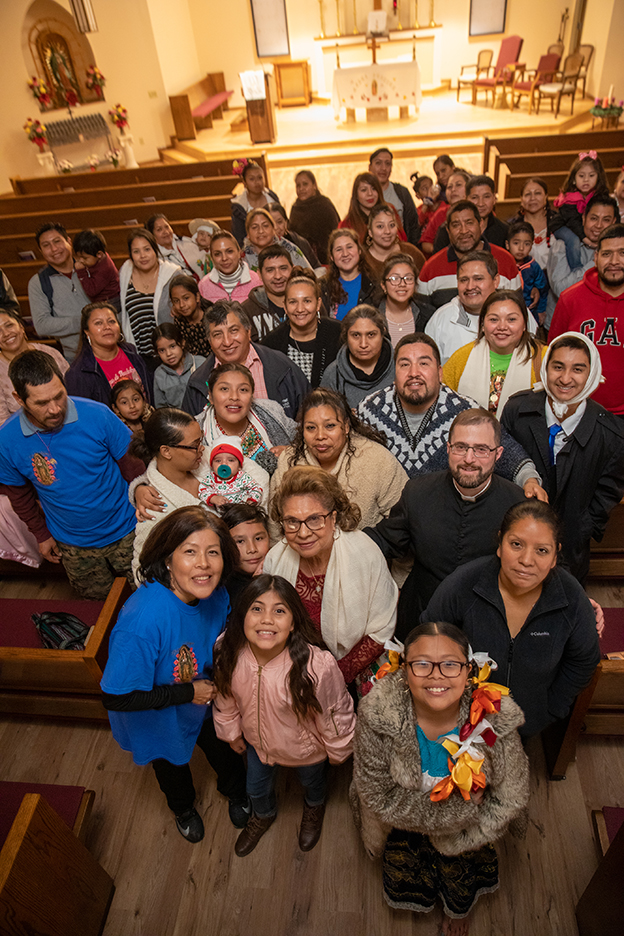 Transforming communities
In recent years there have been compelling studies of the ways that churches and other religious congregations contribute to local economies. This contribution is especially obvious in poor communities. In the case of Citrus City, it was the arrival of a few women religious who began a transformation. They went door-to-door, meeting poor, recent immigrant women who were fearful of leaving their homes. After asking them what they needed, they began an afterschool program and eventually added exercise classes. Over time, the women, who drew their husbands into this growing community, asked for a church, and in 2014 it was dedicated. That same community has grown further, so much that the Diocese of Brownsville dedicated a large new church to accommodate its numbers.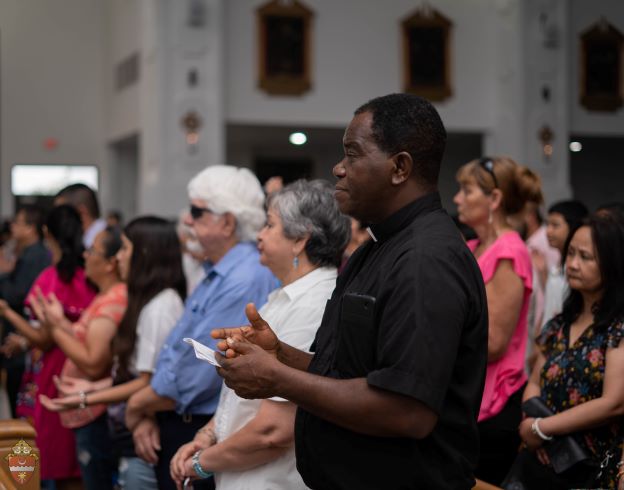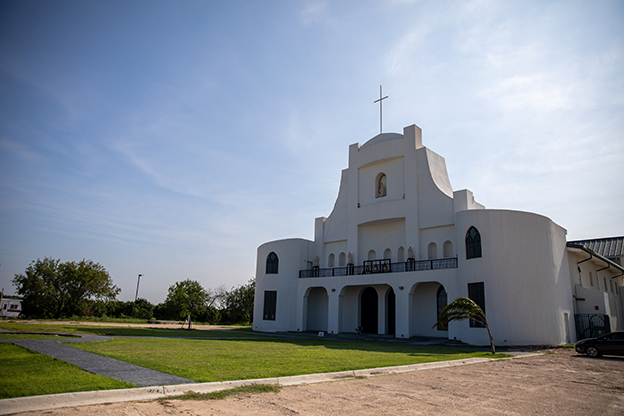 In an age when many are leaving the Church, the blessing of new churches is a reminder of a God who "makes all things new" (Rev 21:5). To witness the joy of a community entering a long-desired new space for worship is, for me, a glimpse at what past generations of Catholics must have felt, often in the face of prejudice and marginalization. It is the sensibility of being part of a worldwide community called to support one another in faith (Rom 12:5), so that together we may transform the world in love.
---
You can help communities just like these. Please donate to help us build up vibrant and transformative Catholic faith communities in the poorest regions of America.

Donate Today
Struggling faith communities need your help.