Texas Parish Thrives with Resident Pastor
During World War II, members of the Catholic community in Van Horn, Texas, made a promise to one another. If all of their sons returned home safely, they would build a new church to honor Our Lady of Fatima. More than 60 years later, Our Lady of Fatima stands as a reminder of their deep faith. However, in recent years, the parish and its two missions, Our Lady of Miracles and San Isidro, could not afford a resident priest. Without pastoral leadership and regular weekly Masses and the sacraments, the parishes' 260 families—many of whom live below poverty level—have had trouble maintaining a vibrant faith community.
In 2010, Catholic Extension donors helped subsidize the salary of Pastor Rodolfo Lacerna so he could engage the faith of these parishioners. His presence now resonates throughout the parish and its mission communities. He has become their shining star, celebrating Mass each week and urging parishioners to take ownership of their faith. Father Lacerna, in turn, now sees a tight-knit community, committed to spreading the Word of God to future generations—they send their children to CCD and prepare them to receive the sacraments that are so essential for their continuing lives as Catholics.
Parishioners also enjoy celebrating the Eucharist each week—a blessing that they could not always count on. "Before, the churches looked empty. Now, there is activity going on all week!" exclaimed Janine Young, grants director for the Diocese of El Paso.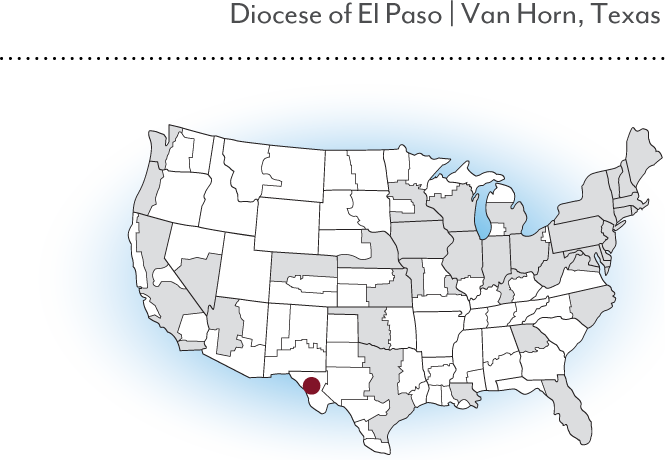 Through their gifts, Catholic Extension donors have provided a star to lead the faith lives of these parishioners, and as a result, have continued to honor the rich history of Our Lady of Fatima.
Show your support for the salaries of priests, deacons, women religious and lay leaders so they can continue to serve where they are needed most.
Support Now
Donate Today
Struggling faith communities need your help.