An Arizona couple tries an innovative approach to their financial planning
For David and Diane Kent, establishing charitable gift annuities from Catholic Extension has two compelling components—one is practical, and one is aspirational.
From a practical perspective, these annuities appeal to their business sense by providing: a reliable system of fixed payouts for a lifetime, an immediate tax deduction at time of purchase and an annuity payout that is partly tax-free.
But equally important for the Kent's is an aspirational element that fills their hearts and imaginations in a whole different way. "With these annuities, we are supporting the Church into the future," said Diane.
We can contribute to Catholic causes that matter to us, such as helping poor parishes. We don't want to be Catholic in name only, we want to live it."
Devising a creative plan
David and Diane met well into their careers while working at Abbott Laboratories outside of Chicago, Illinois. David, an engineer with an MBA, was thinking about retiring but not looking forward to becoming a retiree. Diane, 20 years his junior, had worked both as an artist and accountant. They married in 1983 and five years later, moved to Phoenix, where David owned many rental properties. He purchased several residential homes during the 70s because they were cheap, and he planned to set up a business to manage them. The business became Kent Enterprises LLC, registered with the Arizona Corporation Commission. Diane happily moved there to pursue her successful art career.
Over the years, David managed the 13 properties, initially doing all the maintenance work himself, but eventually hiring help.
Three years ago, as he reached 90 years old, it was time to decide what to do with the houses. He did not want to leave them for Diane to manage; they were too demanding.
Diane saw an ad for the Catholic Extension annuity program and brought it to David's attention. "I realized these annuities could sponsor both of our lives, because payments would keep going for Diane, even after I'm gone," he said. "I could keep taking care of her."
They decided to start selling their properties and convert the proceeds into Catholic Extension annuities. They sold four properties in 2018, two in 2019, and with the earnings, purchased six annuities. They plan to continue selling the properties until all are sold. Those earnings will also become Catholic Extension annuities.
"I love the tax benefits," said Diane. "I'd rather give our money to Catholic Extension than pay taxes."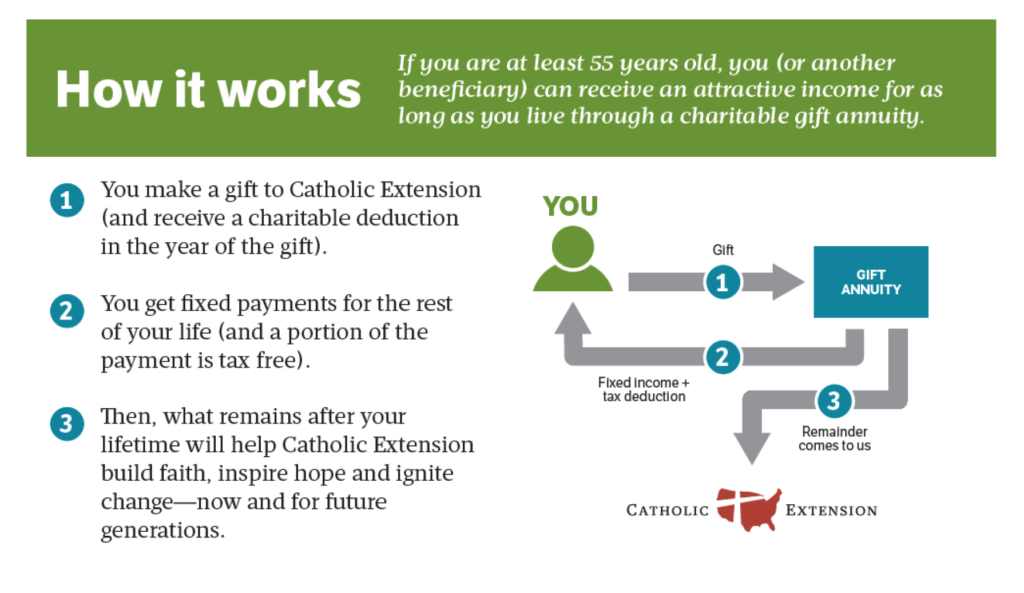 Making a meaningful contribution
For both David and Diane, their younger years played a huge role in helping them now appreciate the value of their relationship with Catholic Extension. Diane was raised in a Catholic family who encouraged Christian values and instilled a deep sense of responsibility to help others. As she and David were considering the financial options for selling their properties, the idea that Catholic Extension's annuity program so positively impacts other Catholics was a big priority for her.
David's family was not religious, and his childhood was not easy. Born in 1927, his family was desperately poor. In his early years, during the Depression, they moved throughout the country "looking for places where we didn't have to pay rent," he said. The family was constantly on the move, unsettled and hungry.
David was able to pull himself out of poverty's depths. At age 16, working long hours he left high school and began an 8,000-hour apprenticeship with Caterpillar Inc., which included taking special high school classes. This was temporarily interrupted when he joined the U.S. Navy during WW2. Using the G.I. Bill, he earned a mechanical engineering degree in 1951 at Bradley University in Peoria, Illinois. In 1986, while working at Abbott, he earned an MBA while attending school at night.
During WW2, he was stationed in Japan with the Navy. "Everyone was given a bible," he said. "I read the New Testament five times and the Old Testament three times. We needed faith just to survive." After the war, he became involved with a Presbyterian Church and converted to Catholicism when he met Diane.
As David learns about the poor communities that Catholic Extension serves, he has a soft spot for them. He knows how low one can feel in poverty and how important small flickers of hope are:
Being poor for so many years and also seeing how important faith was to me in times of intense stress, such as during the war, really helps me understand the power of Catholic Extension."
With their solid and inspiring financial plan in place, and David still not ready to retire, they plan to sell their residence after the last rental is sold and move to Chandler, Arizona, so they can be close to their grandchildren.
To learn more about Catholic Extension's annuity program—which was started in 1908 and is the oldest, largest program of its kind in the country, please contact Betty Assell, manager of annuities, at (800) 842-7804 or bassell@catholicextension.org
Donate Today
Struggling faith communities need your help.