The Diocese of Gallup covers more than 55,000 square miles in northwestern New Mexico and northeastern Arizona, and serves 53 parishes, 13 schools and 5 social centers. Seven distinct Native American communities are also within the boundaries of this diocese that has been recognized as the poorest in the United States for 30-plus years. Since St. Teresa of Calcutta established a house there in the late 1980s, the Missionaries of Charity have continued serving the needs of the growing poor within the diocese.
Keeping the lights on and doors open
The Missionaries of Charity operate a soup kitchen as well as homeless shelters for both men and women. As the COVID-19 pandemic descended, the sisters' work became more complex while resources became even scarcer.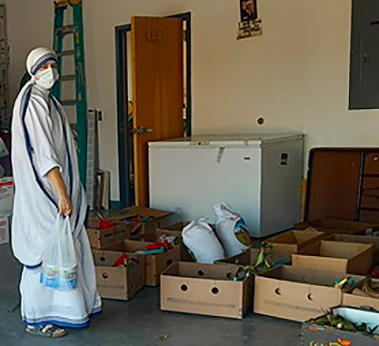 For instance, the men's overnight shelter requires volunteer staff to perform shifts throughout the night, and with quarantine and travel restrictions, they struggled weekly just to keep it staffed and the doors open. The expanded mandated cleaning protocols required more staff as well as expensive cleaning products so showers and bedding could continue to be provided.
And at the soup kitchen, since indoor dining was no longer allowed, the sisters needed to invest in take-away supplies, such as disposable cutlery and containers, for the growing number of people who lined up outside the building up to five hours before opening.
Additionally, some of the more remote Native American reservations in the diocese, which are among the poorest populations in the United States, also rely heavily on the sisters for their daily needs. More than 70 families who live in remote locations and lack transportation require the sisters to travel to them each week to deliver food and supplies. The need for gas, car repairs and drivers continues to contribute to the monthly shortfall in their budget.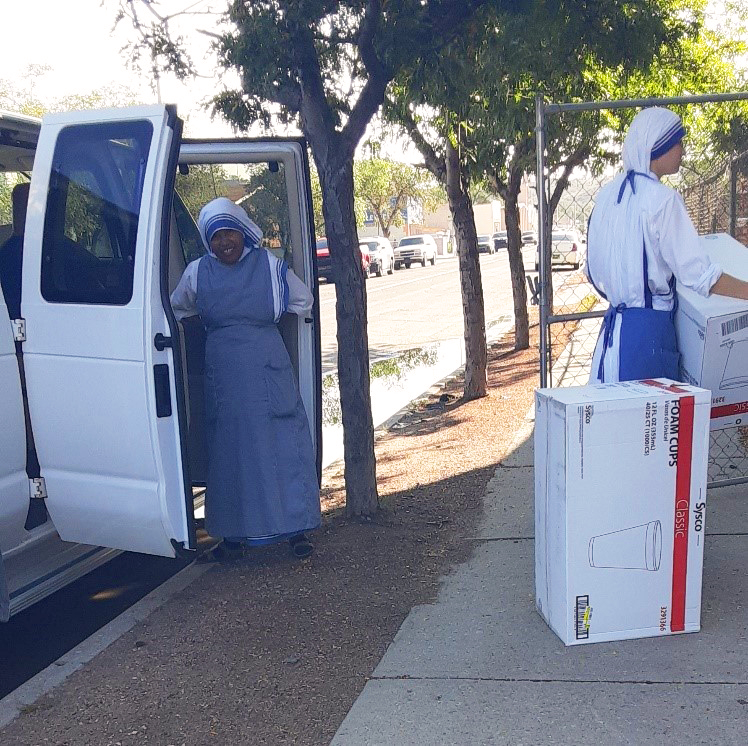 "The poor get hit first and the hardest, and take the longest to get out of it."

Bishop James S. Wall, Diocese of Gallup
Compassion in the COVID era
While the sisters are charged with finding a way to meet the needs of this growing population daily, they are reminded that beyond food and shelter, compassion and companionship are desperately needed now more than ever. As the churches, schools and social centers in the diocese have been closed for worship, classes and special celebrations due to the pandemic, the sisters have been delivering smiles through their masks and love through their words and actions.
With donations and grants, such as the $1,000 grant received from the Sisters on the Frontlines program, the sisters of the Missionaries of Charity are doing just that as they continue to answer God's call to serve.
"Your generous Sisters of the Frontlines grant is easing the burden these Native Americans are carrying. This gift enables us to continue to serve and to show God's love and mercy by means of shelter, food, essential cleaning items, a smile and prayers."

The Missionaries of Charity, Gallup, New Mexico
Donate Today
Support a Sister on the Frontlines