The Family Reunification Fund is a response to the human tragedy unfolding on our southern border, where recent family separations and policy debates have exposed the profound misery of those fleeing their countries and coming to the U.S.
The fund will support ministries that provide direct outreach and advocacy for immigrant families separated as a consequence of our broken immigration system. The fund will mainly benefit existing ministries on the southern U.S. border with Mexico, specifically those that are actively sheltering, defending, and caring for immigrants and their families.

Perhaps no other institution in America has done more to support the cause of immigrant family reunification than the Catholic Church. For 112 years Catholic Extension has partnered with Catholic dioceses and parishes, religious sisters and priests, and various faith-based nonprofits that offer direct pastoral and charitable care to immigrant families on the southern border.
In 2017, Catholic Extension provided nearly $2M to border communities, benefitting immigrant support ministries throughout the region. Among them were the Kino Border Initiative in Nogales, Ariz., which provides research and advocacy, as well as direct humanitarian assistance to migrants on both sides of the U.S.-Mexico border. Catholic Extension's funding allowed them to expand the legal aid component of their program. In the Rio Grande Valley, Catholic Extension supported shelters that coordinate with Immigration and Customs Enforcement officials to provide a safe place for paroled immigrants and their families.
The Family Reunification Fund will allow Catholic Extension to increase its support to resource-strapped immigrant ministries at this very critical moment when policy changes are creating even more hardship and uncertainty among immigrant families. Church organizations have and will continue to play a significant role in helping families reunite, and Catholic Extension wants to ensure that they have the resources to do as much good as possible as the level of suffering increases.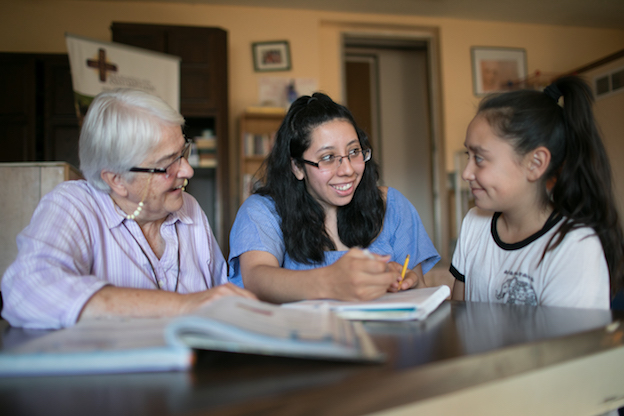 Due to its long history and deep relationships with Catholic communities across the nation and globe, Catholic Extension is uniquely positioned to respond to major crises. In the wake of Hurricane Maria in 2017, Catholic Extension stepped in to help thousands of Catholic parishes in Puerto Rico to financially sustain their charitable and pastoral work in the island among hurricane survivors. These efforts garnered special praise from Pope Francis.
"No matter the circumstances, it is our duty as Catholics to be present on the margins to care for the suffering and defend the vulnerable."
Catholic Extension sees the present crisis among immigrant families on our southern border as one which is equal in scale. Father Jack Wall, president of Catholic Extension, said, "Our work in Puerto Rico was a response to a natural disaster, while our work on the southern border is a response to a man-made disaster. No matter the circumstances, it is our duty as Catholics to be present on the margins to care for the suffering and defend the vulnerable. We are not powerless in this struggle, and so we ask people to join us in providing direct help to immigrant families who are part of the one family of God."

Donate Today
Struggling faith communities need your help.