For 114 years, Catholic Extension has partnered with dioceses and parishes, religious and priests, and various religiously based nonprofit companies to offer pastoral and charity care to immigrant families on the southern border. In the past ten years, we have awarded more than $ 20 million in aid to border regions .
The following are five organizations that provide compassionate help to our border brothers and sisters.
This organization from Nogales, Ariz., Provides investigation and defense, as well as direct humanitarian aid to migrants on both sides of the border between the United States and Mexico. Catholic Extension funds allowed them to expand the legal aid component of their program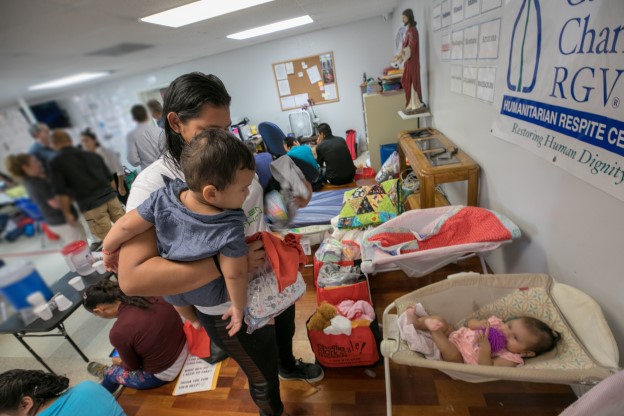 El centro se creó para proporcionar un punto de descanso de quienes buscan asilo de países centroamericanos y pasan por McAllen, Texas. Ha recibido generoso alojamiento en el salón parroquial de la iglesia del Sagrado Corazón en McAllen. Gracias en parte a un fondo de $100,000 de Catholic Extension, se va a construir una nueva dependencia para continuar el trabajo del centro de alivio.
El centro de alivio sirve principalmente a mujeres y niños que han viajado juntos como familia y que han recibido libertad condicional de centros de detención mientras esperan su audiencia de asilo en la corte. Este ministerio proporciona un necesario alivio y apoyo, especialmente para quienes huyen de circunstancias traumatizantes y de amenazas a sus vidas en sus propias patrias.
La hermana Zita Telkamp es la directora La Posada Providencia en San Benito, Texas. El centro proporciona albergue de emergencia a hombres, mujeres y niños que huyen de la opresión política, la violencia y la pobreza y buscan asilo en los Estados Unidos. Se abrió en 1989 y ahora tiene cinco empleados a tiempo complete y 20 voluntarios que sirven anualmente a 400 inmigrantes. Ofrecen vivienda, comida, clases de inglés y transporte.
"Enseñamos habilidades para la vida," dijo la hermana Telkamp, de la Congregación de la Divina Providencia "No predicamos el evangelio, pero lo vivimos en lo que hacemos". El albergue funciona 24 horas al día, 365 días al año y ha servido a inmigrantes de alrededor de 80 países. El pasado otoño entregamos $25,000 de ayuda, recolectado por donaciones en línea al ministerio de bienvenida de la hermana Zita.
4. Annunciation House | Casa Anunciación
La Casa Anunciación ha estado sirviendo a migrantes en el área de El Paso desde 1978 y ha intensificado sus esfuerzos como consecuencia del reciente aumento de inmigrantes liberados de detención de ICE (Servicio de Inmigración y Fronteras), que no tienen a dónde ir para buscar ayuda. Estos fondos ayudarán a responder a necesidades básicas, como comidas calientes, ropa, duchas, un lugar donde dormir y llamadas telefónicas a las familias para los cientos de migrantes liberados diariamente por Ice antes de su audiencia de inmigración en la corte. En la corte, tratarán de establecer un temor creíble a retornar a su patria, con la esperanza de al fin recibir asilo.
Los donantes de Catholic Extension ayudaron a proporcionar un fondo de $25,000 para ayudar al albergue a asistir a los migrantes, a través de nuestro fondo de Reunificación Familiar el pasado verano.
5. Sisters of the Assumption | Hermanas de la Asunción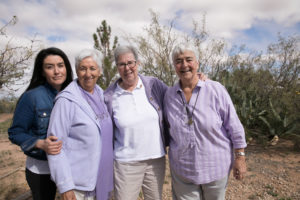 La iglesia católica del área de El Paso y sus alrededores se ha visto profundamente afectada por el aumento de la migración, y las parroquias tanto de la ciudad como de pueblos pequeños cercanos—algunos de ellos pobres ellos mismos—se han apresurado a ayudar. Al norte de El Paso está Chaparral, New Mexico. Es una pobre colonia, un lugar falto de una infraestructura básica. Y sin embargo, sus residentes, junto con Hermanasde la Asunción que tienen ahí un convento, han colaborado para preparar sándwiches para los migrantes en su camino a encontrarse con sus familiares en todo el país.
Más recientemente, ellos mismos han estado ofreciendo alojamiento temporal a los migrantes que portan documentos de la Homeland Security que les permiten viajar a encontrarse con familiares en diversos estados. Uno de los sacerdotes visitante observe que "muchos de los que donan su tiempo y recursos tienen poco ellos mismos, pero se sienten llamados a compartir lo poco que tienen con quienes tienen aún menos."
Ayudar a ministerios católicos que defienden la dignidad de toda persona está en el centro de nuestra misión. Vea a nuestro presidente, el padre Jack Wall explicar por qué nuestro apoyo en la frontera es tan esencial.
¿Quiere ayudar? Puede ayudar a llevar a agentes del amor de Dios a quienes más lo necesitan.
Donate Today
Struggling faith communities need your help.