"I think it is one of the tragedies of our nation … that 11 o'clock Sunday morning is one of the most segregated hours … in Christian America…. Any church that stands against integration … is standing against the spirit and the teachings of Jesus Christ, and it fails to be a true witness."
—Rev. Martin Luther King Jr.
In an oft-quoted segment from a 1960 appearance on "Meet the Press," the Rev. Martin Luther King Jr. pointed to a paradox about the Church in the United States. To the extent that it fails to be a prophetic symbol of the kingdom of God—that is, a place where there is neither "Jew nor Greek, slave nor free person" (Galatians 3:28)—it fails in its witness to the world.
King went on to parse what he saw in churches: Some he described as "segregating"—that is, actively keeping members of different races apart—while others were "segregated"—comprised of members of a single race, though not actively seeking to keep it that way. To be segregating is to contribute to a social sin, while being segregated may be either a consequence of social sin or, on the part of those who have the power to change it, a negligence in their efforts to do so.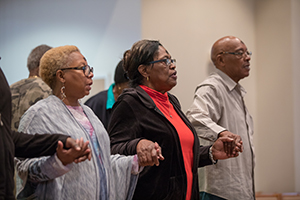 I suggest that there is a parallel distinction to be made about churches that are integrated or integrating. To be sure, there are some congregations that manifest the kind of rich diversity that Luke pointed to in his description of the first Pentecost, where people of many nations heard the apostles speaking in their own languages (Acts 2).
Many other churches, though, are constituted by a majority of people of one race but may well be integrating in their openness to be joined by anyone who comes their way. They may not be integrated but open to integrating because they are willing to welcome the stranger.
More importantly, some churches are integrating precisely because they are prophetic signs of a church that has life among communities that have historically been marginalized. Their very presence within the larger Church is a sign that the larger Church is on pilgrimage toward God, drawing to her bosom all the scattered children of the same Father.
Such is the case with Sacred Heart Church in Camden, Mississippi, a mostly African-American parish about an hour north of Jackson. Thanks in large part to Catholic Extension donors, the parish boasts a beautiful sanctuary, a gym, a clinic, and a school building now used for various kinds of social outreach and meeting.
Reflecting a larger national trend for black Catholics to be more socially engaged than whites, Sacred Heart's parishioners are on a mission to serve the people of the region.
One example is Shirley White, who has served lunches to senior citizens of the region every day for the past 12 years. Other examples include the parish's after-school program, food pantry, sports program, credit union, day care, and income tax service, all of which contribute to the life of the local community.
The parish is a hub of activity, a place which on a daily basis manifests both the works of mercy and the commitment to active citizenship.
Sacred Heart is a beautiful example of a church on a mission, located within a larger diocese on a mission. Recently I spent time researching the history of the Jackson diocese's activities during the civil rights era. I was particularly fascinated by the story of Bishop Richard Oliver Gerow, whose meticulous journal chronicles his extensive efforts at integrating parishes and schools.
Mississippi saw more than its share of racial incidents, even at Catholic parishes which should have been places of refuge from racial bias. Before Sacred Heart, there was Immaculate Conception Parish, comprised of Irish landowners who passed their faith on to their slaves. Sacred Heart School began as a mission of the Missionary Servants of the Most Holy Trinity in 1944, serving the African American population while Immaculate Conception continued to serve only whites. The parishes were segregated until the 1970s, when Sacred Heat was closed in order to foster integration of the two communities. Only later, in 2007, was Immaculate Conception closed so the parish could move into its current Sacred Heart campus.
Sacred Heart is part of an integrating community whose current challenge is to welcome newer arrivals from Central America, many of whom work in neighboring Carthage and worship at St. Anne Church there. While the history of the Church in the region has had dark days, there is reason for hope. The support of those from afar who donate money and share prayers has offered communities like Sacred Heart and St. Anne a place to gather, to worship, and to reach out in service.
Perhaps 11 o'clock on Sunday morning is becoming the time when people of good faith can work together to build communities where everyone feels welcome.
Tim Muldoon, Ph.D., is the author of a number of books and serves as director of mission education for Catholic Extension.
Donate Today
Struggling faith communities need your help.