Encuentro y Misión Program: Theological Education for Latino Millennials and Gen Z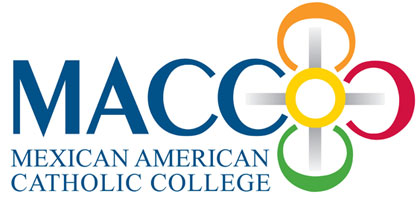 The two-week and one-weekend Intensive is intended to provide students with Theological education and a hands-on Immersion Experience meant to broaden their horizons and open their eyes to various pastoral, social, and economic realities.
Catholic Extension in conjunction with the Mexican-American Catholic College (MACC) offers well-rounded Latino young adults who have completed diocesan formation and are looking for subsequent opportunities to learn and serve, a unique theological education and mission experience. The program is national in scope and crosses geographic and socio-economic borders with participants from diverse backgrounds. Through it, we seek to create pathways for emerging Latino leaders to discover more about their faith, society, culture, and to discern how they are being called to build a stronger Church and world.
The program will gather a cohort of 20-25 students to participate in a two-week intensive that will include prayer, theological lectures, a border/migrant immersion, and a supervised missionary immersion experience among a marginalized community in our country. During the wrap-up weekend they'll reflect and share their experiences and ideas with other participants and with their "missionary mentors". These experiences are meant to broaden their horizons and open their eyes to various pastoral, social and economic realities.
Please Note: COVID vaccination is required to participate in this program.
Duration: Two- weeks and one weekend:
Week 1: July 17-23, 2021 – Mexican American Catholic College (MACC) Course and border immersion. San Antonio, TX.
Week 2: Students will be assigned to one of these Missionary Immersions:
July 24 – Aug 1 Kalamazoo: Migrant Ministry with migrant farm workers and their families.
Aug 20 – Aug 27 El Paso/Ciudad Juarez, Mex: Youth faith formation program and border project.
Weekend post-immersion reflection and program wrap-up: August 27-29, Chicago, IL
Documents
To Apply:
Read and review all the documents linked above
Complete the Online Application Form (one application required per student) by the deadline of Friday, June 18, 2021.
For More Information
Contact Veronica Avila, Senior Manager of Mission Programs, at (312) 795-5128 or vavila@catholicextension.org.