On Labor Day, we honor farmworkers who work tirelessly in the fields to provide dinner for our tables. Chile pickers in the Diocese of Las Cruces exemplify the work ethic, dedication and tenacity of America's farmworkers.
This weekend is the 46th annual chile festival in Hatch, New Mexico. While the town has only 1,600 residents, it is known as the "chile capital of the world." Chile pickers are primarily Hispanic and Catholic, and many belong to Our Lord of Mercy Church. Catholic Extension supports the parish and hosted a group of Chicago priests to work alongside the farmworkers, celebrate Mass in the fields and experience a rural parish.
Field work
Located 40 miles northwest of Las Cruces, Hatch Valley lies along the Rio Grande River between the Mimbres Mountains and the San Andres Mountains. It offers perfect conditions for growing chiles — rich volcanic soil, high elevation, low humidity, hot days and cool nights.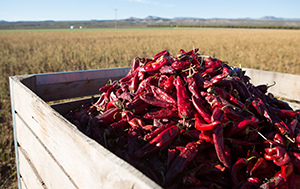 August is the start of the chile harvest in Hatch and peak time for flavor and quality. Peppers are initially green, but as they ripen, they turn red.
Starting at dawn, farmworkers fan through the fields, quickly picking chiles, filling buckets and dumping the crop in a tractor-trailer. It is intense, back-breaking, tedious work.
Customers come to purchase chiles — sweet, mild, hot or extra spicy — fresh from the fields. Most choose to have them roasted on-site in small homemade roasters or large commercial rotisserie-style roasters.
hiles are sold in large burlap sacks, holding 30-40 pounds, and people purchase enough to use throughout the year. Some also buy dried chiles to hang for colorful decorations, called ristras.
For the weeks of harvest, the whole town smells of rich chile smoke.
Catholic Extension support
Many rural churches that Catholic Extension supports are in farming communities. In Hatch, 90 percent of its farmworkers are Hispanic and many are parishioners of Our Lord of Mercy Church.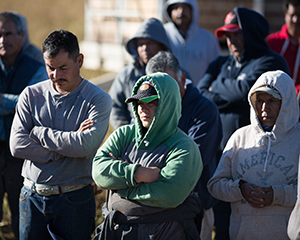 The church was built in 1963 and has nearly 300 families. Pastor Alejandro Reyes offers five Masses each weekend, including two in Spanish and one at Our Lady of All Nations Mission Church in nearby Rincon.
Most parishioners face the challenges of unpredictable employment and poverty. In the county of Doña Ana, where the church is located, nearly 40 percent of the children live in poverty.
With lay volunteers, Father Reyes provides sacramental preparation, religious education and pastoral care to provide comfort, guidance and stability.
In the last five years, Catholic Extension has granted more than $20,000 to support the parish's religious education programs.
Father Reyes often goes to the fields to be with the workers. He says Mass and pitches a tent to offer Confession.
"Father Reyes loves the Church and his people," said Deacon Tim Flynn, who works full-time in the chile industry and serves the parish. "When Father says Mass in the fields, farmworkers know they are important. They work incredibly hard for so little. The Church needs to be there for them."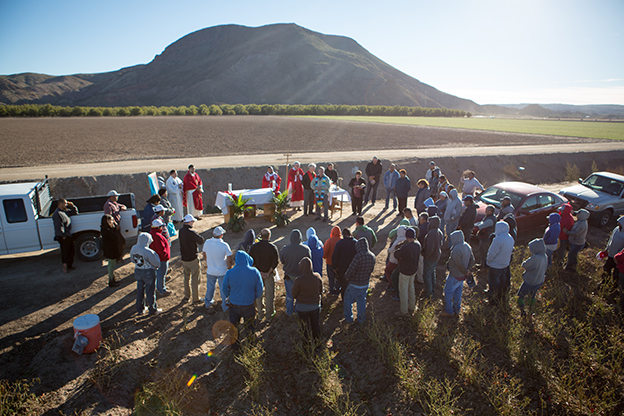 Immersion experience
Five priests from Chicago, who lead urban and suburban parishes, had the opportunity to visit Hatch and see the Catholic Church in rural America.
The priests joined Father Reyes in the fields to harvest chiles, celebrate Mass and show the workers that the Church is with them.
Chicago participants were Fathers Adan Sandoval of Our Lady of the Mount Church, Matt Foley of St. James Church, Mike Enright of St. Paul Church, Gary Graf of St. Gall Church and Don Nevins of St. Agnes of Bohemia Church.
"We said Mass in the fields to celebrate Christ with the migrants," said Father Sandoval. "We brought Jesus to them, who will help them."
"It is a blessing for us to open our hearts and eyes to the reality of our brothers and sisters who are struggling," said Father Foley.
"If we are parochial as a Church, we are done," said Father Enright, "The Catholic Church is much bigger; it embraces the world."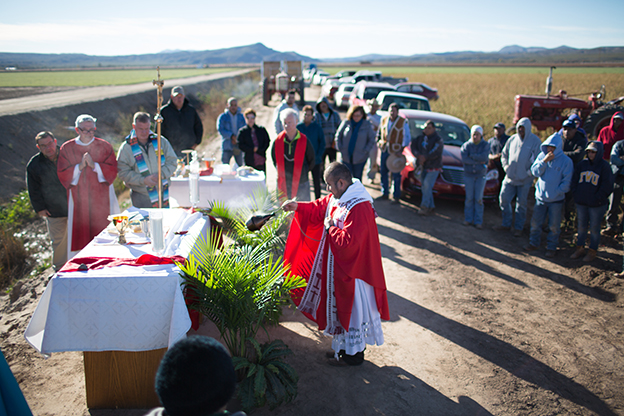 Celebrating chiles
Each Labor Day weekend, the Hatch Chile Festival attracts 30,000 visitors from around the country who come to celebrate chiles with a carnival, parade, food booths, amusement rides, mariachi bands and vendors of all sorts.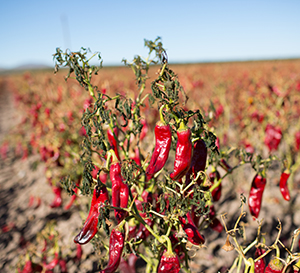 Annually the Hatch region yields 50 to 70 million pounds of chiles. The more than 8,000 acres of chiles planted in New Mexico each year represent almost half of the chiles throughout the United States.
Hatch chiles, which come in a variety of colors and flavors, are a staple of New Mexican cuisine. They are sold to residents, visitors, restaurants and national food chains.
Chiles are used in stews, sauces, guacamole, enchiladas, margaritas and eaten solo (by the brave). They are vital not only for cooking, but play a significant role in Hispanic culture and identity.
This year, Our Lord of Mercy Church has two food booths at the festival, selling gorditas (a stuffed pastry) with chiles to raise money to build new classrooms for the parish.
Donate Today
Struggling faith communities need your help.