A movement of Catholic Kinship is sweeping across the country. Catholic parishes in all corners of the U.S. are stepping up to meet the dire needs of small, isolated faith communities who have been devastated from financial impact of the pandemic.
These are the poorest churches in the country, whose savings have dried up as collections have dropped 50-90 percent. They are struggling just to keep the lights on. Without collections, they cannot pay basic expenses, such as utility bills and salaries for the pastors and parish staff.
Catholic Extension sent out a call to parishes who were in a position to help. We asked if they could unite with their Catholic brothers and sisters in some of the nation's poorest churches by raising a gift of $1,000 to help them.
The response has been extraordinary.
Hundreds of parishes are answering this urgent call, bringing immense gratitude, joy and relief to those struggling to keep their church doors open.
Here is just one of the many parishes that has received this amazing gift:
A priest's prayers are answered
Father Fabian Marquez is the enthusiastic pastor of El Buen Pastor, a small parish located in the Sparks Colonia of El Paso, one of the poorest neighborhoods in Texas.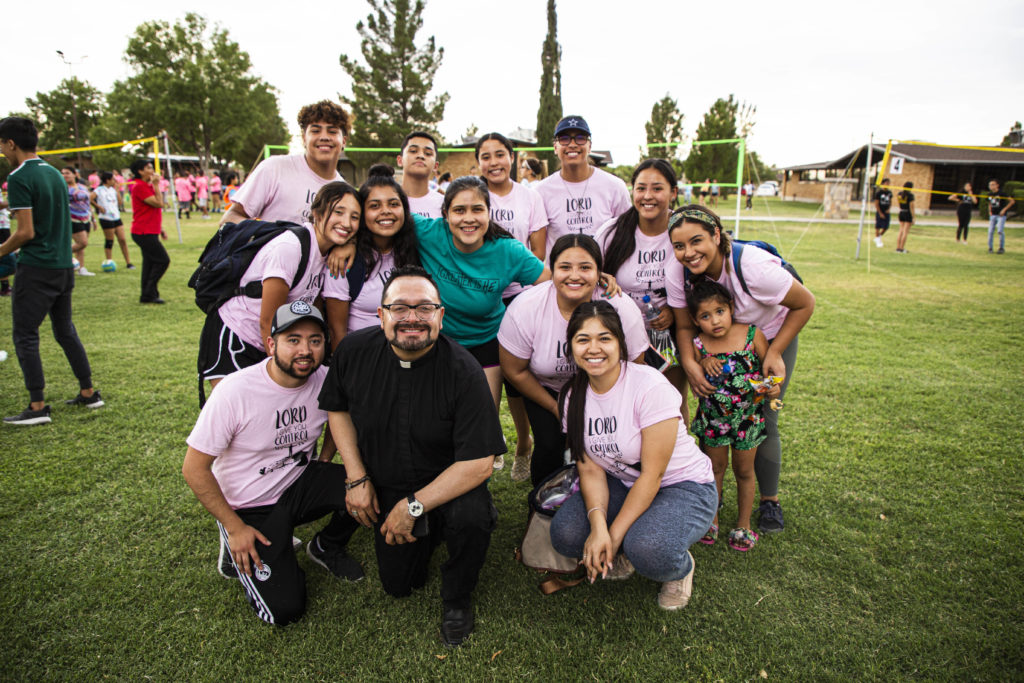 He has close ties to Catholic Extension, which supported his seminarian education and named him a Lumen Christi Award finalist in 2019.
His parish was used to surviving on its small weekly collection, but when the pandemic began, that income shrank to next to nothing as the church doors were forced to close.
During the Easter Vigil, for example, the church is usually packed. In the pandemic, however, its pews were filled with candles, lit by the pastor to represent each member of the missing congregation.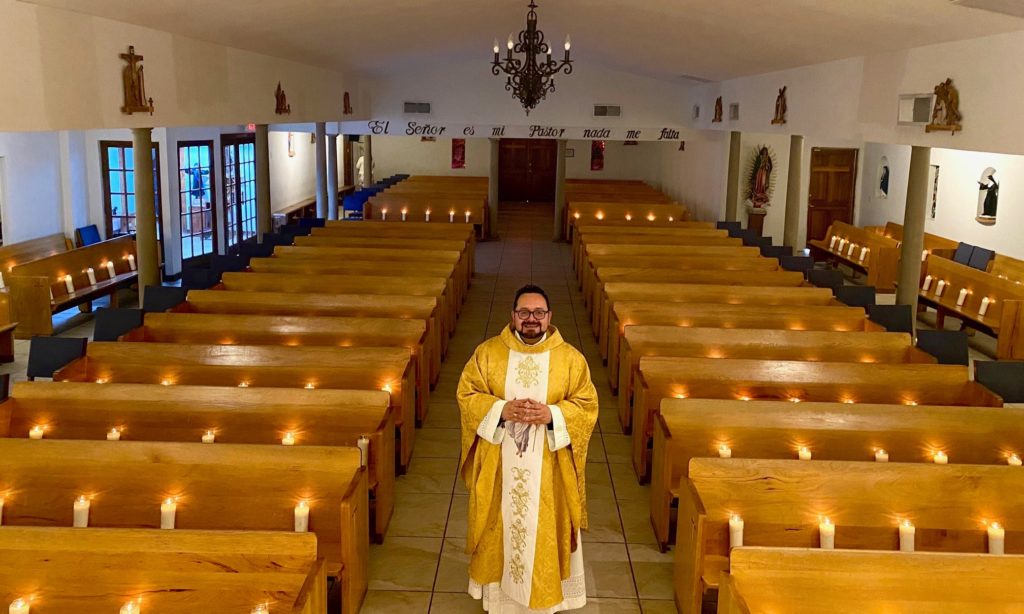 One week, Father Marquez told the National Catholic reporter, the collection was only $45.
He and the groundskeeper and bookkeeper decided to give up their salaries so the parish secretary, who was expecting a child, could continue to collect a paycheck.
In the year since, online donations have crept back up, but not back to the level of giving before the pandemic. Most of the parish held blue collar or service jobs, and many had lost work.
"They were trying to survive themselves, and they couldn't help us," said Father Marquez.
The months of low collections had taken their toll. In a finance meeting he attended in March 2021, the parish's outlook looked bleak.
But Father Marquez told them,
It's going to be okay. God will provide."
Only a few days later, after celebrating Mass, he checked his voicemail. There was a message from a member of Catholic Extension's mission team.
He learned that parishes all across the United States, unknown to him, had decided to come together and help faith communities like his. With this surprise gift, his parish was going to receive a grant that would keep them afloat for many months to come.
He couldn't help himself—he jumped for joy.
Parishes saving parishes
Hundreds of parishes across the country are experiencing the same struggles as El Buen Pastor. They can be found all over the United States, in poor regions such as Appalachia, Puerto Rico, the Alaskan tundra, Native American communities, and so many more.
A few have already received the same joyful phone call as Father Marquez.
This includes Sacred Heart Church in Camden, Mississippi, a historically Black parish that is deeply connected to its gospel choir.
"Gospel music has always been an inspiration to our parishioners, and our choir brings the liturgy to life," said the pastor, Reverend Guy Wilson, ST.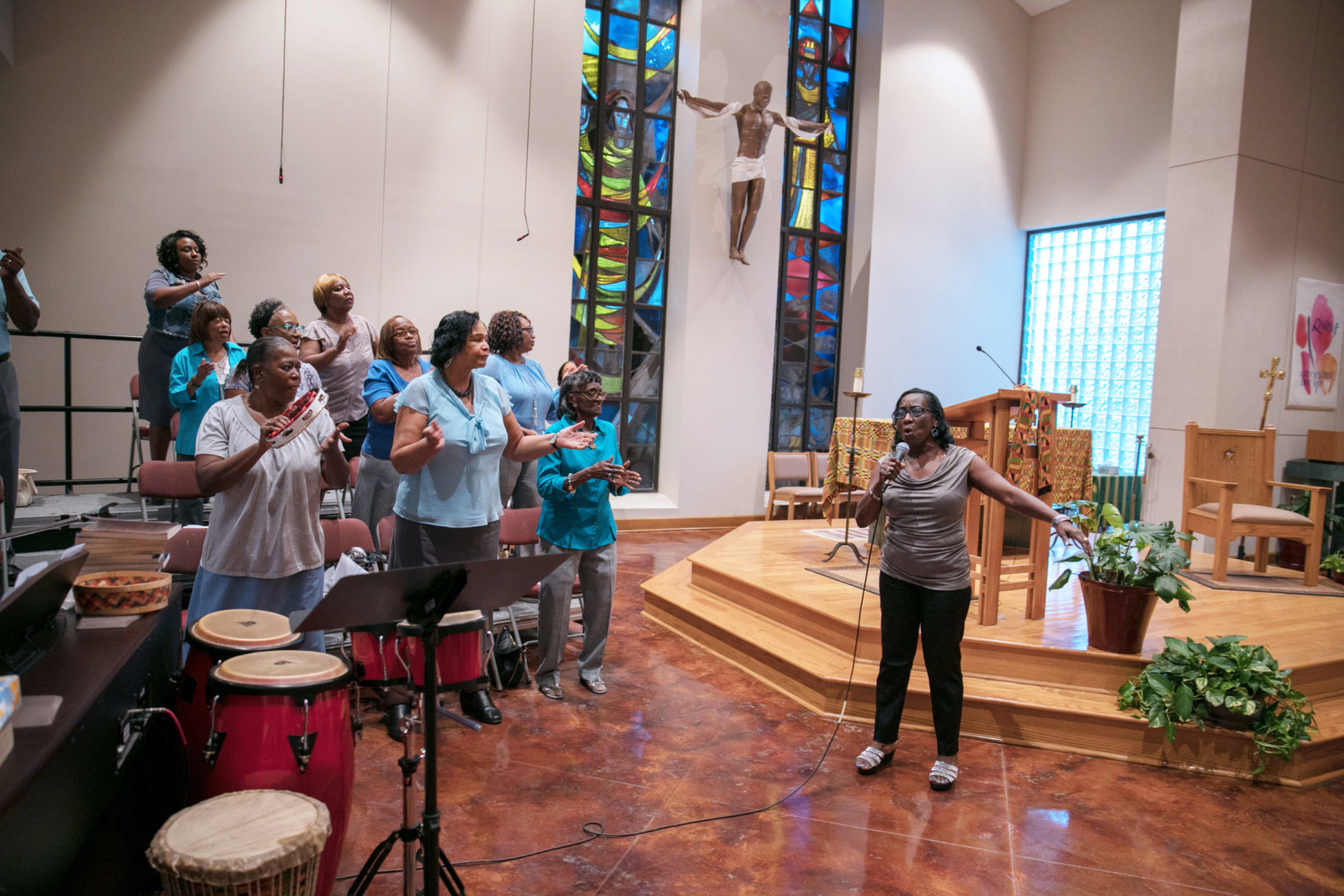 Many parishioners fall into a high risk category of contracting COVID-19, and in an already low-income area, were hit hard financially. Weekly collections have been low since March 2020. With so little funds, the parish was in danger of losing their music director.
But thanks to the generosity of parishes who have joined the Catholic Kinship Initiative, Sacred Heart is now able to pay the music director's salary.
Your generosity allows our parishioners to continue to hear our choir sing the gospel songs that bring forth stories of faith that speak to the hearts, words, phrases and images that touch and move our parishioners that celebrate God."

Sacred Heart Parish in Camden, Mississippi
Another grateful parish is St. Francis Mission, the only Catholic presence on the Rosebud Reservation. This ministry builds up Catholic faith and shows God's love in action to all of the 10,000 residents who call the reservation home.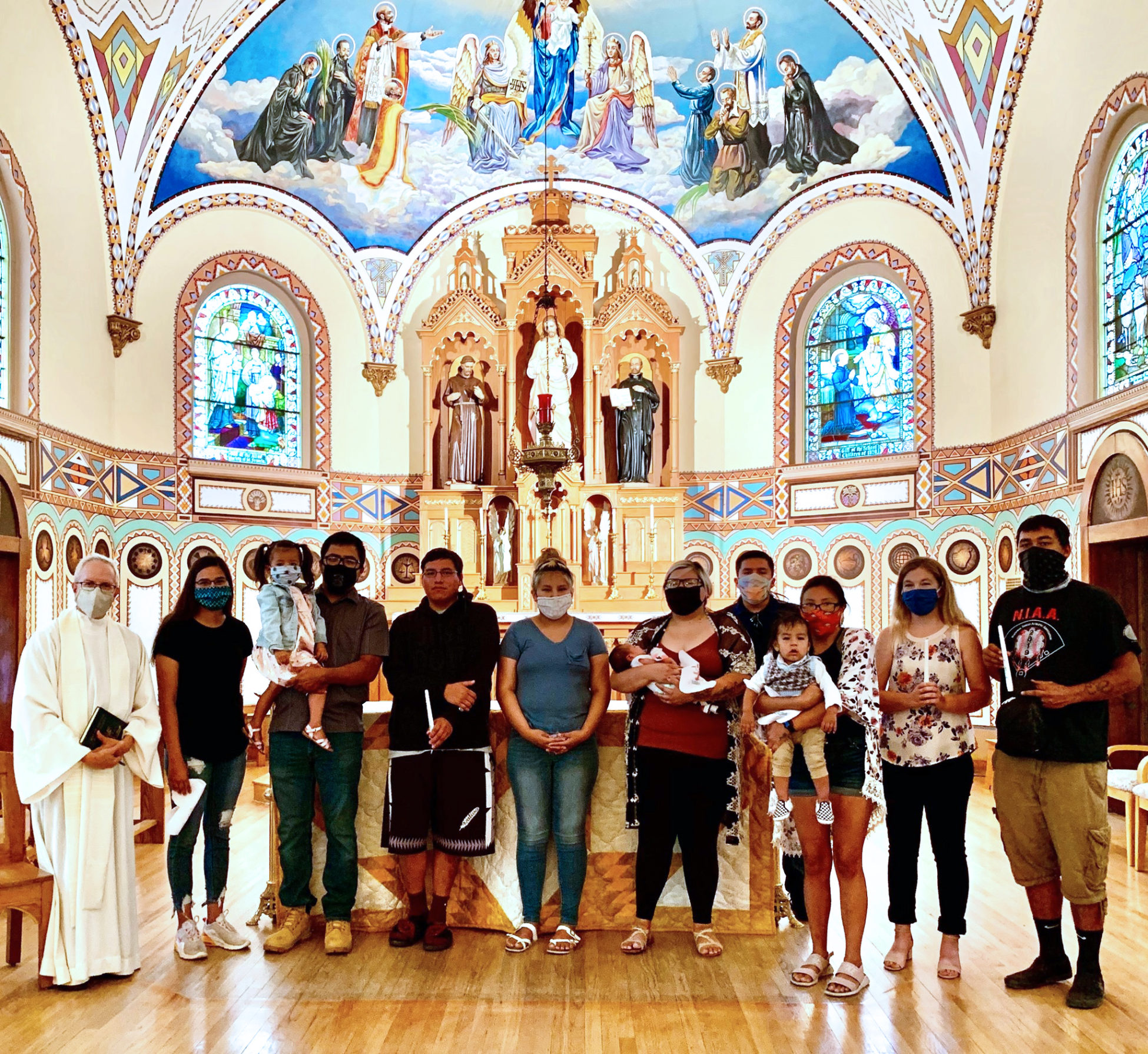 St. Francis Mission offers life-saving services to the Lakota to meet the spiritual, educational, social, and physical needs of the community.
But strict lockdown measures meant no parish collections were taken between March and August 2020. They needed help to continue their vital outreach.
Donations to the Catholic Kinship Initiative are keeping this essential ministry on its feet—a gift that benefits the thousands of Lakota families it serves.
Let's keep the momentum going!
Parishes that have united with us in the Catholic Kinship Initiative are working to ensure these communities can survive—and thrive.
One parish that has joined the initiative said,
In the Year of St. Joseph, the Patron of the Universal Church, we all ought to honor the unity of the Church as best we can. Catholic Extension is one of the best means we have as the Church in America to care for one another across the nation."
"We are so humbled and grateful for the parishes that have joined us in our Catholic Kinship Initiative so far, but the need remains great," said Natalie Donatello, Senior Manager of Parish Partnerships.
Many low-income parishes are still praying for help to arrive.
You and your parish, school or other community organization can join this national movement of Catholic Kinship!
Contact Natalie Donatello or donate online to unite with a parish in need.
Join Catholic Kinship
Support a parish