The stories shared by Black Catholic elders in "Passin' in On" are still relevant today: education inequality, discrimination, and traumatic encounters with law enforcement.
That's why it is essential to truly listen to these encounters. We must speak out against racism and dismantle the systemic injustice it causes in a concrete way. As Christians we must affirm the God-given value of every life, with no exceptions.
Cleminten's Story
One of the people interviewed for "Passin' it On" by Sacred Heart Parish was Cleminten Dawson. She was born in 1919, but never had a birth certificate.
The parish wanted Cleminten to know she was valued. So they embarked on a three-year long process to have a birth certificate issued for her.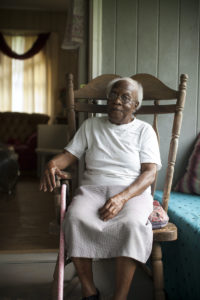 Dawson told the religious sister at the parish, "I didn't want to die until I could prove that I lived."
When the certificate was finally issued, the parish threw her a birthday party to celebrate.
In a country where systemic racism had denied, ignored, and overlooked her very personhood, Cleminten's faith helped her persevere. As Catholic Christians, we know that everyone's names are inscribed in God's heart. Every life is sacred.
Her advice was this:
Be nice, treat everybody right and go to church. We got but one Father. Our blood is as red as anybody else. We's all the same. Don't let color mix you up. In heaven we won't be separated, so why try to separate us down here?"
Catholic Extension is proud to help fund the ministry of this resilient and vibrant Black Catholic community.
Donate Today
Struggling faith communities need your help.