Catholic sisters serve thousands of people in Navajo Nation, a vast reservation that expands into three states and is one of the most impoverished places in the United States. During the earlier months of the pandemic, when the area reached among the highest rates of COVID-19 cases in the country, women religious were needed more than ever to meet great spiritual and humanitarian needs. The crisis continues as cases rise substantially in the second wave.
Adding to this difficulty, many Navajo people have no running water, no electricity, and no central heat.
At an elevation of 7,000 feet, nights start to get cold in September. Temperatures start to drop to below freezing into the fall.
Residents rely on firewood to heat their homes and to cook, and have to purchase and transport it back themselves. This is especially difficult for the elderly and families who do not have vehicles.
Several Catholic sisters stepped in to help with funding from Sisters on the Frontlines, an initiative to give $1,000 to 1,000 women religious to help those most adversely affected by the pandemic.
Warming homes and hearts
Sister Maureen Farrar, ASC, has been a religious sister for 65 years, and serves on the Navajo reservation in Crownpoint, New Mexico. When she was granted $1,000 through Sisters on the Frontlines, she knew that firewood deliveries would address the most urgent needs.
Together with Sister Michelle Woodruff, ASC, she spoke with the Navajo community to learn who would benefit the most from a load of firewood. They recruited workers to help with the deliveries.
They were able to bring firewood to 16 homes. This included the elderly, the disabled and widows.
Below, Sister Woodruff unloads the wood with help from a volunteer: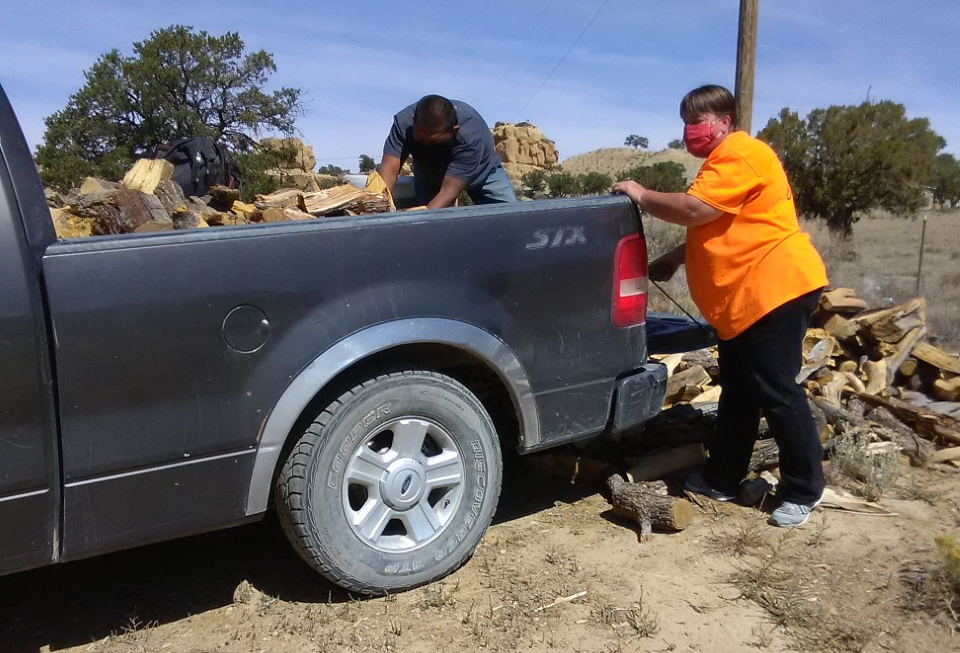 One load went to a woman who uses a walker. She was thrilled to see that the wood was already chopped and split.
"It's not green!" she said. "I can use it right away."
Sister Farrar delivered firewood to a veteran living by himself who is on dialysis, has problems with his eyes and is on crutches. His children live several hours away and are unable to visit or help him because of the pandemic.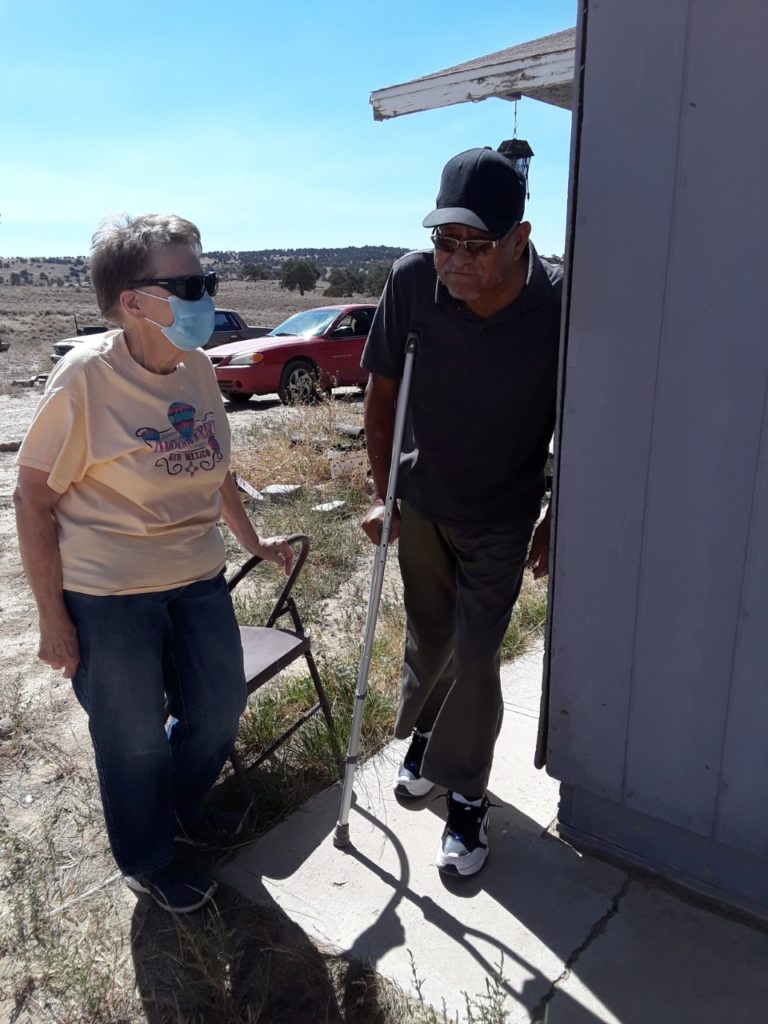 The last load went to an older couple; the man is paraplegic.
The recipients were surprised and grateful. Several of the women called Sister Farrar and thanked her in a mixture of Navajo and English.
Upon receiving the firewood, one elder, "Grandma Elsie," said,
It's so nice to know that people really care about us—Navajos that they don't even know."
Sister Farrar said that usually it is the loneliness and feeling that no one remembers that is harder than the poverty and deprivation.
"Because you care," she said, "these people have not only external warmth, but their hearts have been warmed as well."
Remembering the most vulnerable
Serving not far away at the Sacred Heart Retreat Center in Gallup, New Mexico, Sisters Monica Partac and Sofia Lee, Franciscan Missionary Sisters of Assisi, have been doing whatever they can to help during the pandemic. They made masks and distributed them to other Catholic organizations serving the poor, and once a week they bake food for the homeless.
They have been watching out for the vulnerable in their community, as well.
Sister Lee says they go out to visit families.
"We know those who need help, especially elderly individuals or couples, and families that have many children."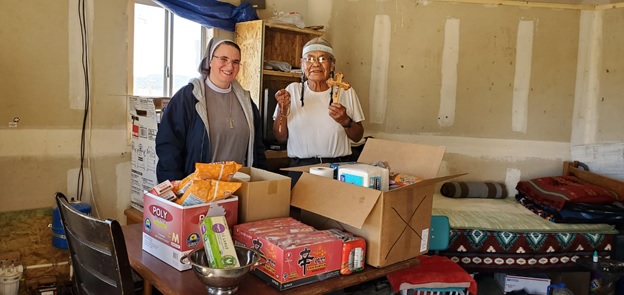 They used Sisters on the Frontlines funding to help several individuals and families purchase firewood, gas money, and food, especially for artists who cannot sell their wares at flee markets due to pandemic restrictions.
Andy Bodie, an elderly man, lives in the wilderness by himself. Concerned about food and heat in the coming months, he went to the sisters for help. Thanks to the gift from Sisters on the Frontlines, they were able to help him prepare for the winter.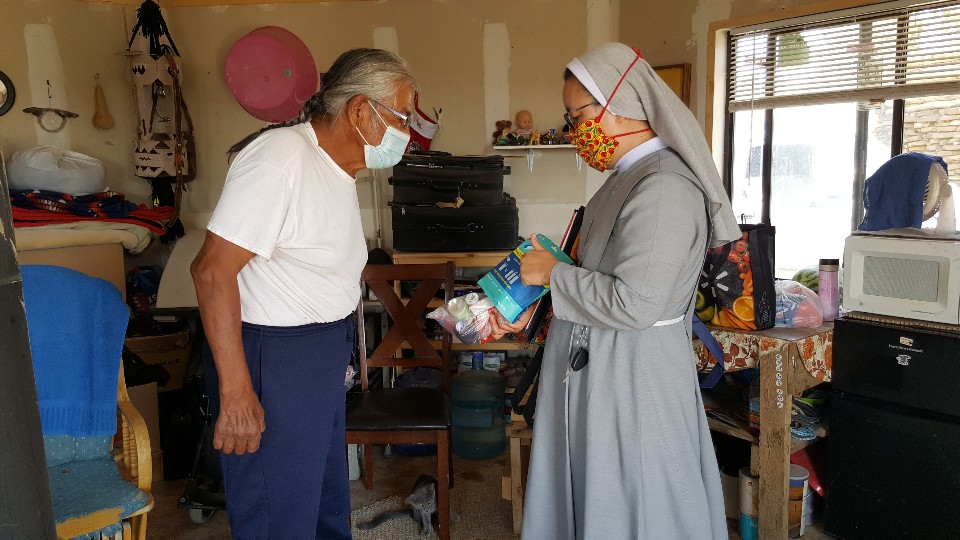 They also helped Mary Francis, who is raising five grandchildren by herself. The funding will keep this family well-fed, warm and safe.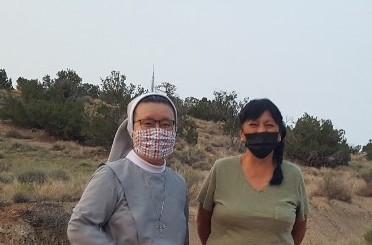 Sister Lee said the hardship on Navajo Nation can be overwhelming and discouraging. But, generosity from strangers lifts their spirits, and those they serve.
With many good people's help we can make a difference in people's lives, one at a time. Together we can do wonderful work for God's people."
As the pandemic continues, so does the Sisters on the Frontlines initiative. Contributions to this program bring relief, joy and renewed faith to those among us who are so adversely affected.
Find out more about this program on the Sisters on the Frontlines webpage.
Give today to help Catholic sisters provide emergency assistance to families in need.
Support a sister
Struggling faith communities need your help.