On a summer evening in southwest Michigan, 26-year-old Sandra Rayas stood up at a parish dinner. With a warm, clear message, she thanked Catholic Extension and the Conrad N. Hilton Foundation on behalf of dozens of her fellow parishioners. She had never considered herself a leader, but that all changed with the arrival of three sisters from Colombia who came to her church five years ago to serve Hispanic communities. Now she is considering a career within the Church. 
 "The sisters planted a seed in every one of us here, helping us grow into the leaders that we want to be," she said.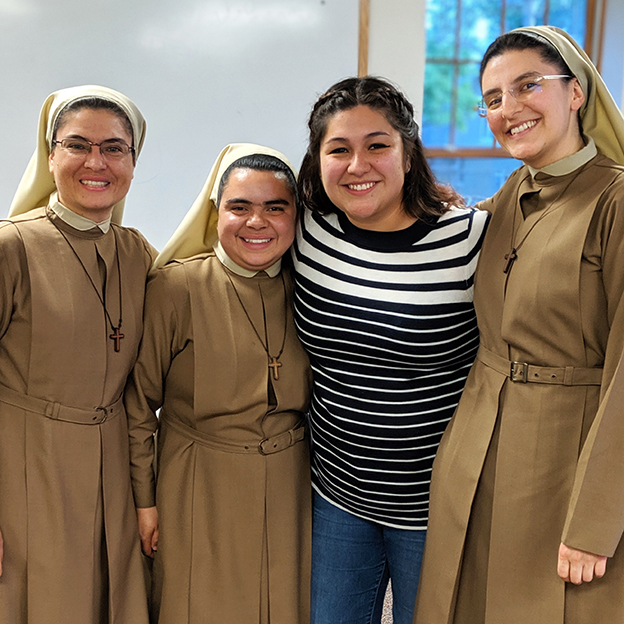 The sisters' ministry in Kalamazoo is possible through the U.S.-Latin American Sisters Exchange Program (USLASEP), sponsored by the two organizations.
With a joint commitment to empower sisters to become trailblazers, Catholic Extension and the Conrad N. Hilton Foundation have built a partnership that is improving the lives of vulnerable populations around the country.
"We accompany Catholic Extension to fulfill their mission as we fulfill our own mission," said Sister Jane Wakahiu, Ph.D., director of Hilton's Catholic Sisters Programs.
A dynamic leader, who belongs to the Little Sisters of St. Francis and hails from Kenya, Sister Jane knows that religious sisters are determined, resilient and well-poised to relieve suffering among the world's poorest. She got to know the first cohort sisters in 2017 during a meeting in Chicago.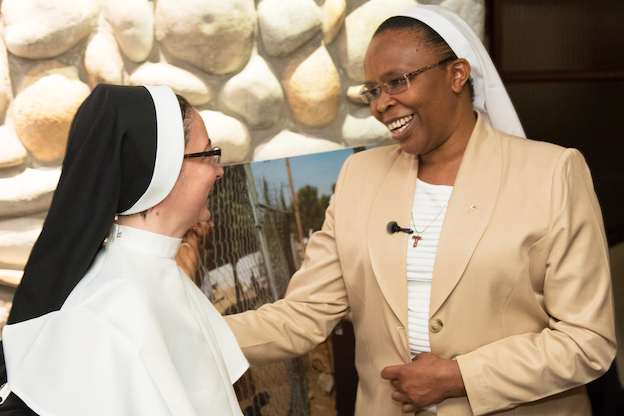 Sister Jane appreciates that through the USLASEP, the sisters immerse in the Hispanic communities they serve. "They become members of those communities," she said. "And when the residents see them every day, they begin to transform."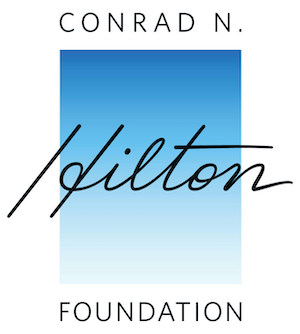 She said that the foundation's founder, Conrad N. Hilton, also understood the strength of sisters. Having been educated by sisters, he knew they were resourceful, charitable and natural leaders. He was so thankful for the impact they had in his life, that upon his death, he created a foundation to support Catholic sisters in their dedication to uplifting the disadvantaged.
She believes the Hispanic sisters' willingness to encounter and accompany those on the margins and their ability to foster deep personal connections is what makes this program so successful.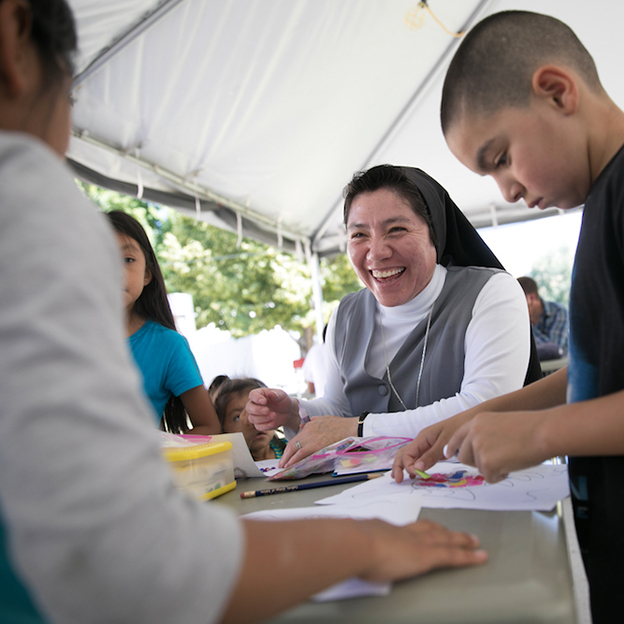 She also applauds the program's emphasis on ongoing education and training for the sisters. This model allows them to enhance their own leadership skills and immediately put this expertise into practice. 
Coming to the United States broadens the sisters' capacity to lead in a rapidly-changing society. "The world is becoming very cosmopolitan," she said. "The sisters need experience working in other cultures to become effective agents of social change. They learn new ways of engagement and problem-solving."
She notes that as the sisters return to their home countries, they have grown in many ways—spiritually, academically and socially—and gained confidence.
Additionally, they are leaving behind new leaders within their communities who they have inspired and mentored to carry on their work.
"We are so grateful for our partnership with the Conrad N. Hilton Foundation," said Father Jack Wall, president of Catholic Extension. "This program has taken off beyond our wildest dreams, and we greatly appreciate Hilton's vision, willingness to take a risk and financial support. This program is improving the lives of hundreds of Hispanic immigrants throughout the country and dozens of sisters. We look forward to witnessing the continuing transformations."
Here's an overview of the first cohort of sisters' impact: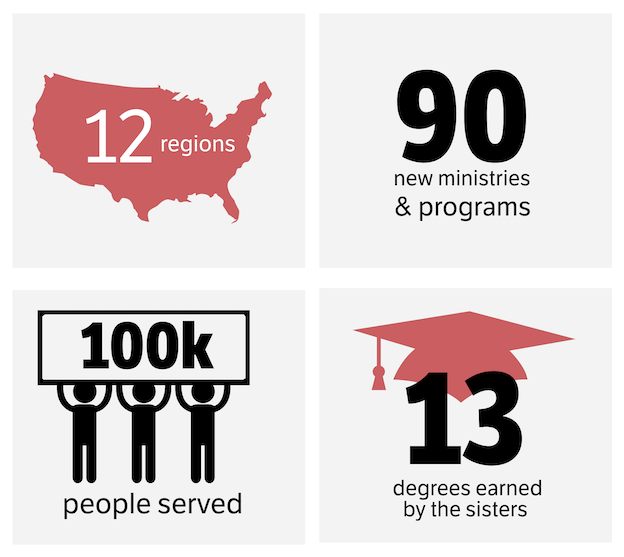 The first cohort of sisters made an incredible difference for Spanish-speaking Catholics across the country. We look forward to seeing this transformative work continue with the new group of sisters, who began their placements this fall. 
Donate Today
Struggling faith communities need your help.