In poor areas of the country, Catholic dioceses struggle to pay for seminarian formation. But thanks to our donors, men can answer God's call to serve where they're needed most. Seminarian scholarships ease this large cost for under-resourced dioceses.
Each year, Catholic Extension supports 400 seminarians in their path to the priesthood. We provide scholarships that help struggling dioceses pay for seminarian tuition as well as room and board. In addition, we support vocations programs in these areas.
In a time when priest shortages abound, Extension dioceses have seen increased interest in the priesthood. Although rural and under-resourced dioceses make up only about a quarter of the American Catholic population, they account for onethird of all priestly ordinations in our country.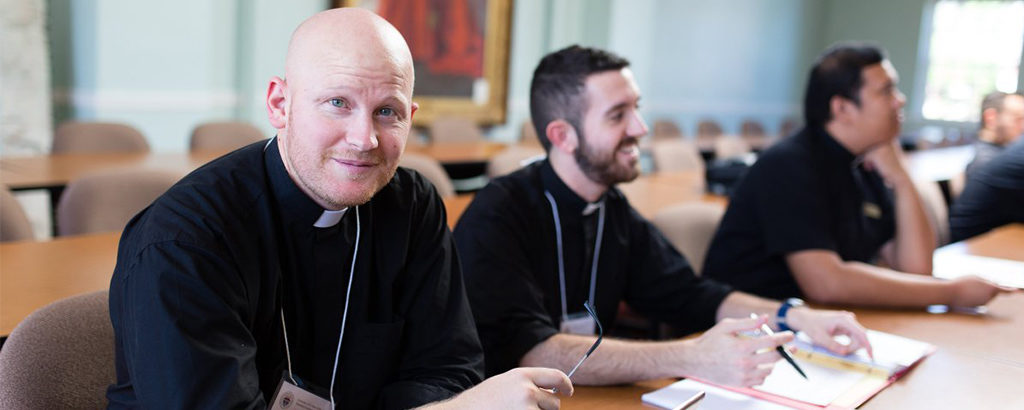 Words of Gratitude from Seminarians
Generous donors say, 'I want to advance the cause of faith,' and what do they do? They sacrifice various ways and fund the education of a seminarian, who one day through apostolic authority gets ordained.That priest is the manifestation of generosity of everyone who helped him get there."

Father John Mosier
Throughout my years in seminary, God has continued to increase my longing to bring others to Christ. As a priest, I pray that God will use me as His instrument to comfort those who suffer, and bring them joy through the message of the Gospel."

Brian Straus
I am humbled to realize that my priestly ordination represents untold prayers and hundreds of thousands of dollars spent on my behalf, in order to ensure the People of God receive the Word and Sacraments from a well-trained and well-formed priest."

Father Dominic Francis Bouck
Our President Father Jack Wall sat down with Bishop Robert Barron to discuss the importance of seminarian education: