Sister Marie-Paule Willem, FMM, has spent a lifetime promoting the dignity of individuals and families. She is 85 years old and speaks five languages. As a little girl growing up in Belgium, she lived through Nazi occupation. She had to leave her missionary work in South America after a brutal regime expelled her from the region. Currently, she serves women in detention and leads a growing church in New Mexico.
Sister Willem is also Catholic Extension's 2018-19 Lumen Christi Award recipient — our highest honor bestowed on a missionary working in the U.S.
Working across many countries, she has been building up communities of faith for more than 60 years. She believes strong families are the foundation of society and the Church. She is a shining example of our mission-driven Church.
International roots
Born into a large, Catholic family in the city of Bruges, Belgium, Sister Willem has early memories of war and Nazi invasion. She remembers the air raid sirens blaring while she headed for cover amid a shower of bombs. On one occasion, after a relative's home was destroyed, she fled with her father to an open field, where they laid down in a ditch and watched bombs falling from the sky. Her family was eventually liberated by Allied forces.
Following the defeat of the Axis powers, Sister Willem continued her education, got a university degree and at age 23, joined the Franciscan Missionaries of Mary, who serve where the need is greatest and where no one else wants to go, among the poorest and most forgotten.
The decision to join this congregation was partly influenced by her years of living through war as a child, where she honed a trait that helped her survive the turmoil, that would be needed in this ministry and that she continues to inspire in others—courage.
That trait served her well in the 1970s, when she ministered in Argentina, Paraguay and Uruguay during times of military dictatorships and political upheaval. Many innocent people — mostly poor campesinos — were terrorized and placed in internment camps. Sister Willem's job was to find these prisoners and help them — which made her quite unpopular with the regime in power. She was part of the Catholic Church's advocacy and social justice efforts on behalf of the condemned, who were put in outdoor "corrals" and left to starve in these camps. In her determination to bring people closer to God, she risked her life. She eventually received death threats and was ousted from the region.
She spent a year in Switzerland to discern her next steps. Still wanting to work with Hispanics but knowing she could not return to Latin America, she found an opportunity in the Rio Grande region of Texas.
Southwest missionary
In 1980 Sister Willem arrived in Roma, Texas, a border town, joined her community of sisters and became director of religious education for a parish. She led bilingual programs in catechesis for children at the parish and worked with incarcerated women at a nearby detention center. Ten years later she moved 850 miles to the Diocese of Las Cruces in New Mexico to serve migrant farmworkers and immigrants. She spent years keeping families together, safe and close to the Church—some of those ministries were supported by Catholic Extension.
Five years ago, at the tender age of 80, she was assigned to be pastoral administrator at San José in Doña Ana County, a tiny picturesque mission that is nestled into a working-class neighborhood. There were only a handful of parishioners and no full-time pastor.
"When I arrived, it was so sad here," Sister Willem said. "Everything was dull. Things were falling apart. The music was miserable. No one seemed to care. There was so much to do to build up the community."
She rolled up her sleeves and got to work, walking around the neighborhood, telling people about the parish and asking what they needed. She encouraged people to stop by. Many people came knocking at her door and were met by her two "assistants," a four-pound Chihuahua, "Clare," and a lazy cat, "Francesca" — named in honor of her congregation's founders.
She started building up everything: the liturgy, the buildings, the ministries and the grounds — which are now full of gardens. She started playing guitar at Mass. Today the parish has more than 200 families who are loyal and active. About 35 people attend Mass on Saturday and nearly 100 on Sunday. They recently remodeled the parish hall and updated the church.
"Sister Marie-Paule has turned everything around," said Irma Chávez May, a parishioner at San José. "The church was in bad shape, and not many people came. It is beautiful now, and the number of people coming to Mass has really increased," she added. "It's hard to find parking on a Sunday. And after Mass, everyone stays to talk and eat cake. It's so different now."
"She came with a vision, enthusiasm and a passion for the Church," said Irma's husband, Robert. "She has helped with spirituality and mental health issues and getting all of us parishioners involved and connected. She has inspired people to become readers, musicians and ushers at Mass or to teach religious education." A few years ago, there were whispers that the parish would close because of a lack of a priest and so few parishioners. Sister Willem changed that. "She has built the parish from the ground up. If she weren't here, this parish would not exist," he said.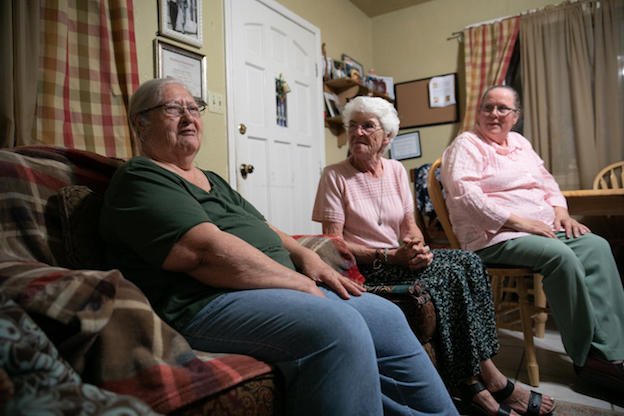 Families first
More than anything, Sister Willem wants to build up families. She views the family unit as the first and foremost teacher. "Families are the source of life, power and the future," she said. "Without families, we have no nation and no Church."
Especially in Hispanic communities, who comprise 65 percent of the area's population, families are revered and provide an ideal structure to pass on the faith.
In her ministries, Sister Willem emphasizes the importance of families learning together, praying together and supporting each other. Everything she does is in the context of family. "When families are together, they are so proud and happy and confident," she said.
For the offertory at Mass, she asks whole families to participate. For religious education, she teaches both parents and children. She teaches the parents to teach the children. "If we don't care for the whole family, it doesn't work," she said. "You have to keep them together. That way, families are healthy and happy. That is how the Church will survive."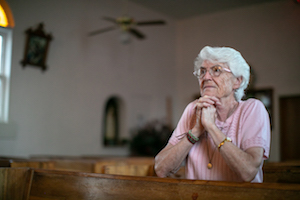 Transforming lives
Sister Willem believes God's love can heal all wounds, even the deepest ones. This conviction allows her to be a transformative presence in the Doña Ana Detention Center weekly where she serves about 60 women who are going through some of life's worst situations.
She once accompanied a detainee giving birth. The woman's limbs were shackled, and it took Sister Willem 50 minutes of begging to convince the guard that just one limb should be unshackled to allow the mother a few minutes to hold her child before the baby would be whisked away.
Using poetry and heartfelt meditation, she gathers with these detained women to help them find hope, dignity and self-confidence. She tries to put herself in their shoes and imagine what they are confronting. She keeps them connected to their families and prepares the women for their eventual release.
Sister Willem is having a profound impact. Many of the women look her up when they are released. They remember how this wise sister gave them psychological and spiritual techniques to carry them forward in their darkest hour.
Additionally, she works with immigrants, tutoring them, teaching them English and helping them prepare for citizenship. She also visits the sick and elderly.
When her relatives visit from Europe, they are stunned by the faithfulness they witness among the people and the widespread Catholic fervor in New Mexico that is not as prevalent back home.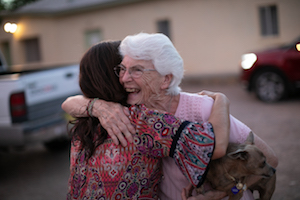 A shining light
In a neighborhood where there are no street lights, the only thing illuminating the town is the lit cross on top of the church. The light of the cross draws people to San José Mission just as much as Sister Willem's radiant smile and steadfast commitment.
She teaches us that war, persecution, human sin and suffering cannot extinguish the light of Christ. Most importantly, she teaches us through her example how ordinary people can become a light of Christ that brilliantly shines for others.
With her advancing age, Sister Willem is preparing her parish to take over in case she retires, although she is showing no signs of slowing down. Her secret to motivating people is simple: "First I do it. People see me, and I say, 'Help me.' Then I step aside, and they do it," she said.
With her boundless energy, dynamic spirit, compassion and above all — unbridled courage — Sister Willem represents the best of the Catholic Church.
Donate Today
Struggling faith communities need your help.